Chiang Mai is an ancient town built before the rise of urban planners. When you look at a street map, it's easy to feel as if you're staring at a maze. So, getting around the city might seem a little complicated.
And, genuinely you may wonder, how to get around Chiang Mai?
Walking is the best option if you want to roam around Chiang Mai if you want to indulge in the city culture. But you can also use local transportation to get around Chiang Mai like tuk-tuk, songthaews, samlor, bicycle, taxi, and ride-sharing services like Uber and grab.
Traveling Apples has a piece on this particular topic and you can check that out from their site.
Now let's dive into the article to know about how to get around Chiang Mai.
How to Get Around Chiang Mai?
When you are visiting a foreign land, the best way to get around the place is to walk and use the local public transportation. In this way, you can soak into the rich broth of that culture and enjoy every bit of it.
Now let's read below to find out how to get around Chiang Mai.
Bicycle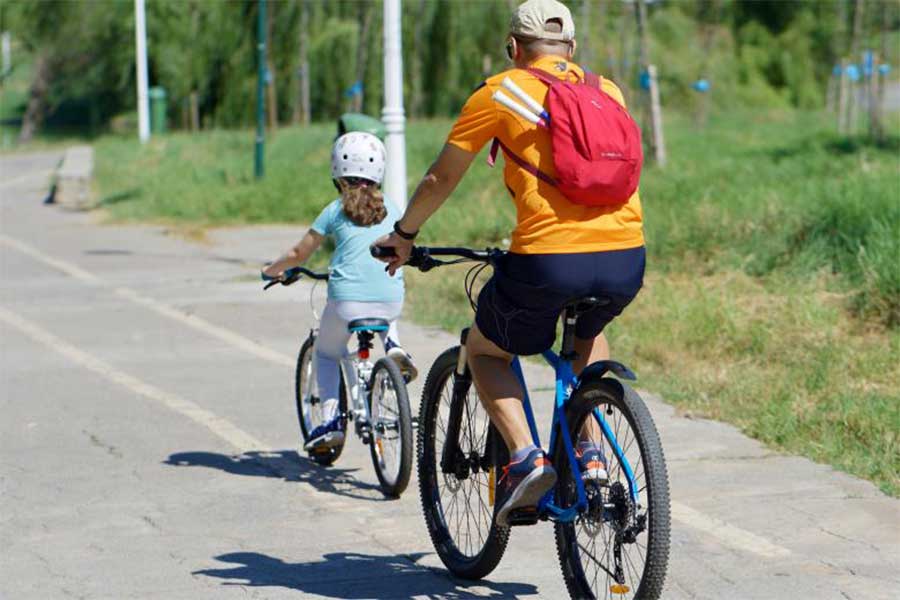 Bicycling in Chiang Mai, particularly in the ancient city, is an excellent way to get around because of the impossibly small alleyways known as 'sois'. It's easy to get lost in the sois maze but it's an interesting adventure too.
This is a fantastic way to explore the sights, especially if you want to see the beautiful countryside. It's an excellent opportunity to explore Thai culture outside of the city limits.
You will find bicycles at almost every guest house for rent on a daily basis. Alternatively, simply walking will lead you to a wide range of rental outlets.
You will find different kinds of bicycles available for hire. Bicycles with a basket are in huge demand because of their stylish features. If you're going shopping or don't want to get sweaty back from carrying your bag, you should definitely invest in a basket bike.
Tuk-tuk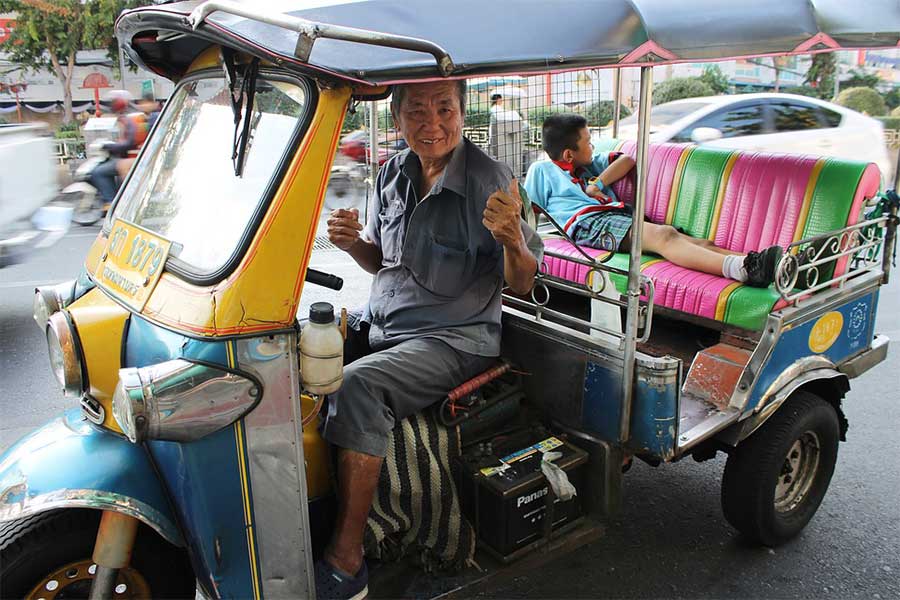 If you have ever wanted to play Mario Kart in real life then you can ride a tuk-tuk to make your dream come true. With the loud engine and the wind in your hair, you'll feel as if you're Mario or Princess Peach racing through the streets of Chiang Mai.
These adorable, but louder-than-a-thousand-screaming toddlers, work on a "flag me down" system. Within city bounds, they'll usually transport you wherever you want to go.
If you are going for shorter distances, you can ride these fun little beasts. Just keep in mind that there are no seat belts, but the chance of falling out is minimal.
Songtaews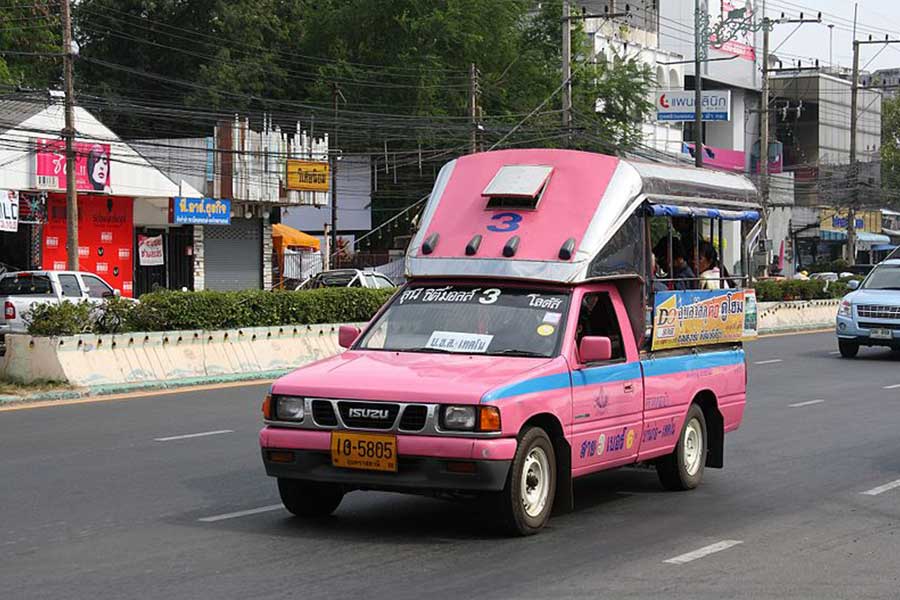 The city of Chiang Mai does not have a traditional public transportation system. You will find some enclosed red pickup trucks all over the place. These are Songtaews, often known as red buses or red trucks.
In Chiang Mai, there are 2,700 red bus songthaews, which means you'll see one every few minutes, especially around the moat. If a songthaew driver ignores you, it's likely that he's on one of these routes or that the truck is full.
Grab a song to set out on an exciting journey. But make sure you have everything you need for your trip. You will have to speak through the passenger window loudly and plainly. Typically, the drivers speak very little English and have little idea how to use maps, so try not to be put off by this.
Grab
Grab is perhaps the most convenient and cost-effective way to get around Chiang Mai. The service is capable of much more than simply getting you to your destination.
It also provides motorbike services, meal delivery, and shopping delivery. You can also rent a car or a motorcycle with this service.
Grab has rigid safety rules in place in comparison to Uber. Background checks and intensive training are performed on their GrabTaxi, GrabCar, and GrabExpress drivers.
Motorbikes
Motorbikes may be a good option for a family with older children or teenagers on their Chiang Mai adventures. Motorcycles and scooters can safely carry two people and make it very easy to travel within the city as well as provide an open road experience outside of it.
You must first locate a motorcycle rental shop if you intend to ride one. There are plenty of businesses around the old city, and all motorcycle rentals come with helmets.
If you plan on riding with the kids, ensure the provider carries child-sized helmets before you rent. Always try on a couple of different helmets to ensure the best fit.
Taxi
You can still take a taxi if ride-sharing, tuk-tuks, or songthaews aren't your thing. The bright yellow and blue cars will catch your eyes around town. Those are taxis, although they aren't usually flagged down. So, what's the best way to obtain a taxi in Chiang Mai?
Taxis can be arranged from your hotel or guesthouse, or you can make your own arrangements. Chiang Mai Taxi and the Taxi Kingdom are the most popular metered taxis in Chiang Mai. The same firms also provide full-day packages that include transportation to all of the fantastic attractions.
It's always a good idea to know how much a cab should cost so you don't get taken advantage of. Taxi drivers always try to rip off tourists so having an idea about the fares will save you a lot of money.
Always make sure the meter is turned on. After you've loaded your baggage into the car, it's still typical for the driver to try to negotiate a fixed fee with you. They understand how difficult it is for you to remove all of your possessions, which is true.
You have the option of grinning and bearing it, demanding that the meter be turned on, or packing your belongings and calling another taxi service. Although not all drivers are like this, it does happen. It never hurts to be aware.
Conclusion
Thank you for coming this far with our article. Hope our article could help you know about how to get around Chiang Mai. Now you don't have to worry about the transportation while you are roaming around Chiang Mai and enjoy your vacation to the fullest.