Is your vacation at hand? How about shaping a coastal holiday trip this time? Waking up and hearing the fluttering of ocean waves with a sea view in front seems soothing. You must admit it.
Add more surprising elements to your trip by visiting nature's blessed playground, Wales. All its sensational beaches, mountains, parks, and seaside resorts make it an irresistible spot for all tourists.
So, spice up your vacation with mountain climbing, cycling clifftop paths, and sea activities like surfing, coasteering, and rafting! Don't skip boat trips to meet puffins, whales, and dolphins.
You must be puzzled about where to stay. Good news! Wales offers a lush range of hotels by the sea and beaches. Relax if you're in a rush and can't make the pick. We've you covered.
For adventure lovers like you, we've curated the top 13 North Wales Hotels by the sea. It can be your heavenly retreat having swanky coastal spas, clifftop locations, and delicious food.
Keep scrolling to find your oasis of peace beside the sea!
Places of Tourist Attractions in North Wales
Being one of the oldest tourist regions of Britain, North Wales never skips charming its visitors with historical sites, picturesque valleys and deep ravines. What's more? Let's discover!
Parks: It houses Snowdonia National Park with its highest mount Snowdon. You can enjoy biking adventures in the Coed y Brenin Forest Park.
Castle: Chain of fortresses emphasizing history with beauty includes Conwy Castle, Beaumaris Castle, Harlech Castle and many more.
Museum: To introduce you to the city's history, you'll find Royal Welch Fusiliers Regimental Museum, National Slate Museum and some unique art galleries
Water Bodies: You'll be mesmerized by the beauty of Bardsey Island, Trearddur Bay and its beaches, Llangollen canal, Pontcysyllte Aqueduct etc.
Garden: All the greens and unique flowers in the hidden estates at Plas Cadnant on Anglesey are breathtaking. Its hillside Bodnant garden attracts tons of garden lovers.
Zoo and Aquarium: You're sure to get tired of capturing photos of wildlife creatures. Rhyl Sea Aquarium, Anglesey Sea Zoo and Welsh Mountain Zoo are worth exploring.
Others: You definitely can't miss visiting the magical Portmeirion, port of Porthmadog, historical Llechwedd Slate Caverns, and Rhyl miniature railway.
Favorite List of 13 Wales Hotels by the Sea
Let us not allow your tour excitement to fade with the headache of finding hotels. Keep scrolling to book the suite in the hotel that matches your destination wishes!
1. The Beaches Hotel (Prestatyn)
Yes, I know how every couple dreams of viewing a beautiful sunset by the sea while holding their hands. When that's your dream too, your ideal vacay-abode is the Beaches Hotel of Prestatyn.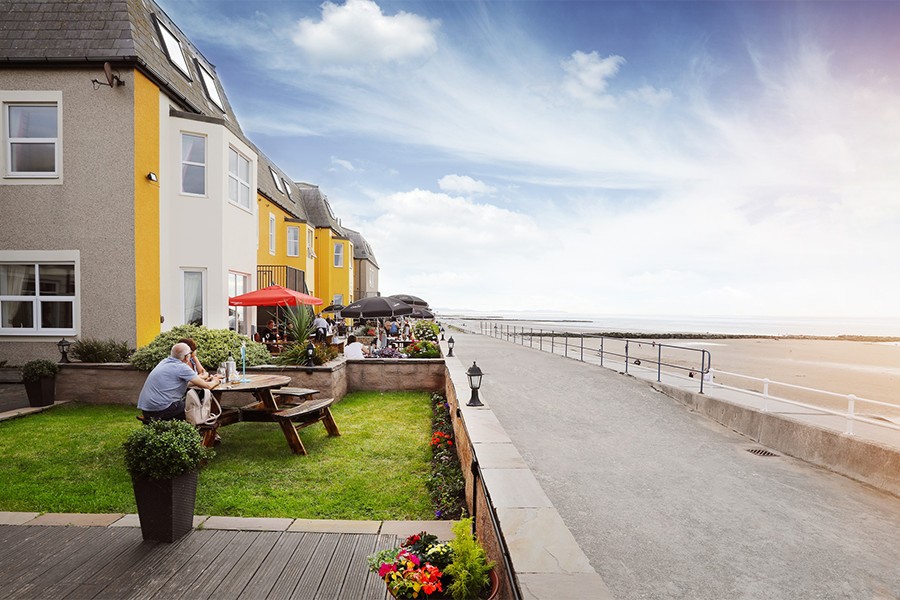 Location
Walking 15 minutes from the town center, you get to mark the beachfront hotel Wales. Its amazing location takes you to Barkby Beach in a minute.
Places to go
The Parc Pendre, Hillside Gardens, Rhuddlan Castle, and Cae Ffyddion are mind-pleasing sites. Beaches like Rhyl Beach and Prestatyn Central Beach can make your day. For adventure, go to Llandudno Ski Lift.
Hotel Conveniences
You'll find a warming fireplace in its large lounge. Besides, it has a sauna, gym, and pool. View the sunsets sitting on its patio and having Promenade bar meals. Enjoy outdoor activities like bike tours, horse riding, windsurfing, etc.
In-room Accessories
All its suites offer either beach or hillside views. In each of its 85 bedrooms, you've flat-screen TV, hair dryer, closet, and telephone. Besides, you've got a comfy king-size bed and a side working desk.
Recommended for
My personal experience suggests it's a perfect family staycation with extraordinary facilities. Its spectacular sunset by the Irish sea makes it a magical wedding and honeymoon location.
2. Trearddur Bay Hotel (Trearddur)
Bored? I bet a calming vacation is what you're thirsty for now. A trip to Wales can be a great retreat. So why not book a suite in one of the most beautiful seaside hotels in Wales?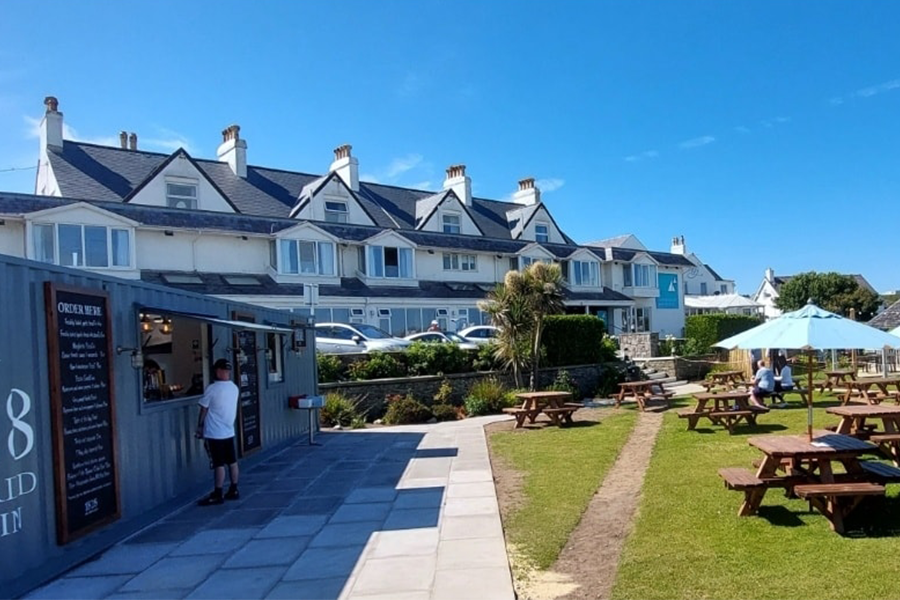 Location
Situated at the Lon Isallt, you can easily discover this fantastic hotel by the Trearddur Bay Beach. Within a few meters, you'll see Blue Flag Beach. It's just 4 minutes from the Anglesey Airport.
Places nearby
Calming beaches like Newry Beach, Silver Bay Beach etc., are your first target. Garreglwyd Park, Anglesey Show Ground, Holyhead Maritime Museum, South Stake Lighthouse etc., are worth visiting.
Hotel Amenities
Take benefit of its 24-hour front desk service, free Wi-Fi and parking. It boasts elegant rooms, meeting facilities, bar service and on-site restaurants. Besides, outdoor activities are available too.
In-room Luxuries
Some rooms offer a sea view while others are amid beautiful gardens. Each room comes with balconies and private bathrooms. In your leisure rooms, watch TV. A coffee/tea maker is set for refreshing evenings.
Recommended for
Guests love its spectacular coastal location and recommend it when your trip involves any meeting. The hotel houses a spacious meeting room to arrange all types of events.
3. Imperial Hotel (Llandudno)
A hotel stay seems patchy when it can't serve mouth-watering delicacies. The Imperial Hotel, the best of all the hotels in North Wales coast, can make your stay special with signature delicacies.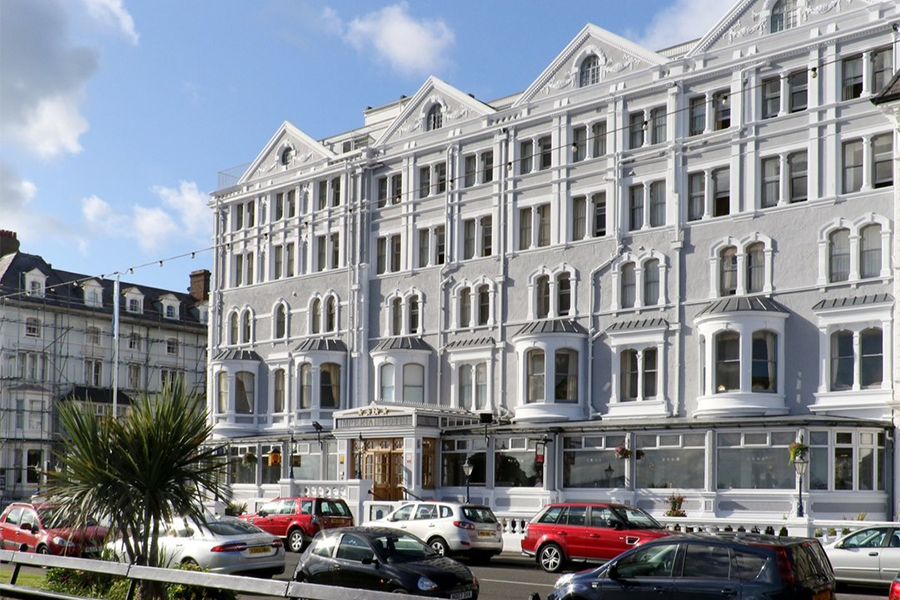 Location
It's a Victorian hotel placed by Vaughan street of the Promenade in Llandudno. You'll find the sea in 2 minutes and the beach walking for 20 minutes. Anglesey and Chester's airports are the closest.
Places to visit
You're sure to feel the charms of Bodnant Garden, Conwy Castle, Snowdonia National Park, Llandudno Pier etc. It's a nature hub with mount Snowdon, lake Padarn and 4 attractive beaches nearby.
Hotel Services
The hotel surprises you with an award-winning restaurant having à la carte menu. Besides the complementary morning breakfast, the terrace serves lunch, snacks and wine. You're free to use its health center, leisure club, steam room, heated pool and spa bath.
In-room Offerings
I bet you'll be mesmerized to wake up and have Llandudno Bay views from your windows. The private bathroom includes slippers and bathrobes. You'll notice TV, tea, coffee supplies and mineral water in the room.
Recommended for
Yes, you can't deny that the Imperial is your perfect venue. Be it for a business purpose or leisure.
4. St George's Hotel – (Llandudno)
Are you planning an intimate trip with your partner to Llandudno? Then with zero difficulties, your search for the finest Wales sea view hotels end. Have a safe check-in in the St George's Hotel.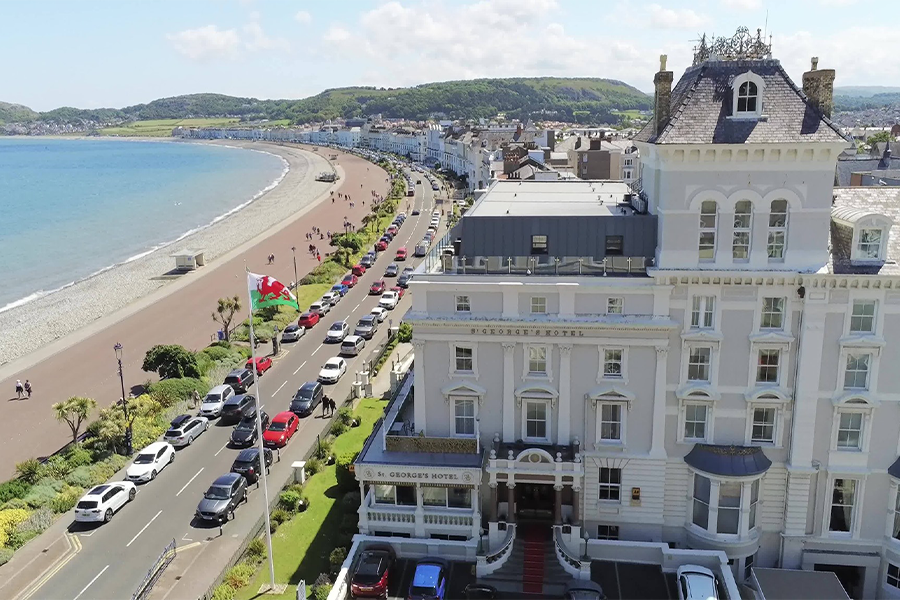 Location
Residing by the lively Llandudno North Shore Beach, this fantastic hotel catches your sight. It holds a grand Victorian structure right beside the majestic Great Orme.
Places of attractions
You can't resist visiting sites like Home Front Museum, Happy Valley Botanical Gardens, Deganwy Castle, Castell Aberlleiniog etc. Refresh your mood by dining in the restaurants nearby and sitting by the closest beaches.
Hotel Facilities
Savor the British cuisine in its Terrace Restaurant with sea views. For snacks, wine and afternoon teas, you've got a bar. Besides, you'll get a Taxi service, free Wi-Fi, conference facilities, 24-hour front desk and ironing service.
In-room Benefits
You're sure to feel impressed with the hotel's stylish air-conditioned rooms. Suites include a TV, work desks, sitting area and closet. You'll see a modern private shower with luxury toiletries and a hair dryer.
Recommended for
The calming atmosphere of the hotel makes it the number 1 recommended place when you're craving an intimate and refreshing couple's trip.
5. Lauriston & Lawton Court Hotel (Llandudno)
Monotonous life snatches away the good smile from your face. Want it back? An escapade to coastal Wales is what you need. I suggest making your stay at this 4-star hotel.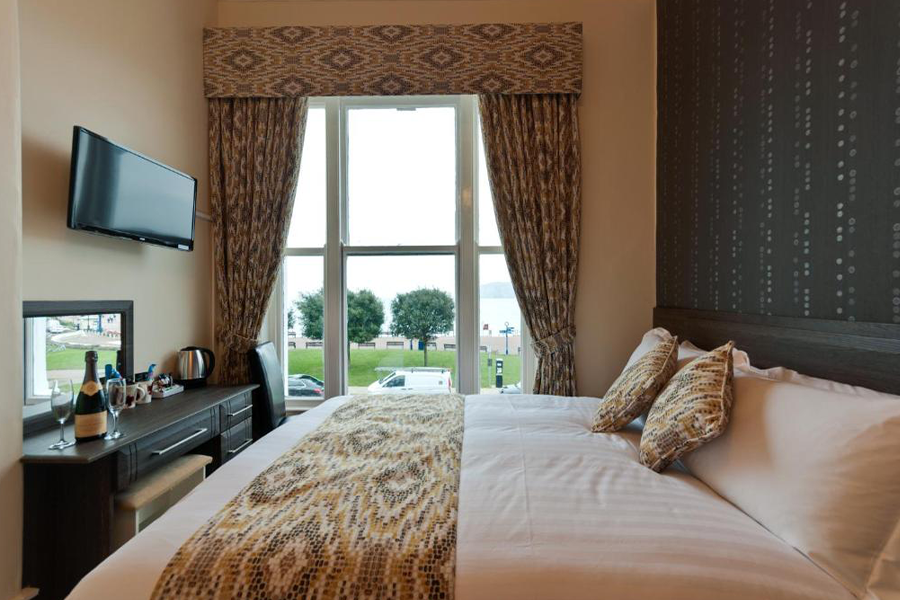 Location
The beautiful hotel in North Parade Llandudno gives panoramic sights of the attractive Llandudno Bay. You'll need a long drive from the airport to get here.
Top Attractions
Llandudno North Shore Beach, Conwy Morfa Beach and Rhos-on-Sea Beach wait for you as you step out. The BMX Track, Great Orme Mines, Craig-y-don Park, Leisure Parks, Beaumaris Castle etc., are must-visit places.
Hotel Features
It's one of the luxury hotels Wales coast. Facilities like a shared lounge, a licensed bar, relaxing terrace, meeting facilities and concierge service make it guests' favorite. A breakfast buffet, free Wi-Fi and charged parking are available.
In-room Additions
Rooms come with private bathrooms and a small seating area. For evening refreshments, suites equip tea, coffee maker, and a flat-screen TV. Safe and closet are in there.
Recommended for
If getting close to the diversity of nature is what you desire, it's your ultimate holiday destination. You're minutes away from the mountains and seconds from the sea!
6. The Wildings Hotel & Tudno's Restaurant (Llandudno)
Wales tops the list of tourists' fav spots, blessed with sensational beaches and mountains; thus, if your thirst for adventure seems to peak, tour Wales while staying in one of the most budget-friendly coastal hotels North Wales.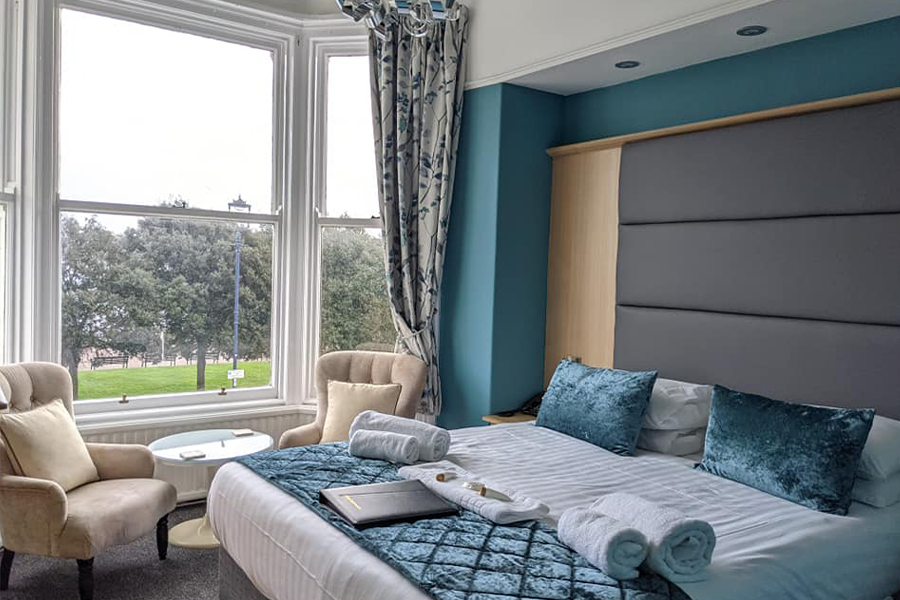 Location
Blended with Victorian décor and modern designs, this unique hotel is in the North Parade. You'll see the North Shore right opposite the pier across the bay.
Places to tour
Spectacular views of Llandudno Pier, Happy Valley Garden, Deganwy Castle, Snowdonia National Park etc., will perk up your trip. The architectural view of Llandudno Station is impressive. It's an area plunging with cafés and restaurants, so dine anywhere.
Multiple Benefits
For a blissful stay, the hotel proffers a large terrace and a shared lounge. English breakfast is served here with no compromise on taste. Besides relaxation, it includes an outdoor patio and picnic spot.
In-room Conveniences
Rooms equip electric kettle, charging spots, work desk, luxury toiletries and hair dryer. And a surprising element is the whirlpool bathtub. You're sure to love waking up with a glittering sea view in your suite.
Recommended for
When traveling with your fluffy pet, I personally recommend this pet-friendly hotel. It includes a separate space for pets with pet bowls!
7. Cae Mor (Llandudno)
On a family trip to North Wales? Then, a well-furnished hotel with a beautiful blend of Victorian features and sea views like Cae Mor can be your ideal family staycation.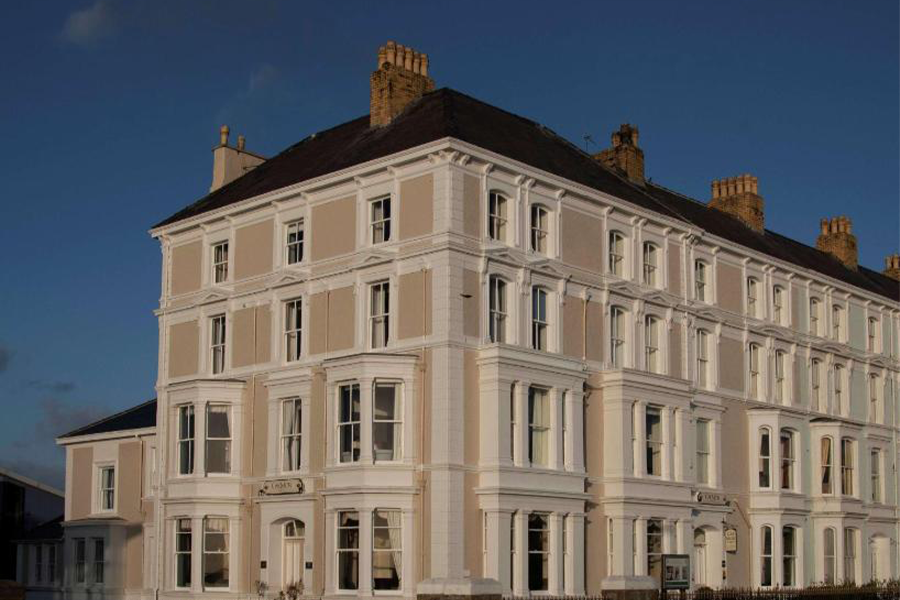 Location
Right in the Penrhyn Crescent, a spectacular hotel will catch your glimpse. It's just 50 m from North Shore Beach. A 40-minute drive from the Chester Hawarden Airport is all you need.
Places to go
The hotel is next to the theatre Venue Cymru. Besides, the beauties of Llandudno Pier, Home Front Museum, Inner Ward, Bodlondeb, Botanical Gardens, Beaumaris Castle etc., are breathtaking.
Hotel Highlights
It's stylish scopes for relaxation with cozy sofas beside the fireplace. Go fishing or hiking on-site to make your stay a bit more exciting. Offering the sea views, it has theme dinner nights in its Samphire Seafood Brassier and Bar.
In-room Resources
Following a renovation, rooms seem to offer tasteful décor. Enjoy breakfast in bed. For your comfort, rooms add radio, flat-screen TV, walk-in shower, complimentary toiletries, hair dryer, and daily housekeeping.
Recommended for
For family visitors in North Vales, the hotel feels like a second home. So, if you're interested in having an eye-soothing sea-view room full of modern amenities, I recommend this inn.
8. Gazelle Hotel (Menai Bridge)
Don't you feel like walking by the seashore and playing with the sands? You get to do it all when staying in the friendliest hotels by the sea in Wales. Yes, it's the Gazelle Hotel.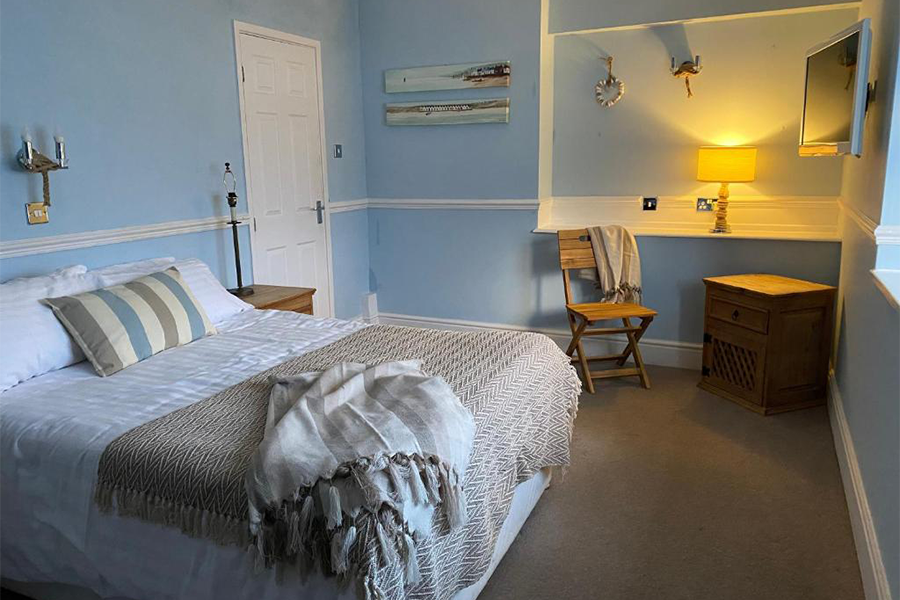 Location
Situated at the Glyn Garth Menai Bridge, it's easy to locate the traditional hotel. With a 40-minute drive from the Holyhead, you can find accommodation.
Places to go
The holiday abode is surrounded by Bangor park, Bible Garden, Penrhyn Castle, The Spinneys, Anglesey Sea Zoo, Oriel Tegfryn Gallery etc. Enjoy the natural beauty of Menai Strait Sea, Ogwen lake, and mount Snowdon.
On-site Services
The hotel serves free Irish and full British breakfast. For snacks and beverages, the on-site bar is always open. For a little relaxation, a shared lounge, picnic area, terrace and garden visit seem perfect.
In-room Facilities
You'll see the rooms are fitted with a closet and flat-screen TV. It gives you a private washroom with all necessary toiletries. For refreshment, make yourself a cup of tea with its tea maker.
Recommended for
It seems like an excellent holiday abode for travelers in Menai Bridge. A perfect romantic vibe comes off the location, making it special for love birds.
9. Gwesty Gadlys Hotel (Cemaes Bay)
Imagine relaxing with picturesque beaches on either side. To relish such beauty, book a suite by the sandy beaches. Gwesty Gadlys can be your 4-star hotel.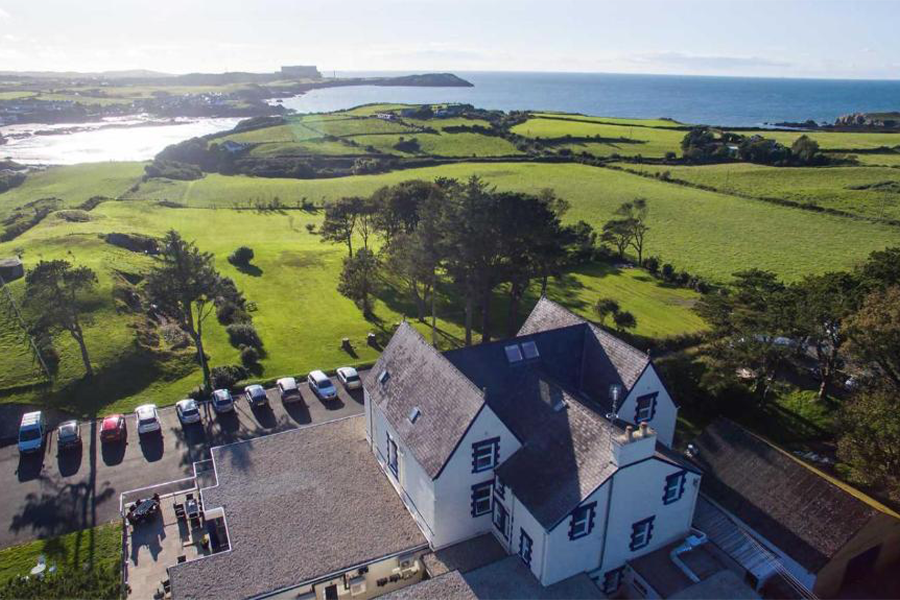 Location
You can spot this unique-styled hotel in the Llanbadrig of Cemaes Bay. 12 minutes from the Anglesey Airport, and you reach your destination.
Places Nearby
Full of nature's beauty, you're sure to love Parys Mountain. Walk 10 minutes to find your relaxing spot on the Traeth Mawr beach. Llanbadrig Church and the Amlwch Copper Kingdom are a small drive away.
Modern Offerings
The hotel mesmerizes you with its beachfront venue. You're sure to admire its restaurant with continental delicacies. Sit by its garden to adore nature or sip your fav drink in its bar. Hiking and fishing are also in the to-do basket.
Suite Facilities
All the suites are family-friendly with kitchens. You'll notice the dishwasher, oven and fridge there. Plus, private bathrooms are full of free shower accessories. Comfy bed linen is there.
Recommended for
When having a trip with your kids, a kid-friendly hotel is what you need. For that, guests highly recommend this hotel. It comes with a special menu, activity room and playground for kids.
10. Bluebells guest house (Barmouth)
No trip is complete if you end up in the wrong suite. To add flavorful memories to your vacation in Wales, I've got a spot for you. Any guesses? Right, it's the Bluebells Guest house.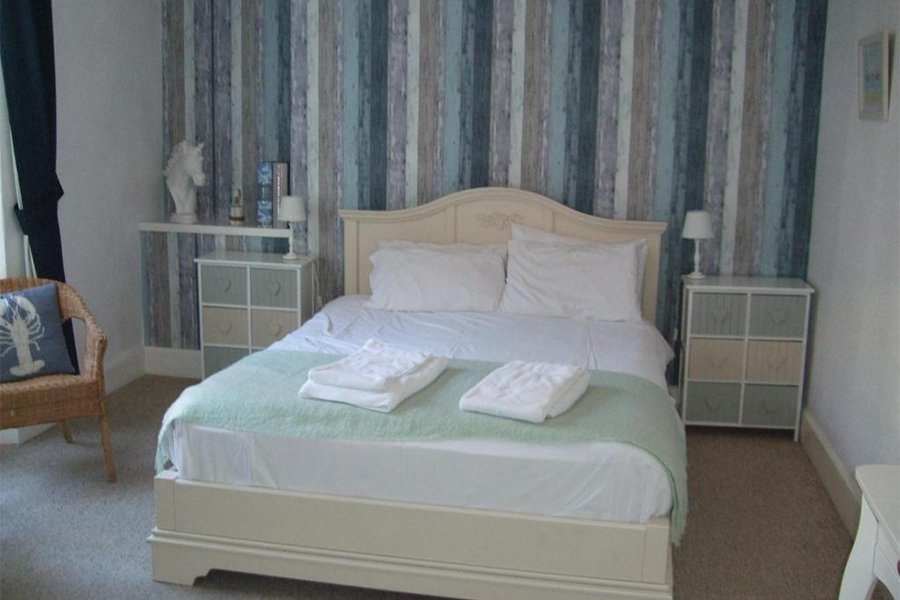 Location
To make it to one of the finest Wales Sea view hotels, you need a 40-minute drive from the Anglesey Airport. It's right at the 9 Marine Parade of Barmouth.
Places to go
Make your trip wonderful by visiting the Marian, Castell y Bere, Twyni Llandanwg Sand Dunes etc. Add the tranquility of viewing Barmouth Beach, Tal-y-Bont Beach and Morfa Dyffryn Beach nearby.
Accommodation Specialty
The place features a sun terrace to have lazy basking with a close city view. Parking is always available. Plus, you'll have 24-hour front desk service and Wi-Fi.
In-room Bliss
Each room offers a beach view from its private balcony. To ensure 100% in-room comfort, you'll see flat-screen TV, cloth racks, bed linen and an electric kettle. Showers have towels and toilet paper.
Recommended for
Running short on time but wish to travel more spots? Then my suggestion would be to book a room in this hotel. You'll find the train walking a few steps to visit all the local attractions.
11. Pebble House (Llandudno)
An amazing way to unwind from the daily hustle can be blessing yourself with the panoramic view of the spectacular Llandudno Bay. The Victorian-style Pebble House can toss your wish into reality.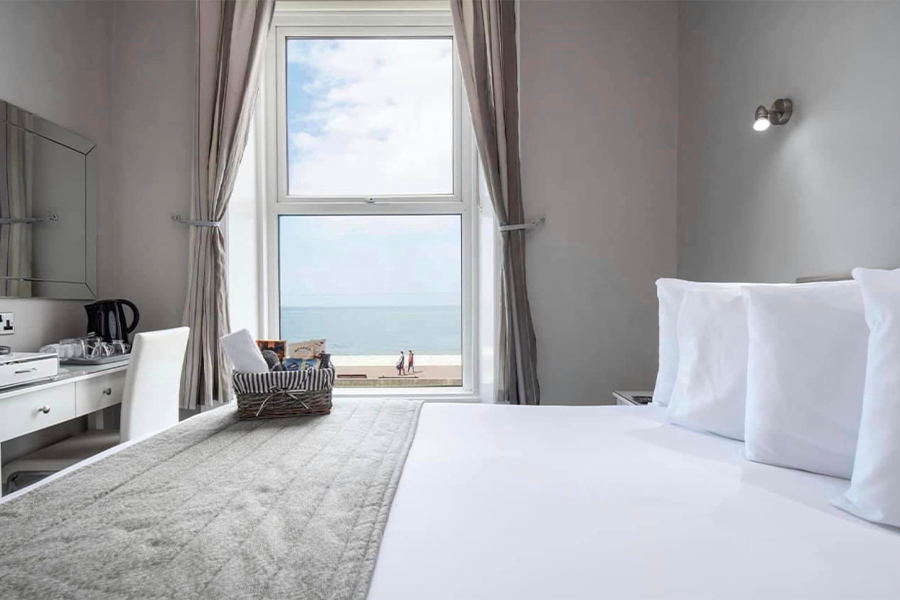 Location
Just throw a pebble standing on the North Shore Beach, and voila. There's your elegant hotel. You'll find the Anglesey Airport closest to your destination.
Places to go
Llandudno Pier, Craig-y-don Park, Inner Ward, and Leisure parks are no-miss spots that will surely attract you. You'll love the historical memoirs in the castles like Conwy Castle and Beaumaris Castle.
Hotel Perks
Take full advantage of your hotel stay in its shared lounge, garden and terrace. Its restaurant brings traditional breakfast and continental delicacies to your table. Enjoy an in-house BBQ night near the sea.
In-room Rewards
Rooms are spacious and air-conditioned. Chill in the room with free Wi-Fi, LED TV and coffee makers. Stunning en-suite private bathrooms have free duck island toiletries, hairdryer and towels.
Recommended for
It's indeed worthy of being your honeymoon destination. To add the romantic vibes, the hotel arranges sparkling champagne or wine, chocolates, and special bouquets with candlelight dining options.
12. The Grafton (Llandudno)
When you've got a special attachment to historical architecture, choosing a Grade-II listel inn is a lucky option for your vacation. One of the most ancient beach hotels in Wales is the Grafton.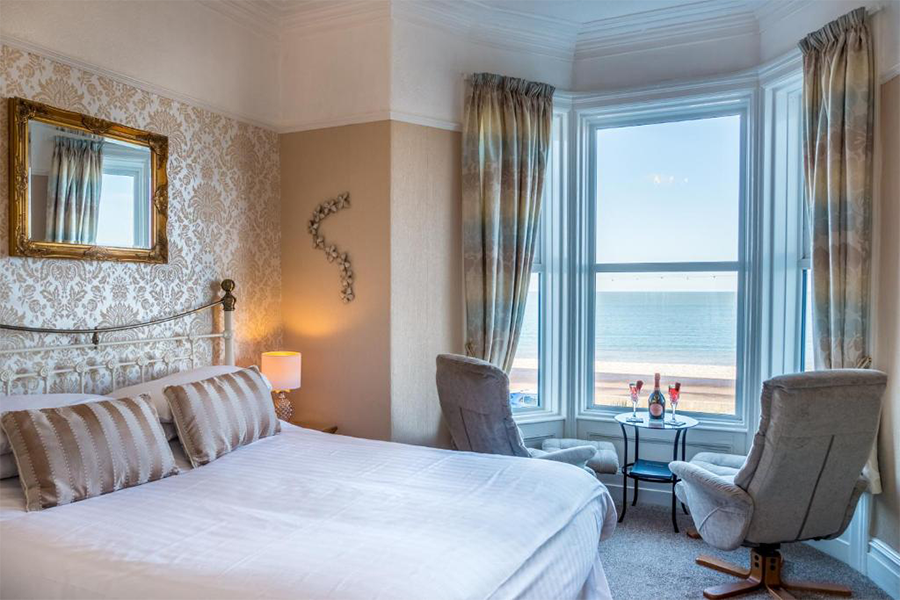 Location
Situated on the Promenade of a Victorian town, the inn is a 5-minute walk to Wales's premier theater, the Venue Cymru. You'll find the hotel boasts of having two Llandudno beaches nearby.
Places to go
Besides Venue Cymru, you must add spots like Snowdonia National Park, Llandudno Train Station, Llandudno Ski Lift, Castell Aberlleiniog etc., to your tour list. The town center offers a fantastic shopping mall and tons of restaurants.
Cherished Features
This hotel retains 19th-century features like high-ceiling rooms and large windows. Scopes for fishing, cycling, bowling and golfing are always there. You're sure to admire its complimentary breakfast served at the sea view dining space.
In-room Delights
The en-suite rooms please you with sea or mountain views. You'll have TV, coffee or tea making facilities and a large seating area to enjoy leisure. For your relaxing shower towel, free toiletries and hair dryers are there.
Recommended for
This hotel is an ideal combo of relaxed ambiance, beautiful view and historical memoir.
13. Lawrenny Lodge (Barmouth)
Another remarkable hotel that brings easy access to the entire city's natural hub and local attractions is the Lawrenny Lodge. It's indeed one of the most lovely beach hotels in Wales!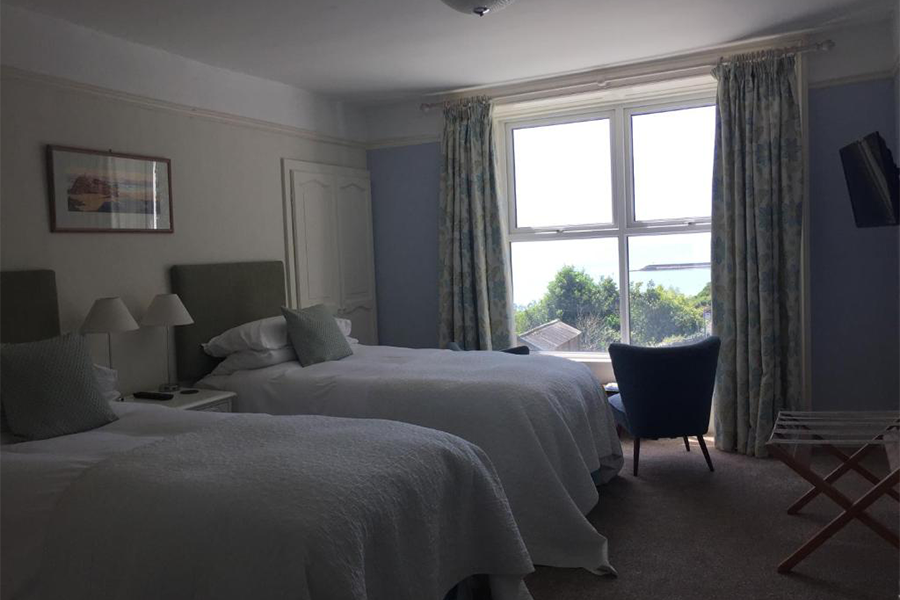 Location
As you glimpse over the sea by the Barmouth bridge and the Mawddach estuary, you can find your dream hotel. Be it the striking beach, harbor or main town. A few minutes' walks are all you need.
Places to visit
The iconic Panorama Walk and the beautiful Mawddach Trail are meters away. You'll discover Cardigan Bay, Barmouth center, and Barmouth Harbor within walking distance. Don't miss the nearby Castell y Bere, Harlech Castle and nature reserves.
Lodge Services
It surprises you with daily breakfast in its sea view conservatory. All the items are fresh, locally produced and delicious. You get to enjoy BBQ nights. Here, no issues arise for parking.
In-room Amenities
The en-suite with 8 rooms offer a flat-screen TV, oven, tea and coffee facility, electric kettle and hairdryer. Private bathrooms add free toiletries and bathrobes.
Recommended for
I highly endorse the Lawrenny Lodge to embrace the scenic beauty and find solace in nature, escaping the city life.
Related FAQ
Are the Wales sea view hotels pet-friendly?
If you're traveling with your fluffy pet, you better call and inquire about the hotel's pet policy before booking. It's because not all Wales hotels allow pets.
What's the best part of booking a Wales hotel by the sea?
Being a mother nature lover, you can start your day hearing the noise of the waving sea and seeing the glittering sea. And you can sit by the sea, leaving the hotel in no time.
In how many days can I complete my North Wales tour?
Suggesting a multi-spot tour, we would say 5 days can be enough to cover all the local attractions here.
When is it preferable to visit North Wales?
To see the blooming flowers make it a spring trip. But to embrace the greeneries and scenic beauty, April or June seems the rain time to come here.
Concluding Words
A relaxation retreat remains incomplete with the perfect place to stay no matter how beautiful your destination is. But who would like to spare time from their busy schedule to find hotels besides planning the tour?
It seems hectic, right? That's why we left no research undone to fill your trip basket with the 13 best Wales hotels by the sea. Be it outside or inside. You're sure to be blessed with a calming view.
So, explore the city with no regrets!