Goa, the magnificent country of India, is full of green scenery and alluring beaches. Stories are made on the sands of beaches, around the walls of forts, and on nightly cuisines. And who doesn't want to witness them by presenting there?
If you plan to explore the state of beaches, it is good to know about the local hotels with beach views first. Indeed, Goa offers luxurious accommodations, beach shacks, multi-cuisine restaurants, and an atmosphere for couples and families.
Many different accommodations are available near the beaches, but beach-view hotels are always in high demand. Here are 12 of the best beach view hotels in Goa that offer stunning oceanfront views.
Places of Interest in Goa
Goa is a state in India with a coastline on the Arabian Sea. The state is renowned for its beaches, temples, and churches.
Goa University is the state's premier institution of higher learning. The university was founded in 1985 and is one of the oldest universities in India.
Dedicated to the Hindu deity Manguesh, the Shri Manguesh Temple is a significant pilgrimage site for Hindus. The temple is beautifully decorated and is surrounded by a stunning garden.
The Mother of God Church is renowned for its beautiful architecture and is a must-see for any visitor to Goa.
Martins Corner is named after Martin, a popular restaurant in the area. This restaurant's seafood is delicious and a popular spot for tourists and locals.
The Indian Naval Aviation Museum is in Vasco da Gama. It is a great place to learn about the history of the navy and see some of the aircraft used by the navy.
12 Beach Hotels in Goa
The best luxury resorts in the Maldives offer plenty of activities to keep you entertained, from world-class dining to watersports. With hospitable staff and luxurious accommodations, these resorts are sure to make your vacation one remember.
1. Caravela Beach Resort (Varca)
With an ocean view and a family-friendly setting, the Caravela Beach Resort is an excellent 5-star getaway welcoming Goa guests.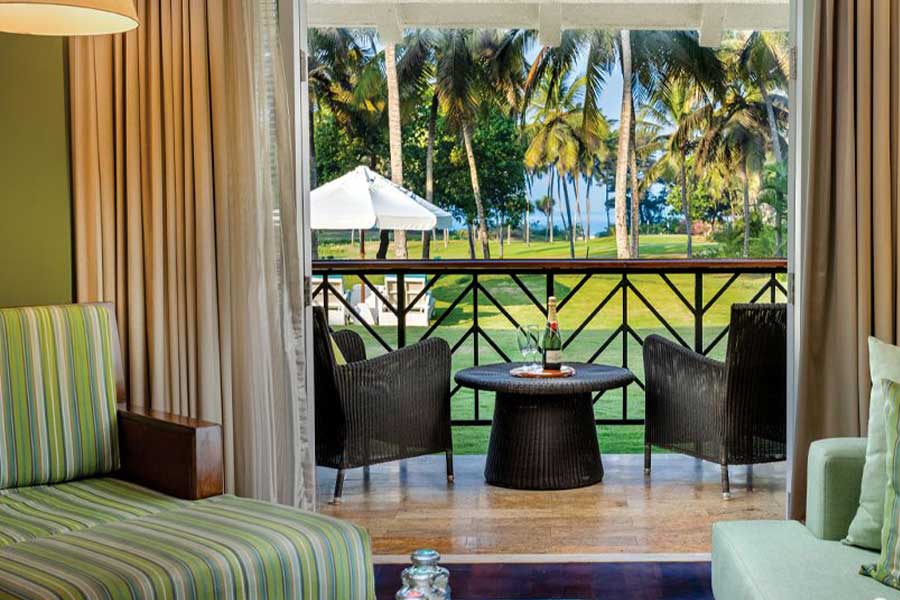 Location
This beachfront hotel is adjacent to Varca Beach in Salcete. Transportation to the property is simple as it is 7.4 km from Margao Railway Station and 22.5 km from Dabolim Airport (shuttle available).
Places to Go
Goa is full of attractive places to spend the whole day. Among these spots, Mother of God Church, Varca Beach, Cavelossim Beach, Martins Corner, and Cabo De Rama Fort are significant.
Whimsical Environment
Sun terrace, garden overlooking the Arabian sea, seafood restaurant, sandy beach – what more do you need? Besides, gifts to the guests include a 9-hole golf course, a large pool with a poolside bar, a yoga session, a fitness center, and a tennis court.
Resort Facilities
Caravela has 198 AC rooms and an 83-foot-high Atrium lobby. Continental breakfast, beach cabanas, WIFI, self-parking, newspaper – these are complimentary services. Besides, five on-site restaurants offer versatile cuisines to meet guest preferences.
Recommended for:
The hotel is most popular among family travelers. So, if you want to tour Goa with your family, I suggest this place.
2. Beleza By The Beach (Colva)
When you look for Goa hotels near the beach, you can find this 4-star Beleza by The Beach (Colva) on top of the list.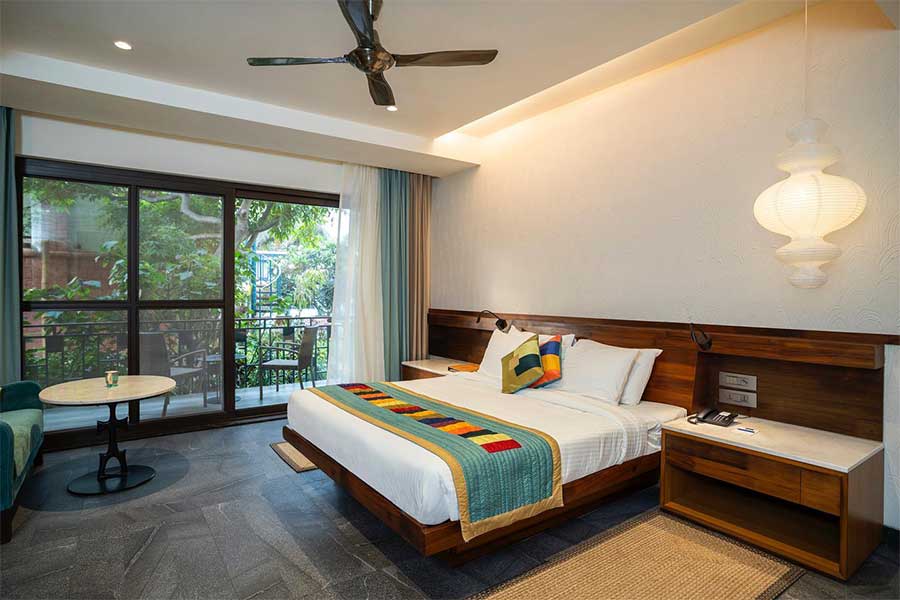 Location
This family-friendly beachfront hotel is just on Colva Beach at Thondvaddo. You can quickly reach the Margao Railway Station (6.8 km) and Dabolim Airport (13.8 km) from the second residence.
Tourist Attractions
Guests love to visit Mother of God Church, Shri Manguesh Temple, Majorda Beach, and Martins Corner staying at this property.
Motel Backdrop
Guests can spend sufficient time on the sun terrace, garden, private balconies, gym, double pools, and sandy beaches. Also, the Espaco Divino, the on-site spa, offers body wraps, massages, and spas. Nazare and Tentacao on-site restaurants and beach shack bars provide Indian and international dishes to guests.
Superb Amenities
You can enjoy the buffet breakfast in the morning, get the 24-hour front desk, and free WIFI all day. In-room facilities include premium bedding, AC, HDTVs, wardrobe, coffee maker, and others. Again, bathrooms have rainfall showers, hair dryers, and complimentary toiletries.
Recommended for:
The hotel is recommended to those who want an expansive hotel (this one is on 5 acres of land), a family-friendly setting, and scopes to taste the traditional Indian foods.
3. Cidade De Goa – IHCL SeleQtions (Panaji)
Meet your bay view hotel expectations by staying at the 5-star luxurious stay Cidade De Goa, a glance of Portuguese Hamlet.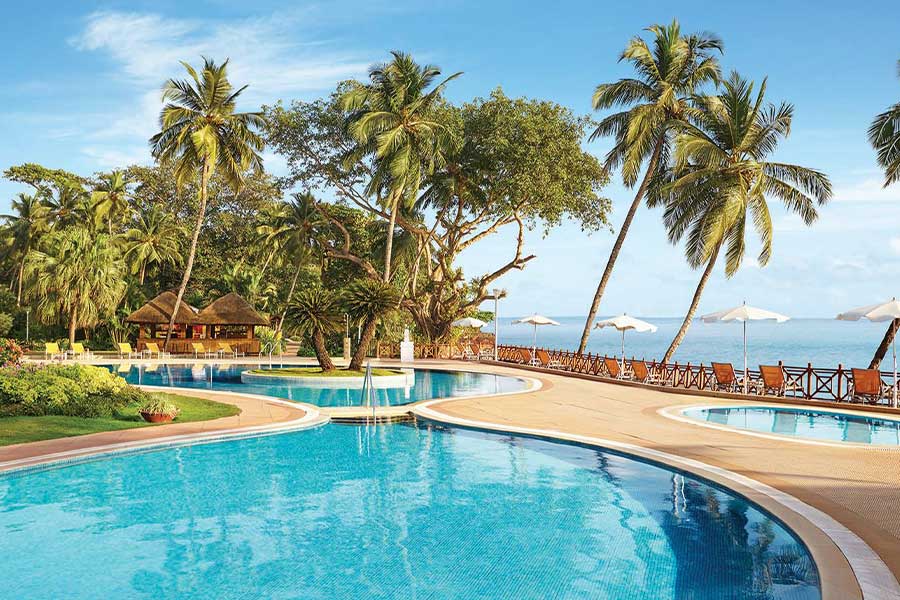 Location
You can find the beach stay in Goa on the Vainguinim Beach of Panaji. The nearest airport is Dabolim, an 8.3 km distance from the resort.
Where to Visit
While staying at the hotel, you can roam around various places of interest: Mormugao Port, Goa University, River Cruise, Fort Aguada, Mangueshi Temple, and Chapora Fort.
Homestay Milieu
Two outdoor pools, seven on-site restaurants, Clube Saude fitness Center, beachfront dining, poolside bar, and a terrace – I assume these are why everyone loves staying at the hotel.
Property Perks
The hotel includes a wide range of visitor perks starting from complimentary self-parking. Any guest can enjoy the free internet, premium bedding, flat-screen TV, fridge, coffee maker, and tour desk. Likewise, the bathrooms include a shower, tub, and hairdryer.
Recommended for:
Suppose you want to make a holiday more exciting. In that case, you can visit this hotel and grab the amenities like versatile spas and massages, activities like water sports, live music, and tennis.
4. Taj Exotica Resort & Spa, Goa (Benaulim)
Rated as a 5-star hotel, the Taj Exotica Resort & Spa is one of Goa's most beautiful beach-view hotels.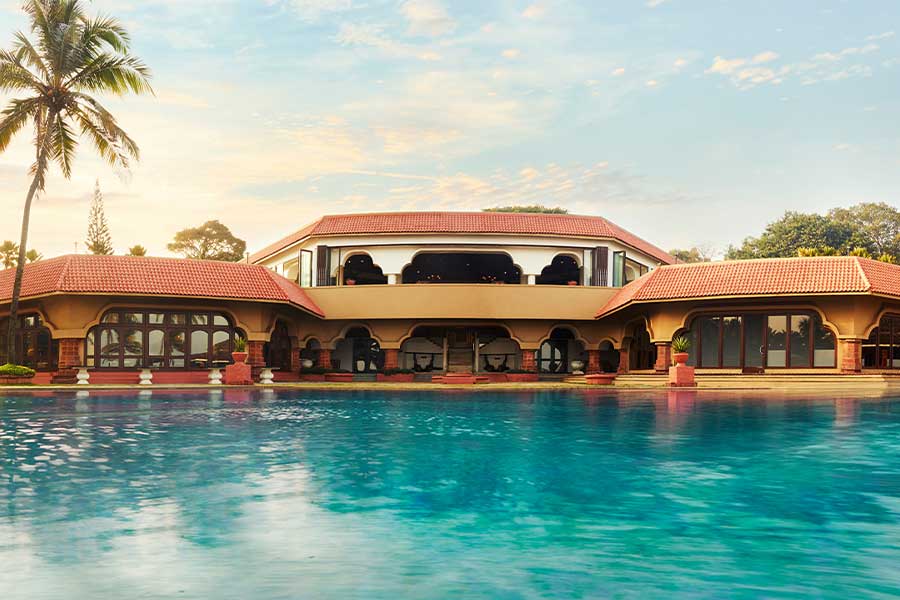 Location
Surprisingly, Benaulim Beach is within the 250m range of this resort. For transportation, the Margao Railway Station is 5.5 km, and Dabolim Airport is 18.7 km far from home.
Magnificent Wonders
Martins Corner, Mother of God Church, Cabo De Rama Fort, Varca Beach, and Sernabatim Beach are some popular places for guests.
Resort Context
The 56-acre green and beach-facing resort are ideally decorated with pleasant colors, while the buildings have classic dark wood furnishings. Some other lovable things are full-service spas, a pool, dining, and golfing options.
Advantages to Stay
This 140-room resort is a place with numerous amenities. Seafood shack, 2 bars, playground, buffet breakfast, tennis court, bike rentals, and gift shop are examples. Besides, free internet and self-parking, safes, LED TVs, coffee makers, luggage storage etc. are standard facilities for the guests.
Recommended for:
The resort is suitable for guests with pets and kids as there are plenty of options for the kids and family members.
5. Taj Resort & Convention Centre Goa (Panaji)
Are you looking for beach-facing resorts in Goa with romantic settings and plenty of features? You can visit Taj Resort & Convention Center.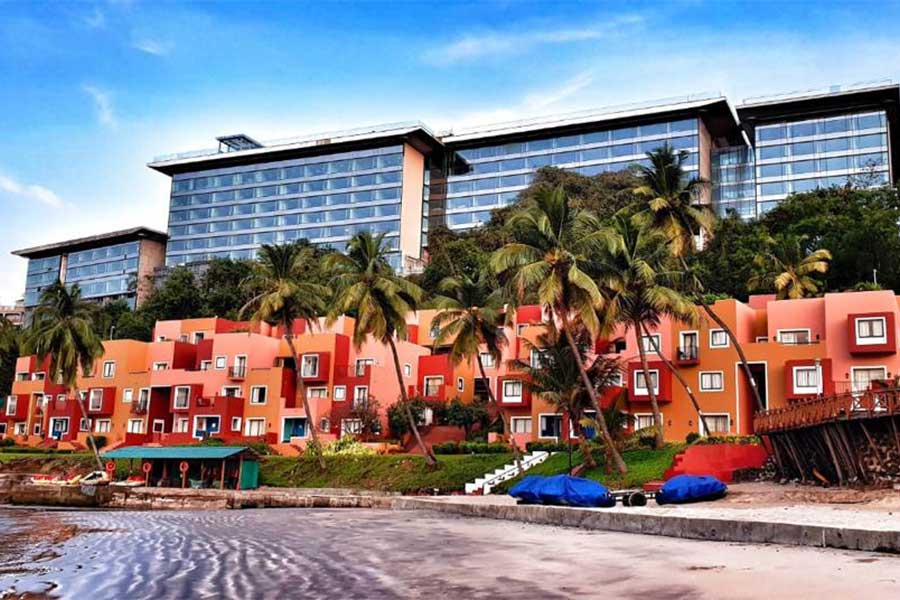 Location
The resort is on Vainguinim Beach, Dona Paula at Panaji. It is very close to Dabolim Airport, only 8.2 km distance.
Roaming Around
It is in proximity to local tourist spots. You can explore Goa University, Goa Science Centre, Mormugao Port, River Cruise, Caranzalem Beach, and Bishop's Palace.
Astounding Ambiance
The resort has an elevated deck on the rooftop with a pool facing the Arabian Sea. Some activities are available for the guests, like e-biking, kids' club, a lounge bar, board games, and water sports. The Jiva Spa, on-site restaurants like BLD and C2C, and two swimming pools are bonus amusements.
In-room Luxuries
The 5-star getaway has 282 AC rooms and 17 themed suites with lots of conveniences. You get extra-long beds, baby beds, free internet, smart TV, a wardrobe, and blackout curtains in the rooms. Also, you can cool yourself in the bathroom by having rainfall showers, safe toiletries, and bidets.
Recommended for:
I endorse this resort to the honeymooners for a romantic setting and business travelers for the 17000 sq. feet conference room.
6. Chalston Beach Resort (Calangute)
Surrounded by palm trees and a few steps from Calangute Beach, the Chalston Beach Resort boasts with peaceful environment and attractive architecture.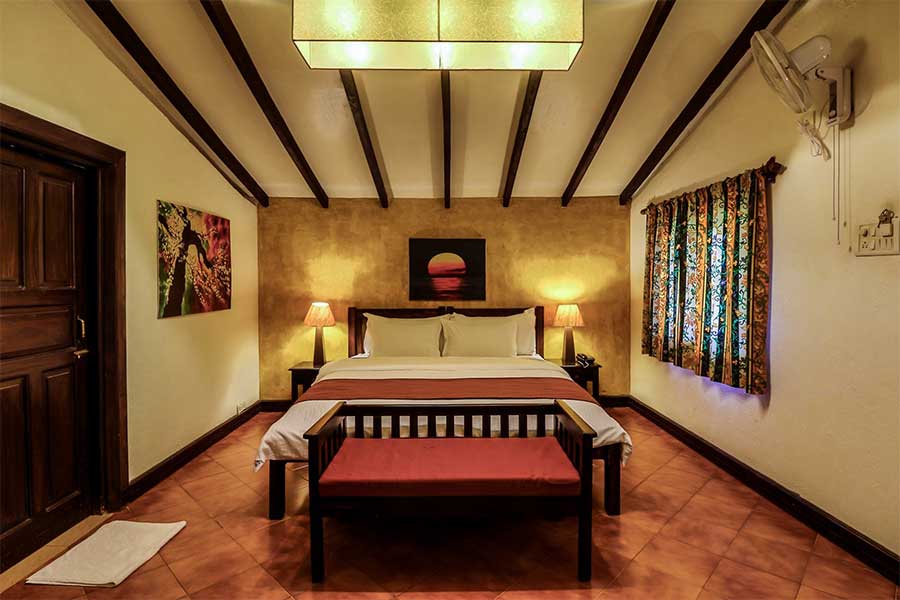 Location
It's in Khobra Vaddo of Calangute in Goa. Thivim railway station is 15.8 km far from the resort, while the Dabolim Airport is within a 19.9 km range.
Highlights to Enjoy
Numerous tourist attractions are accessible from the property. These places are Fort Aguada, Chapora Fort, Bridge Panji, River Cruise, Church of Saint Cajetan, Baga Beach, Infantaria, and Tito's Club.
Destination Surroundings
This destination home is a piece of art and culture. In fact, it's one of the finest beachside hotels in Goa. It has 2 pools, a garden, an on-site spa, bar, billiard, and an on-site restaurant. Hence, popular features are luggage storage, concierge services, and kids' playground.
Outstanding Conveniences
You will love the facilities of this 4-star hotel, starting with free internet and parking. The guest rooms feature AC, LED TV, wardrobe, fridge, and private balcony.
Recommended for:
I suggest this resort to the busy schedulers who hardly get time to rejuvenate and give time to their beloved ones.
7. Azaya Beach Resort Goa (Benaulim)
Learn the definition of the best hotels in Goa near the beach by booking a suite at Azaya Beach Resort and tasting the fun of holidays.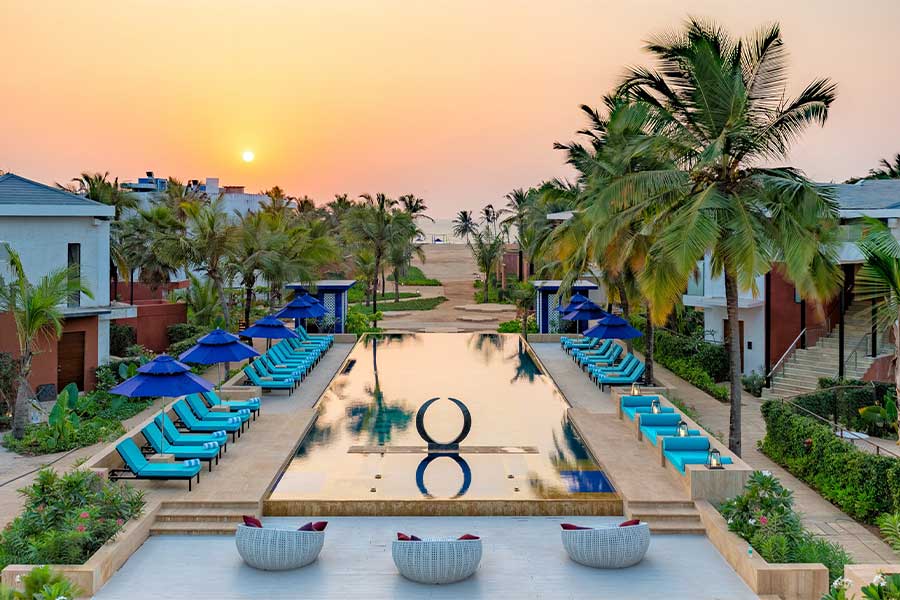 Location
This 5-star Arabian Ocean-facing resort is at Village Calwaddo in Benaulim. Margao Railway Station and Dabolim Airport are respectively 5.5 km and 19.2 km far from this hotel.
Must Go Spots
Goa trip may remain unfulfilled if you miss several tourist spots. They can be Martins Corner, Mother of God Church, Indian Naval Aviation Museum, and beaches like Varca, Sernabatim, Colva, and Cavelossim.
Resort Conditions
When you experience the resort, you will be inspired by Maldivian spotless sea views and sandy beaches. It features a pool, gym, nightclub, Portuguese-style garden, sun terrace, four multi-cuisine restaurants, and on-site Prana Spa with five treatment rooms.
Enrichments of Suites
Beside the absolute beautification, the hotel staff is great for welcoming worldwide guests. Also, all 114 AC rooms have free internet, bottled water, blackout drapes, premium bedding, an iron board, and an HD TV. You can freshen up in the deep soaking baths and use the complimentary toiletries.
Recommended for:
This beach resort is preferable if you want a personal, romantic space and to relax on the beach chair during the holidays.
8. Planet Hollywood Beach Resort Goa (Utorda)
Another famous name on the list of beach-facing hotels in Goa is Planet Hollywood Beach Resort, with plenty of surprises for the guests.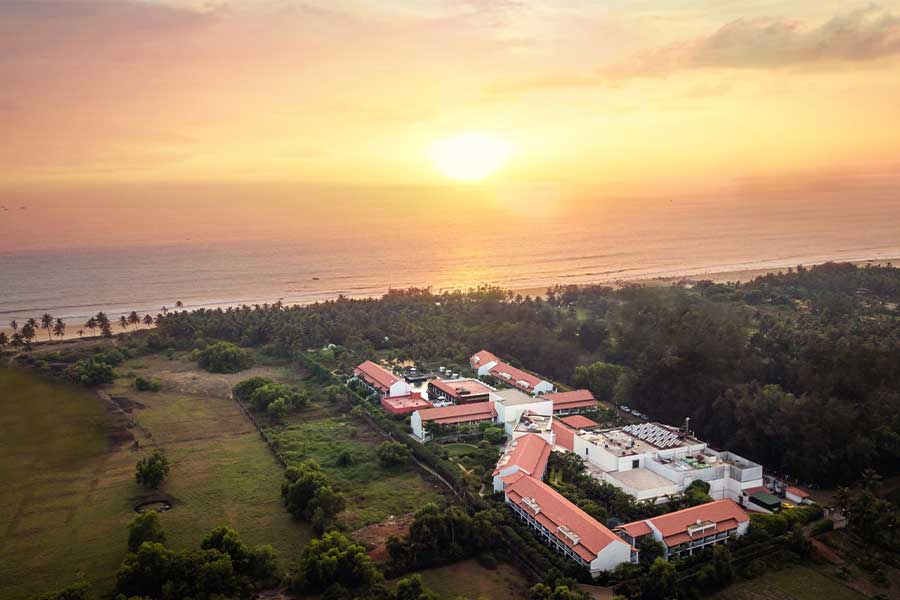 Location
The homestay is just on Utorda Beach in Salcete. It is 9.1 km far from the Margao Railway Station and 11.1 km from Dabolim Airport.
Curiosities to Fulfill
Places like Mother of God Church, Martins Corner, Goa University, Indian Naval Aviation Museum, Mormugao Port, and Shri Manguesh Temple are very close to the resort.
Appealing Setting
White sandy beaches and picturesque landscapes will make your party colorful. Besides, the resort features free parking, two restaurants, pool, gym, fireplace at outdoor, business center, and meeting facilities.
Property Services
This 5-star pet-friendly resort comprises 115 AC rooms with privileges like a private balcony, free Wi-Fi, flat TV, coffee maker, and others. While reaching the property, you can participate in various activities like archery, live music, badminton, karaoke, and games. There are options for hot tub or jacuzzi, shower, and free toiletries in the bathrooms.
Recommended for:
To arrange a wedding party or family fun, the scenario of this hotel is best for you.
9. Simrose (Agonda)
Are you looking for temporary Goa rooms near the beach on vacation? Call Simrose and book your reservation for the holidays.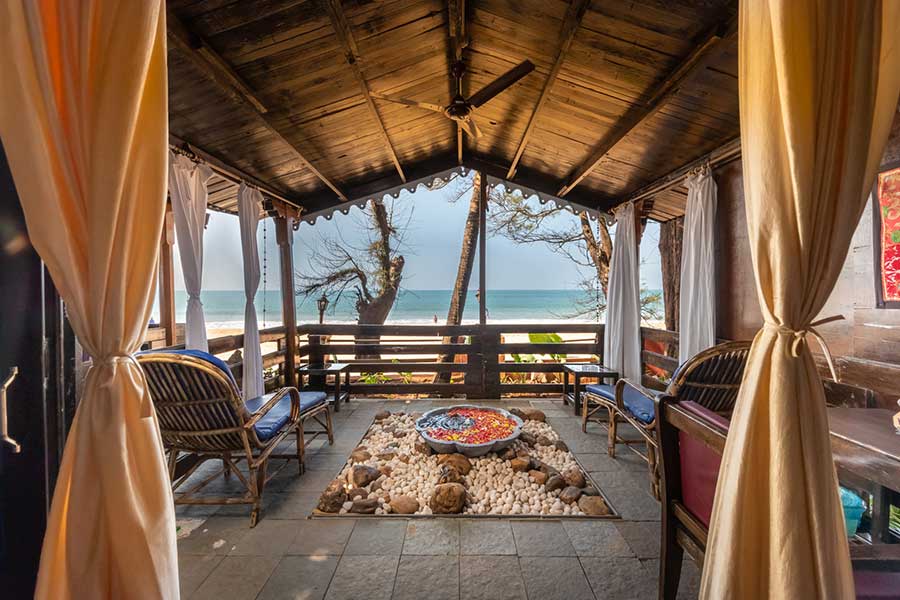 Location
The 3-star hotel is in the center of Goa. The nearest airport (Dabolim) is 41.9 km from this second home.
Things to See
All the Goa places of interest are easily accessible by residing at this hotel. Therefore, you can spend your precious time at Agonda beach, Cola Beach, Butterfly Beach, Canacona bus station, and Cabo De Rama Fort.
Resources for the Guests
The hotel is home for village life with a sea view and terrace. Its suites are mostly made of old bamboo. Consequently, the large palm tree garden, affordable restaurant savories, swimming pool, balcony with the room, and plenty of activities are ready for you.
Motel Virtues
The air-conditioned hotel features eight huts and a storehouse of 9 rooms. Hence, the property offers free internet, self-parking, newspaper, etc. Guests can entirely alienate themselves in the library or at the on-site spa. Additionally, the bathrooms are equipped with modern things, including free toiletries.
Recommended for:
If you are looking for affordable beachfront hotels in Goa, Simrose is an ideal destination for you and your family.
10. Om Sai Beach Huts (Agonda)
Visit Om Sai Beach Huts to get a perfect holiday destination near the beach in Goa.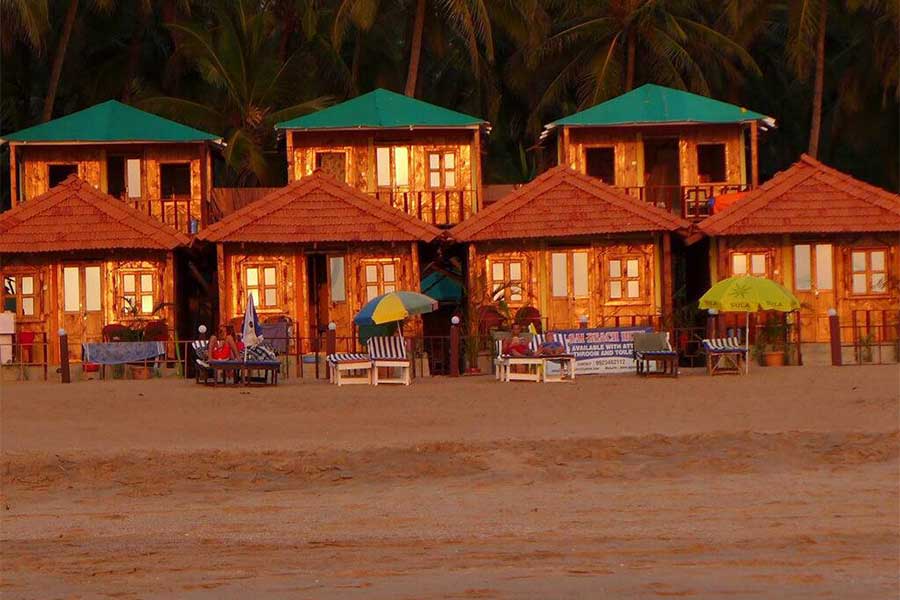 Location
This beachfront hotel is in front of a beach with a stunning view of the Arabian Sea. Transportation is easier as the Canacona bus station is 7.7 km, and Dabolim Airport is 41 km from the cottage.
Places of Attraction
Besides the beach are plenty of places where you can make leisure fully memorable. The guests of this resort love to visit places like Cola Beach, Agonda river, Butterfly Beach, and Cabo De Rama Fort.
Hotel Environment
Like other beach view resorts in Goa, this one is also a perfect lodging with a perfect atmosphere. You can breathe fresh as these huts' designs are entirely eco-friendly and green. Moreover, sun beds, sunloungers, terrace, garden, and BBQ facilities are there.
Listed Facilities
It has 18 separate units, while nine have a sea view and others have a garden view. the larger rooms come with a wardrobe, comfy beds, free internet, an all-time front desk, a safety box, and a private balcony. Equally, the bathrooms have options for hot and cold water, where you can rejuvenate with your partner.
Recommended for:
If you want a top-rated beachfront location in Goa, Om Sai Beach Huts is ready to welcome you.
11. O Pescador an Indy Resort (Panaji)
O Pescador, an Indy Resort, is one of the oldest sea view hotels in Goa, serving its customers from 1979 with a renovation in 2017.
Location
This beach resort is near the Dona Paula Jetty of Panaji. Dabolim Airport is only 8.2 km distance from the motel.
Gorgeous Sights
Some places to spend time are Immaculate Conception Church, Bridge Panji, River Cruise, Church of Saint Cajetan, Chapora Fort, and Caranzalem Beach.
Friendly Ambience
Lost yourself in the blues by staying at this 22-room waterfront home. Additionally, the renovation has enhanced the beauty of the construction. A Tricana, the on-site restaurant, serves high-quality dishes.
Delightful Services
Some identical features of this hotel are spacious rooms, manager's reception, garden, bar, and the private beach. You can grab some complimentary amenities like internet, self-parking, newspaper, and bottled water.
Recommended for:
The result is worthy of its setting and is ready to serve hospitality to local and international guests for years.
12. The Zuri White Sands, Goa Resort & Casino (Varca)
Another 5-star holiday home in Goa is The Zuri White Sands, Goa Resort & Casino, offering versatile amenities to people looking for a peaceful vacation.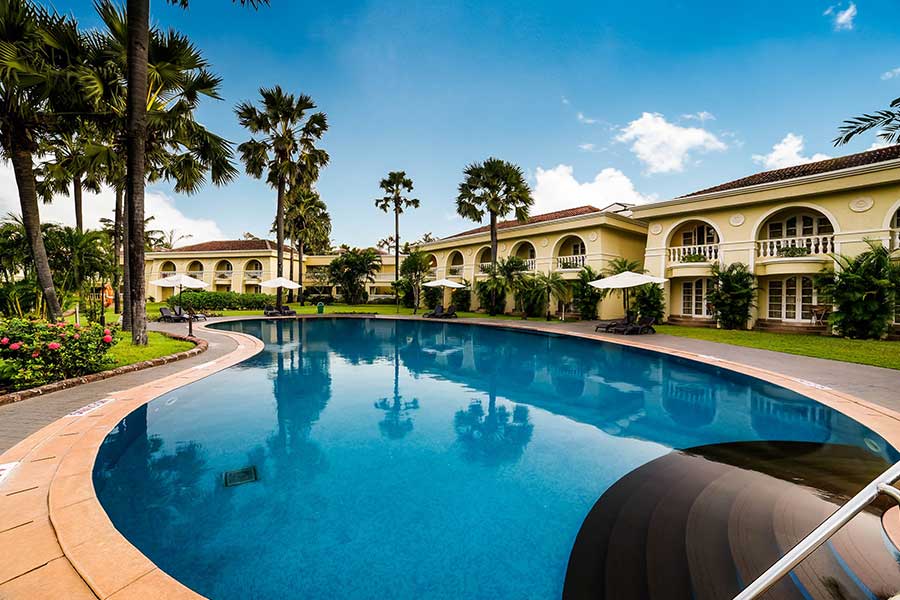 Location
the hotel is destined beside the Varca beach in Salcate. Margao Railway Station is 6.2 km, and Dabolim Airport is 20.8 km from this place.
Places to Visit
Lots of local attractions are available to visit by staying at this resort. Some of them are Martins Corner, Mother of God Church, Cabo De Rama Fort, Verna Industrial Estate, and Indian Naval Aviation Museum.
Eccentric Ideologies
The authority believes in serving a quality background to eliminate the stress of the regular hustle and bustle. It is home to swimming pools, round trip airport shuttle, bar, gym, beachfront dining, sauna, and five on-site restaurants.
In-room Facilities
The result is an excellent place for staying in quiet rooms with many services. Some include free Wi-Fi, parking, buffet breakfast, LCD TV, and a fridge. You can use the bathroom with rainfall showers and complimentary toiletries for a fresh shower.
Recommended for:
If you are ambitious about parasailing, water skiing, and windsurfing, this resort can be a good destination.
Frequently Asked Questions
What is the average cost of hotels in Goa with private beaches?
The average cost of a hotel in Goa with a private beach can vary depending on the season and the specific hotel. However, you may need to pay around Rs. 7,000 for a standard room.
What are the things to do by staying at a beach hotel in Goa?
Some things to do by staying at a beach hotel in Goa include swimming, sunbathing, and enjoying the views.
Can I take my pets to Goa hotels?
Pets are not allowed in most hotels in Goa, yet there are many exceptions nowadays.
Conclusion
For the best of what Goa offers, you should consider staying in one of the beach view hotels we listed above. With their convenient locations, stunning views, and top-notch amenities, they will surely give you a holiday you will never forget.
I hope your needs are fulfilled in this blog on beach view hotels in Goa. Thanks for reading the post.