Are you looking forward to a nice trip to Colorado and visiting all the interesting spots with your better half? How about making it even more exciting by staying in a hotel with a steam tub to soak yourselves and get cozy?
If that's what you are searching for here, you're in the right place. We've got a whole list of all the romantic getaways in Colorado Springs with private hot tubs in rooms. So, now you can enjoy a relaxing Jacuzzi time with your partner, with a glass of champagne, and even under the open night sky; who knows?
You must be wondering how would I know the best romantic getaways for you? As a travel enthusiast and lover of beauty, wherever I go, I look for the finest romantic places to spend quality time with my loved on. So, trust me, and let's get started with the list to find your perfect romantic getaway!
13 Colorado Hotels with Private Hot Tubs
1. Hilltop Inn Broomfield Denver
Features:
Complimentary breakfast
Homemade desserts and cocktails
Flavored tea
Suite with a fireplace and hot tub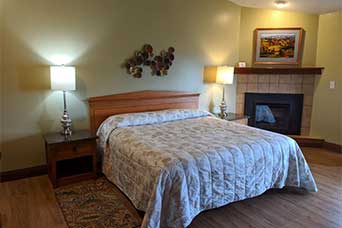 It's a beautiful Colorado hotel like in the movies with gardens all around with winter snowfall, giving it a fairytale vibe- It's none other than the Hilltop Inn Broomfield Denver.
The hotel is located only within a 5 minutes drive from the 1stBank Center. To explore the surroundings, you have the Boulder, only a 20-min drive from the hotel; then there's the City center and Metropolitan Airport also close by.
It includes amenities like complimentary free breakfast every day, an onsite gourmet restaurant, homemade cocktails and desserts, and special flavored tea in the Wildflowers English Tea room.
Their rooms also offer the same warm ambiance with a kitchenette, a mini-refrigerator, a coffee maker, a microwave, a fireplace to sit by during winter, and so on. I would recommend staying in their King room with a spa and an additional beautiful window view to wake up to.
I couldn't help but give it a smooth 9.4 rating for maintaining a welcoming ambiance, unlike typical hotels.
2. Black Bear Manor
A bed & breakfast hotel beside the Colorado Mountains sounds perfect for a romantic getaway, and that's precisely what the Black Bear Manor offers.
If you are looking forward to hiking in the Colorado Mountains, the hotel offers the adjacent hills for hiking or skiing. Besides, for other places to explore, you've got the Ouray Ice Park for ice climbing, Box Canyon Falls Park for watching the waterfalls, and the natural beauty of Colorado to strike you with awe.
The hotel avails all the exciting amenities, including a hot complimentary breakfast every morning with fresh veggies and meat, complimentary drinks in the afternoon, a hot tub to relax, and the homely environment that took me on a nostalgic ride to childhood.
Every room has a vintage feel, modern amenities like adjustable heating, satellite TV for entertaining late-night movies, private bathrooms, a coffee maker, and so on. The King Suite with a spa bath seemed perfect for a couple's getaway. It also comes with a fascinating mountain view.
And all of these seemed close to perfection for a holiday for two, so I rated it a 9.8.
3. Courtyard by Marriott Colorado Springs South
Features:
Close to popular attractions
Nearby art centers
An indoor pool and hot tub
Suite with hot tub and video games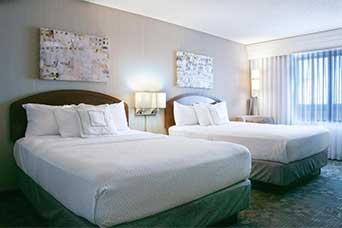 The Courtyard by Marriott, Colorado Springs South, takes you one step closer to the Colorado mountain beauty.
No wonder couples have marked this hotel with Jacuzzi in room, Colorado Springs as one of the perfect places for a couple's sweet escape from urban life. With the Cheyenne Mountain Zoo and the Garden of Gods nearby, it offers the explorer a treat to the soul.
After a day of hiking, you can return to the hotel's relaxing indoor pool and hot tub. It also offers other facilities like an onsite cafe, a gym, laundry services, and modern decor with polished furnishings.
You can return to your King suite with a hot tub to relax and enjoy some romantic time with your partner. The rooms also have a sofa-bed, work desk for the workaholic, a coffee maker, and video games for the gamer!
A beautiful hotel like this does not deserve a rating less than 8.5!
4. Holden House 1902 Bed & Breakfast Inn
The charming Holden House Bed & Breakfast Inn, built in the 1900s, would only add to your comfort and romance with your loved one.
Garden of Gods and Palmer Park are only 10 minutes from the Inn. Besides, the United States Air Force Academy and the Colorado Springs Airport are nearby.
But what I loved most about the hotel was not the closeness to good attractions but the exquisite hotel amenities. It offers a shared lounge and garden to grab your morning tea with birds singing, a business center, a gym, a perfect continental/English, or even an Irish complimentary breakfast to enhance your taste buds.
The rooms, especially the King suite with a hot tub, were decorated in a lovely manner with a vintage setting and amenities like a private shower, bath and bathrobes, a hot tub, and a balcony to spend some spiritual time with your beloved.
It serves the purpose of freshening your mind, cleansing your heart, and adding flavor to the couple's relationship, with a sweet 9.7 rating by couples.
5. Clear Creek Inn
Features:
Pet-friendly
Complimentary American breakfast
Shared lounge and garden
Suite with hot tub and balcony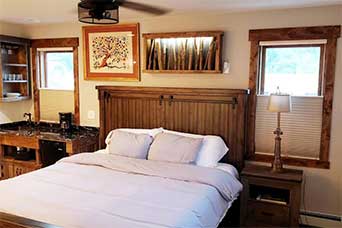 If you cannot live without your pet cat, here's the perfect hotel for you in Colorado, located in Georgetown, the Clear Creek Inn.
The Inn is located in a possibly remote place in Colorado so that you can enjoy a serene environment with only your loved one beside you. The nearest popular attractions include the Golden, Breckenridge, and Frisco.
The Inn offers amenities like a complimentary a la Carte and American breakfast choices every morning, a shared lounge and garden for experiencing the countryside beauty, a gym, etc.
The suites offer a lovely warm ambiance with facilities like a seating area on the balcony to have heartfelt chitchats with your partner, a coffee maker, a bathroom with bathrobes, a hairdryer, and a hot tub. Staying at their King Suite mountain view felt close to perfection for a couple's getaway.
And hence with such beautiful opportunities inside and outside the hotel suites, they get an easy 9.5 rating from me.
6. Minturn Inn
The bed & breakfast experience you'll get while staying in the Minturn Inn is outwardly, and I'm not exaggerating!
Located in Minturn, about 33km from Dillon, the Inn gives you a bright and fulfilled ambiance, close to experiencing a stay in the Ghibli movie! The nearest attractions include Silverthorne, the Vail village, Eagle Country Regional Airport, and mountainsides for hiking.
It is an 1800s chalet-themed charming inn with wooden furnishings that, besides the beauty, offers all the fantastic amenities like a barbecue terrace, a complimentary Buffet, Italian or authentic American breakfast relishes, and so on.
A stay in their King room with a spa bath was a delight to my soul, offering a shower, bathrobes, a TV to enjoy your favorite shows, a hairdryer, an eye-catching window view, and of course, a warm hot tub experience with your beloved.
Couples like us didn't want to leave the place, hence a top 9.6 rating for this heavenly place!
7. StoneBrook Resort – Adult Only
Features:
Located on Mountainsides by the river
Scope for leisure activities
On-site restaurant and bar
Suite with fireplace and hot tub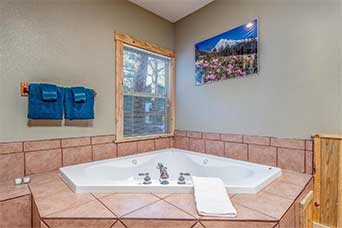 You should stop scrolling if you're looking for a tranquil romantic hotel location by the mountains and the rivers as you've read in the books. Here's the picture-perfect StoneBrook Resort, located in the mountainsides.
You can enjoy exploring the surrounding spots like Estes Park, Fort Collins, and the famous Grand Lake and do adventurous couple activities like skiing, hiking, and fishing.
It is a serene Inn calling you for the perfect honeymoon with amenities like complimentary fresh breakfast, an onsite restaurant and bar, a golf course within 3 km and more when you reach there.
The cottage suites exclusively offer a seating area on the terrace to enjoy the beautiful view outside, a kitchenette to make late-night meals, a dining area for enjoying the meal, a fireplace to warm the cold nights, a shower, premium linen bedding, a hot tub for unwinding, and of course the divine river view.
Simply put, it's a perfect place for a romantic getaway and to bring out the inner romantic in you, which has earned it a sweet 9.7 rating.
8. The Bradley Boulder Inn
Features:
Located at Central Boulder
Daily wine and cheese hour
Complimentary breakfast
Suite with hot tub and balcony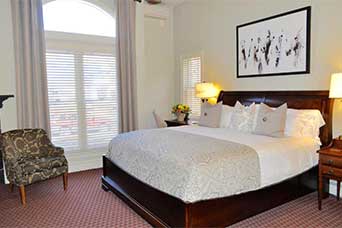 Located in the city center of Boulder, the Bradley Boulder Inn is the peak of a comfortable house and spacious accommodations. Its modern furnishings and warm-friendly staff make your experience of staying in Colorado memorable.
The Inn is close to attractions like the Pearl Street Mall, the Boulder Theater, Fox Theater, Boulder Museum of Contemporary Arts, etc. Besides being at the center of interest, it is also near the Denver International Airport, the Coors Events Center, and the University of Colorado.
Our couple's stay in the Inn was unforgettable, thanks to the daily wine and cheese hour and a fresh complimentary breakfast every morning! Besides, there were scopes for cycling, hiking, leisure activities, a business center, etc.
The lovely Deluxe King Room has a hot tub for relaxation, a wardrobe, a work desk, a TV, and a balcony to enjoy your evening coffee!
Couples staying there seem to love it all over, and I'm soon to make a booking in the hotel with a gorgeous 9.9 rating!
9. Four Seasons Resort Vail
Features:
Adjacent to Vail village and mountain
Outdoor pool, spa, pool lounge
Onsite pool bar
Suite with hot tub and kitchen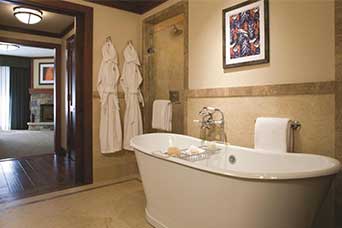 Have you heard a lot about the beautiful Vail mountains and wish to experience a stay close by? The Four Seasons Resort Vail has brought your dreams to reality.
Located at the base of the mountain of Vail, the hotel offers you the most luxurious romantic getaway you can have in Colorado. The surrounding places to explore are the Betty Ford Alpine Gardens, the Beaver Creek SKi area, and the Vail Mountain for hiking.
However, that's not the main attraction of the resort. Instead, it is the extraordinary facilities like a year-round outdoor pool, a spa, an onsite pool lounge, a gourmet restaurant, a bar, and an exquisite steakhouse for steak lovers. If you love some hot chocolate in the cold mountains, the onsite Pool bar offers a signature hot cocoa, along with customized cocktails and wine.
The 5-star onsite spa and wellness center offers full-body massage. Apart from the hotel itself, you'll be astonished by the fascinating decor in your suites with amenities like a kitchen, a coffee maker, a fireplace, and breathtaking views of the Vail village. Their King room comes with a hot tub exclusively offering a relaxing evening time with your partner, with some wine and soft music.
It is an exclusive Vail resort that you wouldn't miss for the world to enjoy a stay with your partner; it quickly got a 9.5 rating from me.
10. Comfort Suites Denver Tech Center/Englewood
Features:
Close to Denver International Airport
Scope of leisure activities nearby
Grab & Go breakfast
Suite with whirlpool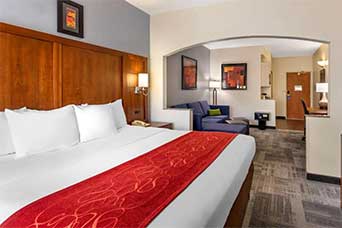 The Comfort Suites Denver Tech Center is an exceptional hotel located conveniently in Denver, adjacent to the Denver International Airport. It is close to several gourmet restaurants, corporations, attractions, and local businesses.
Being nearby to popular attractions like Sports Authority Field at Mile High, Denver Broncos Training Camp, University of Denver, parks, and mountains, you can do a plethora of leisure activities like hiking, cycling, skiing, golfing, and even shopping.
There are plenty of amenities in the hotel, such as gourmet coffee and tea service the whole day, complimentary fresh breakfast, an indoor pool, and hot tub, a fitness center, and banquet services. Besides the hotel's great meal choices and seating options, you can also avail yourself of the Grab & Go bag breakfast.
The spacious suites have facilities like a coffee maker, a refrigerator, a microwave, a hair dryer, cable TV, and fantastic window views. They have King Suites with whirlpool bathtubs for two for a romantic experience in Colorado.
An 8.5 seems like an excellent rating given by the couples who loved the place for a nice romantic escape to the Colorado beauty.
11. Marriott's Mountain Valley Lodge at Breckenridge
Features:
Skiing opportunities nearby
Indoor pool and spa
Barbecue facilities
Suite with hot tub and balcony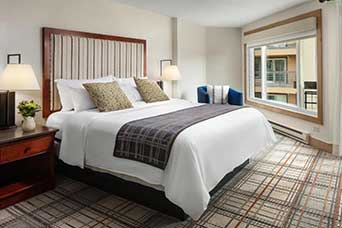 Only 4.8 km from the Breckenridge Ski Area, Marriott's Mountain Valley Lodge is an elegant hotel for a couple of days the special.
The hotel, with a warm, inviting aura, has excellent ski areas in the surroundings, like the Breckenridge Ski Area and the Arapahoe Basin Ski Area. Besides, the exclusive in-house amenities include an indoor pool, a spa with a pool, full-body massage services, a barbecue, and outdoor eating facilities.
With a stay in their suites, you get to avail yourself of the fully working kitchen to cook your meals, a dining area for enjoying it, an individual lounge, an iPod docking station, and outstanding window views. They have a Queen studio suite that even offers a warm spa bath in the hot tub and a balcony to spend lazy afternoons with a cup of coffee.
No wonder the Mountain valley Lodge has earned itself a 9.5 rating for a couple's trip.
12. Holiday Inn Express Hotel & Suites Fort Collins, an IHG Hotel
Features:
Center of popular attractions
Complimentary buffet breakfast
Indoor pool and Jacuzzi
Suite with private hot tub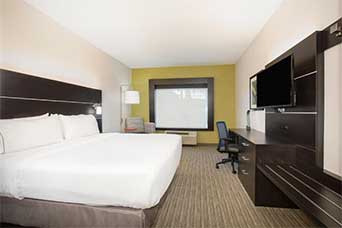 If you are looking for romantic accommodations near downtown Fort Collins, the Holiday Inn Express Hotel & Suites is the ideal place to look at, located only 8.9 km from Fort Collins.
You can say it's at the center of great visiting spots like the New Belgium Brewery, the Fort Collins Museum, and the Collindale Golf Course, giving you several ways to spend your quality time.
The hotel will serve you a daily buffet breakfast and cinnamon rolls for dessert, an indoor pool, a Jacuzzi, a business center, and a small gym.
The suites are spacious with decent amenities like a coffee maker, a mini-refrigerator, a couch, etc. let's not forget the private hot tub in the room, allowing you to drown all your troubles in a minute!
With its increasing popularity and unique facilities, it has earned a solid 9 rating from couples, including us.
13. Aspenalt Lodge
Finally, we have a budget-friendly romantic getaway in Basalt in Colorado.
The Asphalt Lodge brings you all the goodness of Basal, including exciting attractions nearby like El Korita, Heather's Savory Pies, Tempranillo for gourmet food, and Tapas Bar for exclusive cocktails.
The Lodge will also serve you with great amenities like a continental light breakfast every morning, a business center, a patio, a garden for enjoying the beautiful greens of the surroundings, etc.
It has spacious accommodations offering you a coffee maker, a refrigerator, a microwave, a fully-functional kitchen, incredible window views, and balconies to hang out with your partner. They have a King suite with a spa bath that includes a relaxing hot tub, a Riverview from the window, etc.
Staying in the lounge as a break from the monotonous daily life won't be disappointing, and for a couple's trip, the place has passed with a flying rating of 9!
FAQs
What is the price for romantic hotel suites with private hot tubs in Denver, Colorado?
The price for a night's stay at the suite hotels with jacuzzi in room, Colorado ranges from about $85 to $130.
What can I expect from a hotel with hot tub in Colorado Springs?
You can find budget-friendly comfort hotels to expensive luxury hotels with hot tubs in Colorado springs with a variety of amenities to enjoy.
What are the best Colorado hotels with private hot tubs?
There are excellent choices of hotels with hot tubs in Colorado with top names being the Four Seasons Restaurant and Residences Vail, Courtyard by Marriott Colorado Springs South, and so on as enlisted above.
Verdict
Not every day you and your partner get a chance to book your favorite hotel on Colorado hillsides with a hot tub to experience the rebirth of your romance, and adventure. So, if you have the time and money to do so, then why wait?
The list above has hopefully given you the perfect choice of a spacious suite in Colorado, with a private hot tub to spend some unforgettable moments with your partner. Hence, whether you plan for exploring Colorado or simply search for peace in an elegant hotel room with your special someone, then here's everything you need to know!
Your ideal romantic getaway in Colorado is waiting for you! Go on, make the bookings!