Let's face it. With the rising office load, you can feel the stress soaring up. As you get closer to your break, you think of nothing but planning an escape from the bustling daily life.
How about relaxing on the beachfront to make the most of your long-awaited holiday? St Augustine seems like your ideal holiday destination. Let your hair down in its coastal gem.
Surrounded by beaches and brimming with local history, you're set to soak in nature's beauty and fascinating heritage. Book a fine and luxurious suite to find ultimate relaxation.
Whether it's a couples' tour, family vacation or a solo trip, the St Augustine beach hotels oceanfront can make your stay overwhelming. You're sure to return with calmness and memories in your mind.
Can't decide where to stay? Sit back and look at our top-notch enlisted hotels in your suitable location. We bet you won't regret it!
Popular Sites of Attractions in St Augustine
The ancient city, St Augustine, has never ending exploring options. However, the places that charm most of the tourists are:
Beaches: Teeming with nature's beauty, St Augustine has tons of beaches. Covered with white sand is St. Augustine Beach, and Crescent Beach has broad walkways.
Museums: The city being a history teller, has many museums. To name a few are the Lightner Museum, Potter's Wax Museum, and Pirate and Treasure Museum.
Walking areas: Explore the city by walking through the Old City, Bridge of lions, St. George Street, Colonial Experience etc.
Parks: Besides history, the lively city offers parks like Anastasia State Park and Alligator Farm Zoological Park.
Historical sites: Sites like Fountain of Youth, Castillo de San Marcos, and Castle Otttis are worth visiting.
Theaters: St. Augustine Amphitheatre is one of the best sites, with historic features and modern amenities.
Others: Besides, you cannot miss having a ride in the Old Town Trolley Tours, World Golf Hall of Fame, and Wild Reserve if you're in St Augustine, Fl.
7 St Augustine Beach Hotels Oceanfront
Knowing the city is jam-packed with the beauty of nature, art, history and fun activities, your cravings for a beachfront vacation must be on the top. Keep the ball rolling!
1. Guy Harvey Resort on Saint Augustine Beach
Imagine spending your vacation relaxing on a beach chair, sipping your fav drink and viewing the majesty of the beaches. Yes, the welcome oasis exists at the Guy Harvey Resort.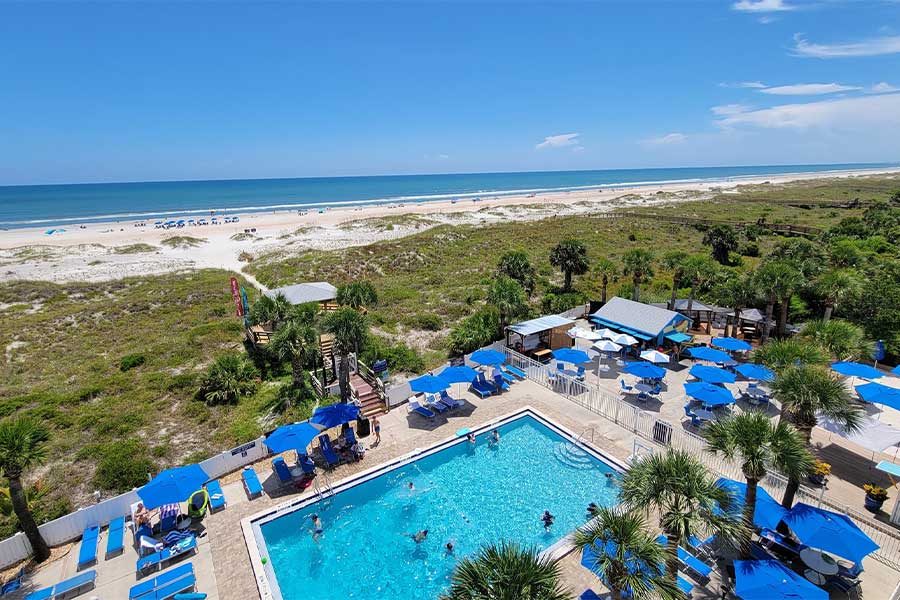 Location
This beautiful oceanfront hotel is at Beach Boulevard near St Augustine beach. Driving 12 minutes from the Old Town Trolley Tours, you can make your way to the hotel.
Places to go
Anastasia State Park, Lighthouse and Museum, Shores Golf Club, and Fort Matanzas are worth visiting. It centers on Treasure Beach, Vilano Beach having the St Augustine beach as hotel front.
Hotel Amenities
When staying in one of the best oceanfront hotels, St Augustine, you can't miss surfing in its outdoor pool. It offers facilities like free parking, workout room, exquisite beachside dining, meeting room, and laundry service.
In-room facilities
Trust me, in-room comforts are splendid here. Each of its 153 rooms pleases you with an ocean view. You'll find a 42″ flat-screen TV, air cooler, a spacious work desk, toiletries, hair dryer, fridge, and oven.
Recommended for:
If you wish to make your tour adventurous, I recommend this hotel. It's because, besides recreation, you can go for eco and kayaking tours, surf rentals, fishing, etc.
2. Oceanview Lodge – Saint Augustine
A nature enthusiast like you would love to view the ocean glittering with the sunrise as you wake up. If so, the Oceanview Lodge can be your heaven for your vacation stay.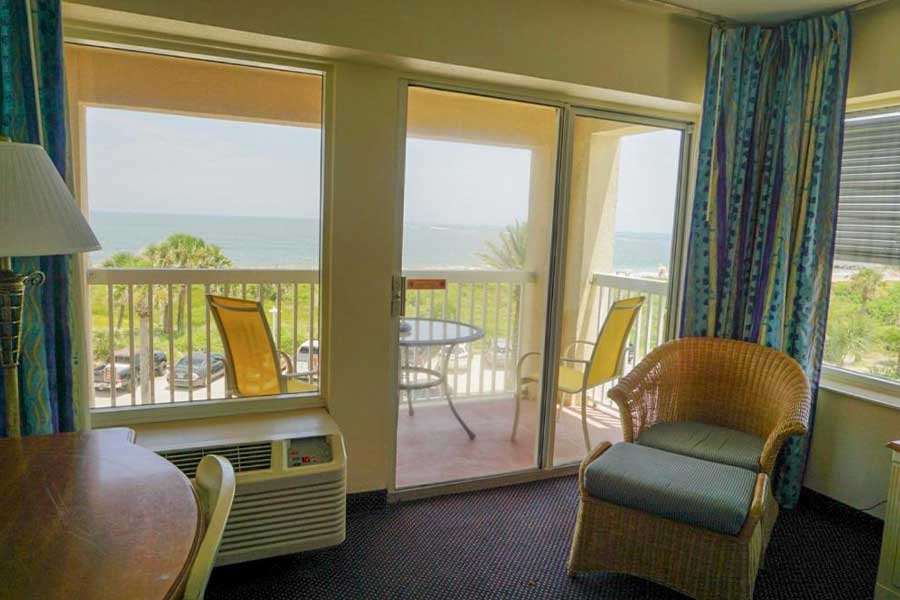 Location
You can easily mark the hotel 4.8 km from the historic downtown. To be precise, its location is on Anahma Drive, with Vilano Beach closest.
Places to go
The lodge is walled with tons of local attractions. So, you can't afford to skip a visit to places like Castillo de San Marcos, Fountain of Youth, Fort Matanzas and the two beautiful beaches nearby.
Hotel Services
Rooms here come with a unique tropical theme. Besides, it offers an outdoor pool, parking arena, access to Wi-Fi, and complimentary bed breakfast. Relax in its jacuzzi and enjoy spa facilities.
In-room Comforts
You'll be amazed that the lodge has a private balcony with an ocean view. You can find the air-conditioned rooms equipped with coffee makers, microwave, fridge, hairdryer, and TV.
Recommended for:
It's one of the best beachfront hotels in St Augustine Fl. If you're asking for a family-friendly beach vacation, it's the place for you. Get a glimpse of dolphins on its beaches too.
3. Embassy Suites St Augustine Beach Oceanfront Resort
Newly married couples always admire spending an intimate vacation relaxing in the best suite. The icing on the cake will be an exotic beach view. For this, couples always choose this resort.
Location
Packed between two famous city sites, you can reach the resort by stepping on Beach Boulevard. On top of that, the St Augustine beach is only a minute's walk away.
Places to go
Anastasia State Park, Alligator Farm, Marineland, and Spanish Quarter Museum are quite the highlights of the hotel's city center. You've 5 beaches, Riverside shopping center and restaurants on your list to cover.
Hotel Accessibilities
A blissful stay is guaranteed with all its exclusive facilities. Besides the gym and pool, the St Augustine beach front hotels offer an exquisite dining experience. For recreation, take a bike rental or enjoy at the pool bar. Yoga sessions are also open.
In-room Luxuries
Guestrooms feature granite vanities, hand-crafted furniture and a fancy travertine bath. To blend a home-like feeling, they add a fridge, tea maker, iron, hair dryer, accessory safe and 24/7 housekeeping.
Recommended for:
There's no other match for a couple's stay with a beach gateway other than this resort. You'll find a couple's jacuzzi to spice up your intimacy.
4. La Fiesta Ocean Inn & Suites
A beach vacation becomes a must when your bustling life sips all your positive vibes. Your stay will turn more magical relaxing in the tropical gardens of La Fiesta Ocean Inn.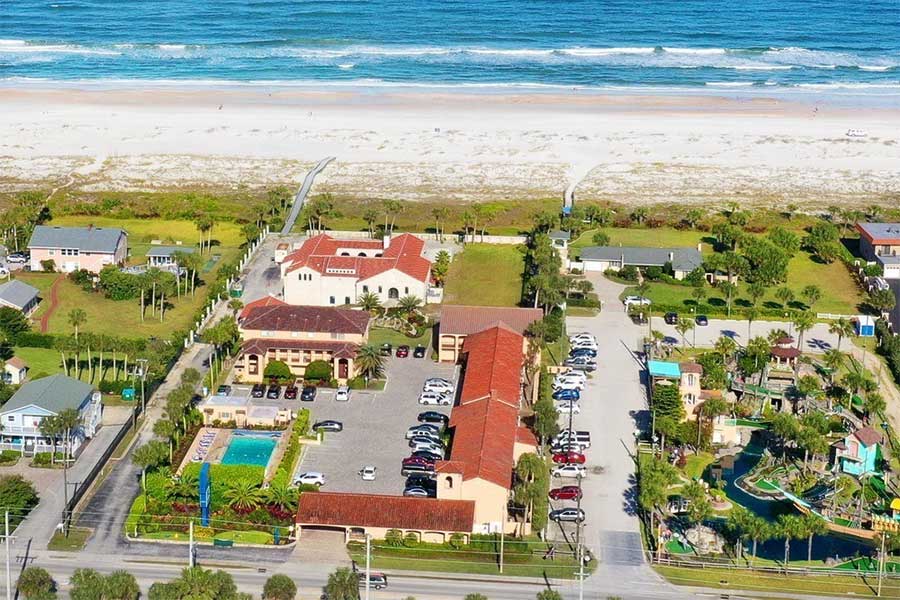 Location
With a 10-minute drive by the historic neighborhood, you can catch a good glimpse of this hotel. Walking 2 minutes by the hotel, the shores of St Augustine beach mesmerize you.
Places to go
Visit the magical sites Ximenez Fatio House, Marineland, Fiesta Falls Miniature Golf etc., nearby. Its main attractions are the beaches like Treasure Beach, Crescent Beach, Anastasia State Park Beach etc.
Modern Amenities
Guests always compliment the splendid front desk service. There're sun loungers by the heated pool! Enjoy get-together in its picnic area and tropical gardens. Besides, they've got a gym, business center, mini-golf, and laundry service.
In-room Conveniences
Wake up smiling with your breakfast by the bed and watching waves from the balcony. It seems dreamy, right? All the rooms here feature a flat-screen TV, oven, fridge, a small seating area, and shower accessories like a hair dryer.
Recommended for:
You'll find it ideal for holding meetings in its business center with great accommodation and Wi-Fi access. It's truly one of the finest beachfront hotels in St Augustine Fl.
5. The Saint Augustine Beach House
Feel like escaping from your monotonous life? Time for a beachy escapade! If you're worried about your stay, book a room in the Saint Augustine Beach House with no loss of time.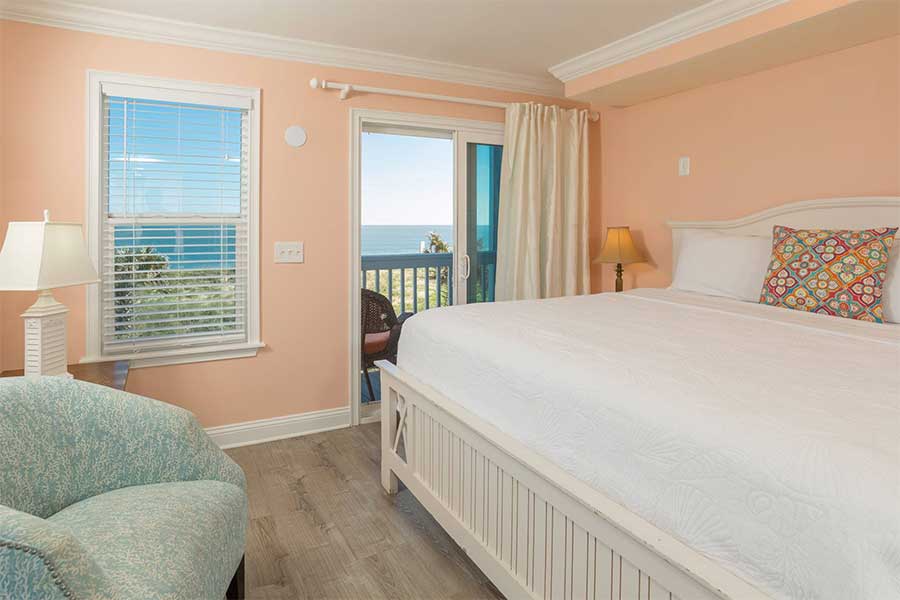 Location
Adding the shores of Vilano Beach, this extraordinary resort makes home at 10 Vilano Road. You can locate the notable Castillo De San Marcos with a five-minute car ride.
Places to go
To include to wonders of the cities, visit Florida Water Tours, Florida Heritage Museum, San Marco Avenue and the charming lighthouse. When you're hungry, dine at the café and restaurants nearby.
Hotel Benefits
Arrangements in the outdoor fireplace, sun terrace and picnic area will lift your mood. You'll find a workout room, business center, outdoor pool, in-house coffee, free parking and Wi-Fi.
In-room Features
The air-conditioned rooms feature a private balcony with an ocean view and a seating area. You'll have a small kitchen with a mini-fridge, oven and kitchenware. For in-room entertainment, TVs are there.
Recommended for:
Yes, we know trips seem sketchy when you leave your pets. But hello, this is one of the St Augustine hotels on the beach that allow you to have your pets as your vacation-mate!
6. St. Augustine Island Inn
Are you searching for St Augustine beach hotels oceanfront? Stop. It's because you're seconds away from the perfect stay holiday destination. Yes, it's the St. Augustine Island Inn.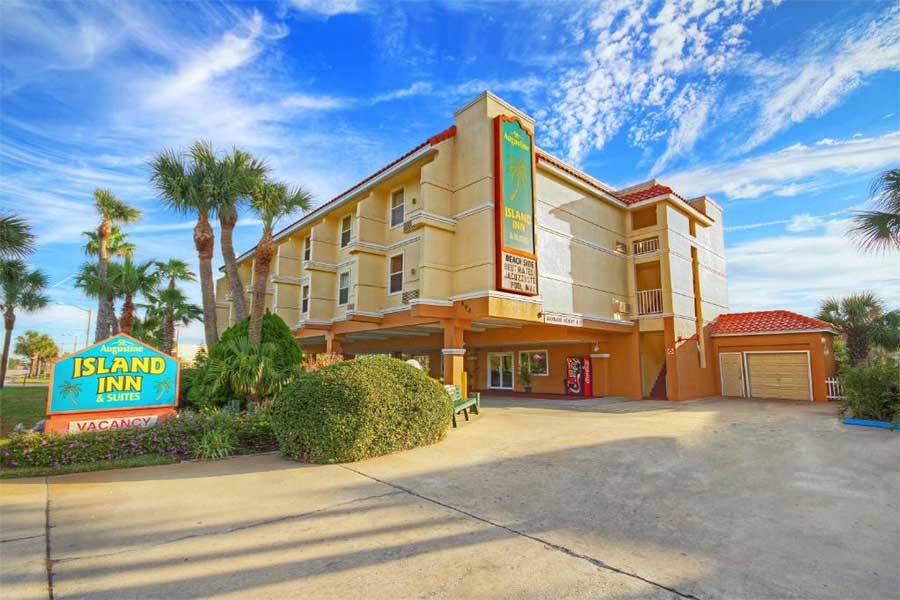 Location
This sterling inn is a few yards from the city's main attraction, the Saint Augustine beach. Driving 19.3 km from the St. Augustine Airport, you can easily reach here.
Places to go
The magical location of the inn brings Ocean hammock Park Walkway, Anastasia State Park Beach, Lighthouse and Museum, Butler Beach State Park, Fish Island Marina etc., as your next-door neighbor.
Inn Highlights
The hotel provides commendable 24-hour front desk service. You'll surely admire its outdoor pool, gym, and kid's playroom. They offer laundry facilities too. An exciting thing is its trolley service to help you travel to the nearest attractions around Anastasia Island.
In-room Bliss
Each suite comes with air-conditioning. A few rooms entail shared balconies. However, you'll notice rooms have a coffee maker, cabled TV, oven, hair dryer, mini-fridge and ironing facilities.
Recommended for:
I recommend this hotel when you're short on time and want to cover more sites in less time. It's one of my fav places to stay on the beach in St Augustine.
7. Hibiscus Oceanfront Resort
When looking for a welcoming oasis amid the unknown, this city, Hibiscus Oceanfront Resort, can serve as an excellent retreating spot. We bet you won't add a frown of regret.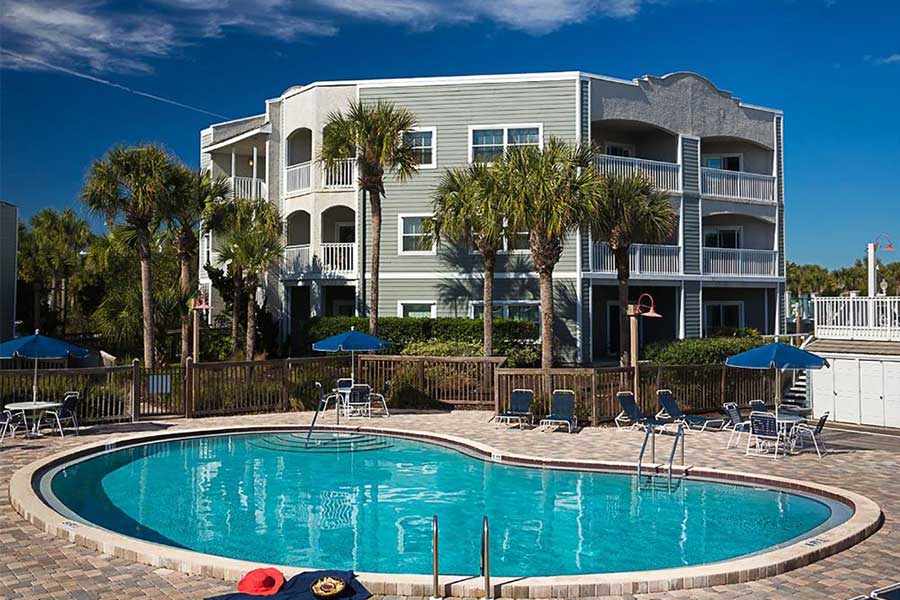 Location
It's no big deal to locate this hotel on Ocean Hibiscus Drive. You'll view the beach in 2 minutes and the Anastasia State Park with a private walk of 10 minutes.
Places to go
The list of sites to include in your tour seems never-ending. Yet places like Zoological Park, Butler Beach State Park, Fountain of Youth, Freedom Trail and local restaurants are next door to the resort.
Resort Features
You'll be surprised to see 3 relaxing pools and 2 hot tubs. The clubhouse comes with free Wi-Fi. Its tennis court and fitness center are great. Don't skip tasting the BBQ grills here.
In-room Conveniences
All its suites are of 2-3 bedrooms. You can relax on its sofa bed and watch your fav channels on TV. Besides, the spacious rooms have a washing machine, dryer, and multiple bathrooms.
Recommended for:
If your solo motive is to spend refreshing after-tour hours, all the recreational scopes here make you choose this hotel over other beach front hotels St Augustine Florida.
Related FAQ
When is it ideal for planning a trip to St. Augustine?
To enjoy the tour with less crowd, low air fare, and a favorable temperature, people find it suitable to visit between March and May.
How much do oceanfront hotels in St Augustine beach Fl charge per night?
Present data states that the cheapest hotels may cost you $ 64. But for 4 stars+ hotels, its ranges between $200 to $500. However, the average rate is $265.
Where to book a hotel for a closer surfing area near St Augustine beach?
One of the popular surf spots here is near the North within the Anastasia State Park beach areas. So, confirm the hotels near this point.
When should your start book suites in oceanfront hotels St Augustine?
We recommend booking at least a month prior to your trip to avail yourself of the best hotel room rate.
Final Words
It's nothing new how nature heals all your tensions owing to a stressful life. And when you plan a retreat in a city rhyming with the sounds of waves of oceans seems like an amazing idea.
St Augustine of Florida can be that relaxing place for you. How about booking a comforting suite in the St. Augustine beach hotels oceanfront? Now you know which hotel to pick.
So have an absolute blast visiting the city full of tourist attractions and beautiful beaches!