Running from the daily turmoils of work-life? Are you hoping to find a romantic getaway in the delightful city of Cincinnati, Ohio? Gladly you've got a lot of options to choose from.
There are countless unique romantic yet comfy hotels with Jacuzzis in the room in Cincinnati to offer a treat to your soul as you desire. Whether you aim to relax in a hotel away from the city with a private hot tub or downtown Cincinnati hotels with Jacuzzi in room, near the city to give you vibrant views, Cincinnati is packed with all you need.
Besides, while you look for leisure activities, there's a lot you can do and numerous places you can visit here. And when you need to relax, the Cincinnati hotels with Jacuzzi in room have got your back! So, let's sit back and take an initial look at some of the most magnificent hotels with hot tub rooms in Cincinnati and pick the perfect one for you!
13 Cincinnati Hotels with Jacuzzi in Room
1. Curio Collection by Hilton the Cincinnati Hotel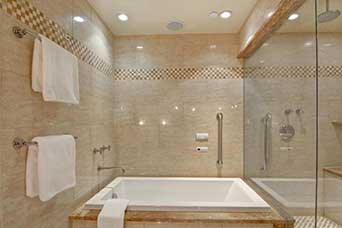 Features:
Meeting and banquet service
On-site Gastro pub with locally made beer
Second-empire architecture
Suite with whirlpool tub and lounging chair
Do you want a place to stay in the heart of Cincinnati to take a view of the whole glorious city? The Curio Collection by Hilton, the Cincinnati Hotel, offers you exactly that with much more!
The hotel offers exciting amenities such as a spa bath, fitness centre, valet and meeting facilities, banquet service, etc. It has the on-site Brick & Mortar Gastro Pub offering locally crafted beers and cocktails.
There are also opportunities of having sumptuous breakfast and delicious coffee at the nearby attractions. Nearby the hotel, there are many opportunities for shopping, dining, and many exciting things to hold your interest.
As for the rooms, the Second empire architecture combined with both contemporary and vintage gives the hotel a classy look. The modern themed King Whirlpool room of the hotel with a whirlpool tub, work desk, ironing facilities, coffee maker, lounging chair, etc., will make the stay for two a memorable one.
Nonetheless, couples rate the hotel with a solid 8.
2. Hilton Cincinnati Netherland Plaza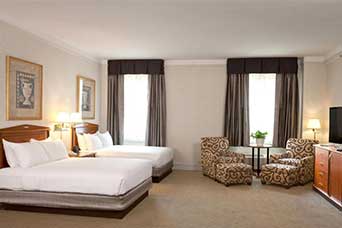 Features:
French art deco theme
Live music weekends
Paired armchair and ottoman in room
Suite with whirlpool tub
Are you in love with the French art deco? Then the Hilton Cincinnati Netherland Plaza located in downtown Cincinnati will give your soul the pleasure it seeks.
The hotel is only a half-mile away from the Great American Ballpark, and three blocks from Paul Brown Stadium offers you exciting spots to explore around the hotel. Besides, for a comfortable stay at the hotel, it facilitates you with live music weekends, a health fitness centre, an on-site restaurant with fine dining, a business centre, etc.
If you are on your romantic vacation, you must choose the King Whirlpool Suite featuring a whirlpool tub to drown your stress, a cosy armchair pairing with a matching ottoman, work desk, refrigerator, and seating area.
The location and the facilities are rated with a 9 by the couples!
3. Holiday Inn Express Hotel & Suites Cincinnati Northeast-Milford, an IHG Hotel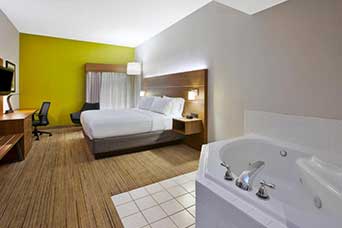 Features:
Close to Central Cincinnati
Popular attractions close by
Indoor saline pool
Authentic Arabica bean coffee a breakfast
Suite with private whirlpool
If you are keener on finding a Cincinnati hotel offering exciting places to visit nearby, the Holiday Inn Express Hotel & Suites is the one with top-notch service and comfort.
Located just off Interstate 275, 27.4 km away from Central Cincinnati, 20 minutes drive away from Kings Island Amusement Park, and 37 km from the Botanical garden and Cincinnati Zoo, the hotel offers you a lot to explore, all close by.
For the in-hotel amusement and relaxation, there is an indoor saline pool, on-site fitness centre, complimentary breakfast with authentic Arabica bean coffee, and more.
The couple's room offers a private whirlpool, TV facility, work desk, and a private balcony for watching the city with the special someone in your life as you sip your favourite coffee!
And all these made couples give the hotel a smooth 8.8 rating.
4. LivINN Hotel Cincinnati North/Sharonville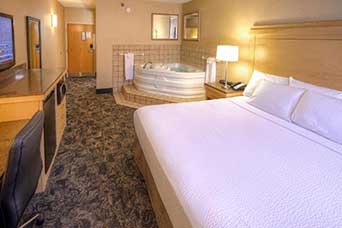 Features:
Adjacent to Sharonville convention center
Outdoor firepits and heated saltwater pool
Suite with private whirlpool and maple furnishings
Popular attractions nearby
Do you want to experience a warm tropical utopia right in downtown Cincinnati with your partner? The living hotel close by the Sharonville convention centre is an excellent choice for that.
The sublime amenities of the hotel include an indoor heated saltwater pool equipped with four large bay doors, a professional fitness centre for fitness enthusiasts, outdoor firepits for the cold nights, and a complimentary breakfast with delicious treats.
You can relax your stress of the week with a stay at the hotel Whirlpool suites customized with maple furnishings, pillow-top bedding, streaming options, a mini-refrigerator, and a whirlpool to tub soak in.
If you want to take your curious minds to explore the surroundings, the Kings Island amusement park, Sharonville convention centre, and Cincinnati Zoo are all nearby.
Couples, highly pleased with the location and facilities, have rated it with an excellent 9!
5. Comfort Suites Cincinnati North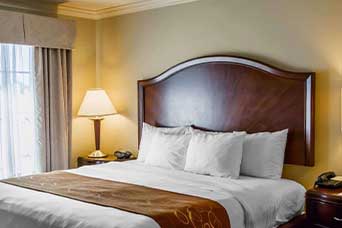 Features:
Budget-friendly relaxation hotel
Indoor heated pool
Gateway to larger Cincinnati
Suite with a private hot tub
With an in-room Jacuzzi, the hotel suites cost you heavy loads, but the Comfort Suites Cincinnati North is one among the many which are affordable yet offer a great ambience.
The location is already convenient at Interstate 275. But being nearby to attractions like Kentucky landmarks, Jungle Jim's, Kings Island, Northgate Mall, Bass Pro Shops, and Ameritas, this place has attained greater recognition as a gateway to the greater Cincinnati.
In the hotel, you have access to a healthy complimentary breakfast, fitness centre, free newspapers, free coffee, banquet and meeting services, and an indoor heated pool for relaxation.
The King Suite with a hot tub, a microwave, mini-refrigerator, premium bedding, sofa sleepers, and more have been the couples' favourite.
For a two-person trip with affordability, this hotel gets an easy 8.3.
6. Aloft Newport on the Levee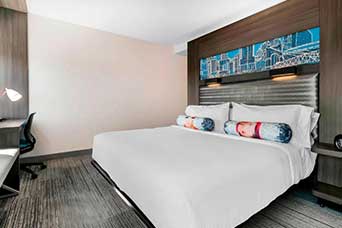 Features:
Garden surroundings
Complimentary American breakfast
Billiard board and shared lounge
Private terrace and bath
With a contemporary outlook, the Aloft Newport is like a euphoric modern paradise.
The hotel's main attraction includes a fitness centre, beautiful gardens, a shared lounge, billiard boards, and complimentary American relishes for breakfast. With only a 7-minute walk distance from the hotel, the Newport Aquarium is a great way to spend your leisure.
Their King size suite with a private Jacuzzi is of primary interest to the couples. The room offers a private bath, a shower, a private terrace, a mini-refrigerator and so on, all creating a romantic ambience for you and your loved one.
If you are on a couple's getaway trip, the place is undoubtedly an excellent choice which is rated with a top rating of 9!
7. Quality Inn Chester I-75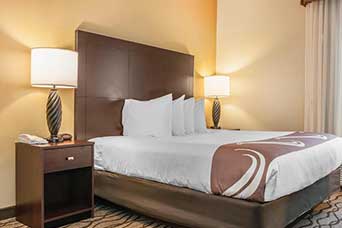 Features:
Close to exciting visiting spots
Sundeck with lounge chairs
Indoor heated pool
Suite with private hot tub
The Quality Inn Chester I-75 is a modern-day hotel for a weekend escape for couples from the city fuss.
With attractions like Liberty centre, the Cincinnati zoo, the Cincinnati Premium Outlets, and the Botanical garden, this place will indeed offer exciting things to do around the day.
Besides, the hotel offers you a sundeck with lounge chairs, a business centre, a fitness centre, an indoor heated pool, and a hot complimentary breakfast to treat you to a good morning every day!
The King room is especially mentionable with a private hot tub, premium linen beddings, mattresses, soft blankets, a microwave, and a mini-refrigerator, all for your relaxation.
With all these, the hotel has gotten an excellent 8.2 rating from the couples.
8. Red Roof Inn & Suites Cincinnati North-Mason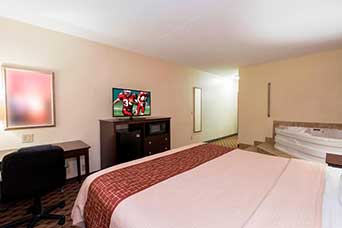 Features:
Centre to many attractions
Pet-friendly rooms
Seasonal outdoor pool
Suite with private hot tub and coffee maker
Although Cincinnati seems like an expensive utopia, there are affordable Cincinnati Whirlpool suites as well! Such a hotel is the Red Roof Inn & Suites, located off of I-71 at Exit 19.
The main interest that pulls visitors here is the nearby attractions like Kings Island Amusement Park, the Beach Waterpark, and the Great American Ballpark as well. Besides, within a short driving distance, you can hang out at the Cincinnati Zoo, the Botanical garden or even the University of Cincinnati.
Pet-lovers would be glad to know that the hotel is absolutely pet-friendly. The hotel features all the necessary amenities and more such as a seasonal outdoor pool, meeting room, fitness centre, etc.
You would be pleased to stay at their Superior King suite, which has a private hot tub right in the bedroom, coffee makers, a cosy sofa, a mini-refrigerator, and a microwave.
The facilities have surely amused visitors, so this hotel got a friendly 8.7 rating for a two-person trip.
9. Hampton Inn Cincinnati Northwest Fairfield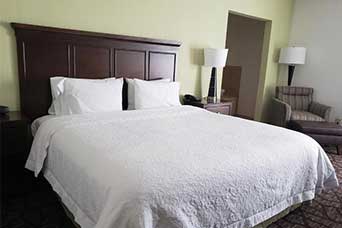 Features:
Contemporary architecture
Nearby attractions for exploring
Indoor heated pool
Suite with whirlpool
A contemporary-style hotel for relaxation close to the Cincinnati/Northern Kentucky International Airport, the Hampton Inn Cincinnati Northwest, located in Fairfield, is a suitable suite for a couple's getaway.
The hotel is well known to visitors as it serves as a centre point to visit wonderful attractions, such as the Fairfield Community Arts Center, the Sharon Woods Park, and even the waterfalls.
If you want to look for peace within the hotel, it offers you an indoor heated pool, a business centre, a fitness centre, and a hot complimentary breakfast.
Your stay at their King Room with a Spa bath would be particularly delightful with a private Whirlpool room, a mini-refrigerator, a microwave, a coffee maker, and stylish furnishings.
A sophisticated place like this has earned a sweet 8.9 from the couples for a weekend or weekdays trip.
10. Quality Inn & Suites Florence – Cincinnati South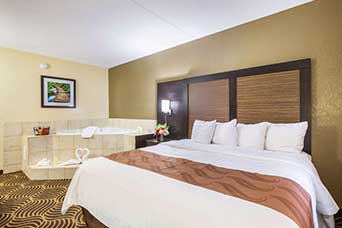 Features:
Northern Kentucky-themed outlook
Freshly made desserts and bakery goods
Outdoor Seasonal pool
Suite with hot tub
If you are up to seeing some Northern Kentucky elegance, the Quality Inn & Suites Florence is a perfect place to spend quality relaxation time with your partner.
The hotel is only 10 minutes South of Cincinnati and offers all the best possible ways to spend your days in Cincinnati. It is near the Turfway Park, the Great American Ballpark, the Creation Museum, the Newport Aquarium, Jack Cincinnati Casino, and the Ark Encounter.
Are you particularly concerned about the breakfast meal served in hotels? Then you'll be happy to know the complimentary continental breakfast by the Inn includes fresh fruits, veggies, bakery goods, juice and coffee.
Besides the publicly accessible outdoor seasonal pool and pet-friendly rooms, the hotel offers King rooms with a private hot tub, coffee makers, refrigerators, etc.
With the fantastic arrangements in the hotel, it has won the hearts of many, giving it an 8.5 rating.
11. SpringHill Suites by Marriott Cincinnati Midtown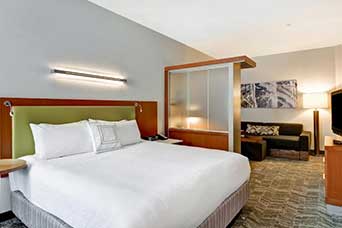 Features:
The Great American Ball Park within a 5-minute distance
On-site restaurant and snack stores
Indoor pool
Suite with private whirlpool and sofa set
For a posh and sophisticated honeymoon or vacation spot, the SpringHill Suites by Marriott is particularly one of my favourites.
The hotel is great for plenty of reasons, but its little distance from the surrounding attractions makes it even better! The Great American Ball Park is within a 5-minute driving distance. Only a 12-minute driving distance to Riverbend Music Center makes it more refreshing.
With amenities like complimentary continental breakfast, cocktails at the lobby bar, an on-site restaurant, snack stores, and an indoor pool, everything upgrades your experience at the hotel.
And if you want to spend some wonderful time with your partner, the King studio is the one to choose. It offers a cosy sofa, a microwave, a refrigerator, a coffee maker, ironing facilities, and a private whirlpool for drowning your troubles.
The location, surroundings, and amenities make the place worthy of a sweet 8.7 rating.
12. Hampton Inn Cincinnati Airport-North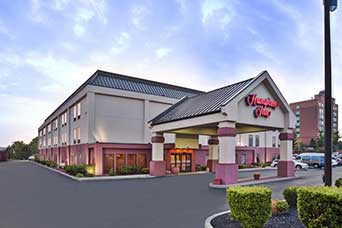 Features:
Nearby to the airport
Free airport shuttle service
Indoor pool and continental breakfast
Suite with whirlpool and small kitchen zone
The Hampton Inn Cincinnati Airport especially features the convenience of being near the airport. But besides that, there are so many other features that make the hotel stand out as one of the top-rated ones in Cincinnati.
The hotel features a free airport shuttle as airport convenience. Since the hotel is in the heart of Cincinnati, attractions like the Cincinnati Zoo, the Botanical garden, the Great American Ball Park, the Boone Lakes Golf Course, and the Cincinnati Art Museum are all close by.
In the hotel, you can indulge in physical activities in the fitness centre, use the business centre for meetings, take a dip in the indoor pool, grab a delicious continental breakfast, and much more.
Your stay at the hotel will be romantic and relaxing in every way as you choose the King Whirlpool room, including a kitchen area, and of course, a private whirlpool tub for two.
The hotel, in particular, has been listed as the favorite of many couples in Cincinnati, with the highest rating of 9.1.
13. The Lytle Park Hotel, Autograph Collection
Last but not least, we have the Lytle Park Hotel on our list of top local hotels in Cincinnati with a private Jacuzzi. With a fantastic location close to the popular attractions, couples love their stay at the hotel.
The Paul Brown Stadium, the Cincinnati Zoo, Botanical Garden, the Cincinnati Museum Centre, the American Ball Park, Freedom Center and Tuft Museum, everything is in close distance to the hotel.
A comfortable vacation at the hotel offers you a fitness centre, family rooms, an indoor pool to unwind, a business centre, a complimentary breakfast relish, and much more.
The King size room offers ample opportunities for relaxation with its private bath, a shower, bathrobes, a work desk, and, not to be forgotten, the private Jacuzzi!
It seems like an ideal place to drop your stress and pick up some good vibes. Nonetheless, it has been rated a solid 9.4 for a two-person trip!
FAQs:
How much does a hotel with Jacuzzi suites cost in Ohio?
It varies as per the rating, location, timing of booking, and a lot of other factors. As per estimation, the cost can range from $150 to $275 per night, and even higher for luxury suites.
How can I find a hotel with Jacuzzi or hot tub in room in Cincinnati?
Our website is the perfect medium to introduce you to romantic hotels in Cincinnati, Ohio with Jacuzzi in room
How can I book the room with Jacuzzi or hot tub in Cincinnati?
Just search for hotels with your needs in your preferred zone and if it comes to your likings, click on 'more information and prices', from where it will take you to Booking.com. From that website you can book a room to your liking and check out the prices as well.
Verdict
Not many days do you get some time off to take a ride to Cincinnati and spend some relaxing time with your loved one. So if you have the time and money, you shouldn't delay in picking a nice hotel with a Jacuzzi in room in Cincinnati.
Hence, our list should be quite the help in finding the right place in no time! So, if you've got it, pack your bag and book two-tickets to a lovely couple's trip. Ciao!