Udaipur, the city of lakes, is a must-visit destination in India. These lakes make the city a perfect place to enjoy a boat ride or stroll by the water. The city has several historical landmarks, temples, and palaces that are well worth visiting.
Do you wish to miss the opportunity to visit such places? If not, you may need to get accommodations at some good hotels. Fortunately, many good hotels and resorts with private pools are available in the city. These properties are beyond expectations as they dedicate their staff to support all solo, couple, family, or business travelers.
In this discussion, I am introducing you 7 top hotels in Udaipur, a city in Rajasthan, to make your journey memorable. Before that, it can be better if you know the popular places to visit across the city.
Places of Interest in Udaipur
Udaipur has a long history, dating back to the 6th century AD when it was founded by the Rajput chieftain Udai Singh II. Udaipur is a widespread tourist destination known for its beautiful lakes, palaces, and temples.
The City Palace is a complex of buildings built over 400 years, from the 16th to the 20th century.
The Lake Palace is a white marble palace built in 1746 on an island in Lake Pichola.
The Jagdish Temple is one of the largest temples in Rajasthan.
The Sahelion-ki-Bari is a series of gardens that the queens of Udaipur used for their leisure activities.
The Bharatiya Lok Kala Museum is a museum that houses a collection of Rajasthani folk art and crafts.
If you're planning a trip to Udaipur, add these popular tourist attractions to your itinerary!
11 Udaipur Resorts with Private Pool
So, you have seen that Udaipur has lots of tourist attractions to unwind yourself with a partner. Here are the hotels I am talking about to have stress-free booking for short or long stays.
1. RAAS Devigarh
RAAS Devigarh is a 5-star 18th-century resort in Udaipur with private swimming pool. It reflects the rich Rajasthani history with signature arts for the future.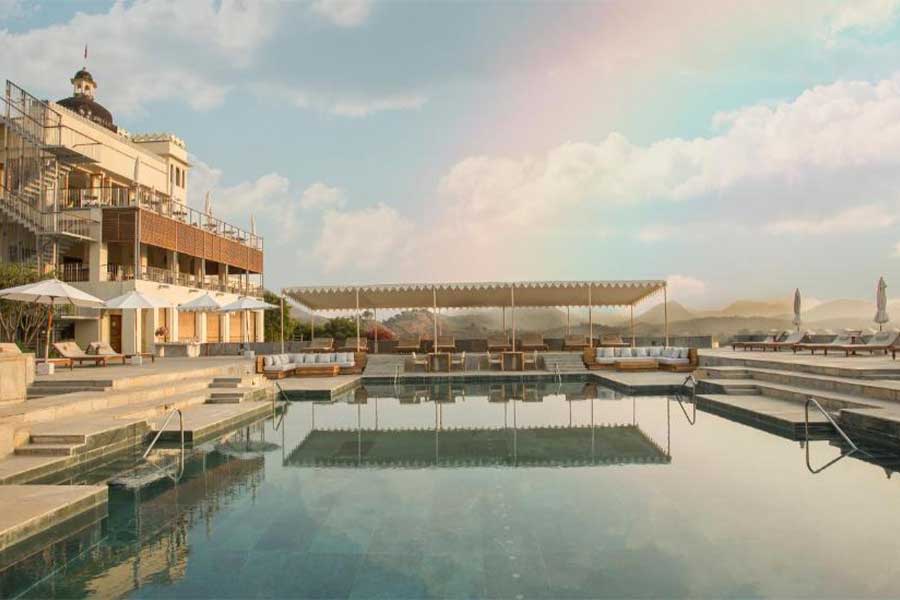 Location
It is nestled in Delwara village, close to Aravalli Hills in Udaipur. You can reach the hotel by driving only 30 minutes from Udaipur Railway Station and Maharana Pratap Airport.
Places to Enjoy
Some proximal tourist spots are Shrinathji Temple and City Palace, Haldighati Museum, and temples like Nathwada, Eklingji, and Nagda.
Breathable Environment
The resort is a good choice if you are on a honeymoon or refreshing tour. The palace upholds the stunning beauty, charisma, and fairy-like environment that make the tourists recall Rajputana history.
Significant Edifice
You can spectate the Marwari horse murals, mirrored ante-chambers, swings, and thousands of candles. The hotel offers their RAAS Wellness Center for different body massages and wraps.
Incredible Hotel Facilities
Starting with a roundtrip airport shuttle, the hotel features complimentary stuffs like internet, breakfast buffet, and parking. Besides, you can stay in 39 AC rooms with a 42" flat TV, iPod dock, bathtub, rainfall shower, and others.
Recommended for:
I suggest this hotel for people looking for a 5-star accommodation facility with a glance of explorable historic places.
2. The Ananta Udaipur Resort & Spa
If you want a private pool villa in Udaipur with a mountain view, you can stay at the Ananta Udaipur Resort & Spa.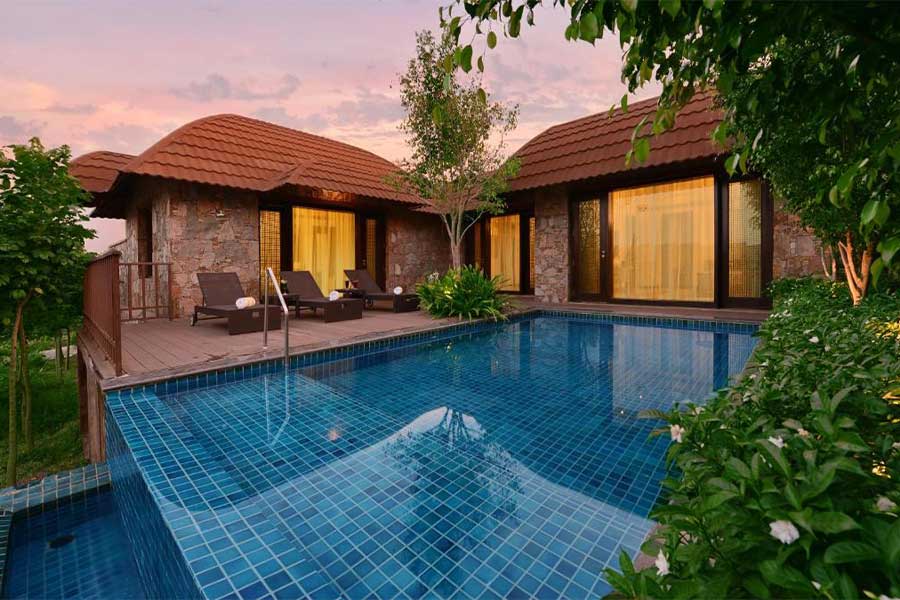 Location
The Ananta Udaipur is in Bujdha village, in the mountains. The nearest bus station is 8km, and the railway station is 10km away, while Maharana Pratap Airport is 30km away.
Multiple Tourist Spots
The Monsoon Palace and the Lake Palace are only 6km from the hotel. Some other places you can experience are Bagore-ki-haveli Museum and Shilpgram Museum.
Essential Amenities
All the 239 rooms have 39" LCD TVs, CD players, coffee makers, minibars, safes, showers with rainfall showerheads, free internet, toiletries, and so on.
Delicious Foods
Coming to India and not tasting the delicate Indian foods can be an injustice to your moments. The in-house Oasis restaurant offers Indian, Chinese, and other foods. Besides, you can munch the Chaat at the nearby Chaat Bazaar.
Unwinding Sessions
There is a big outdoor swimming pool to swim and a full-service spa named Mudra Spa for the guests. They can avail the of massages like deep tissue, hot stones, Swedish, Thai etc.
Recommended for:
A perfect hotel for the daily strugglers who want memorable leisure in a calm area.
3. Jaisamand Island Resort
Jaisamand Island Resort is a modern 4-star hotel with private pool in Udaipur. It can relieve stress by taking you to the most historical Indian places in Udaipur.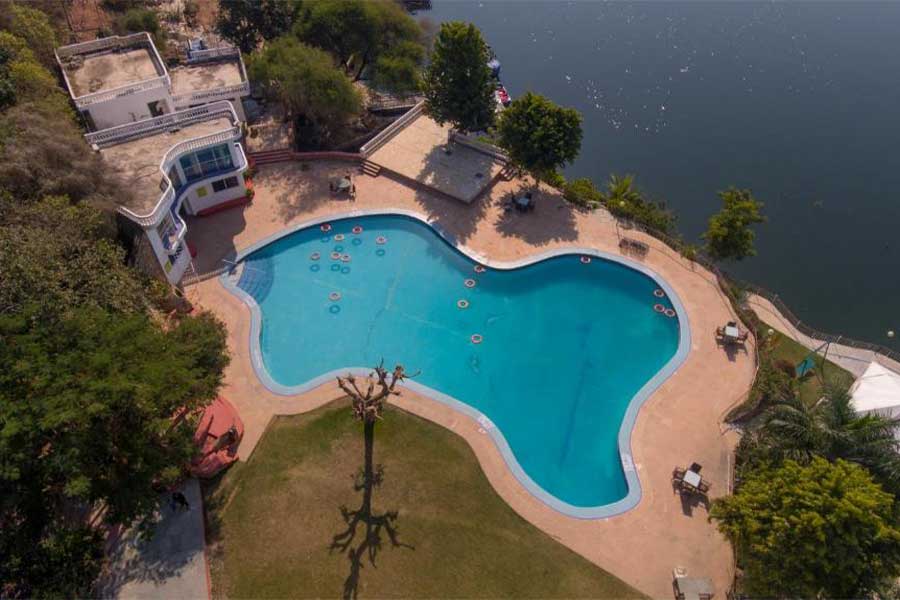 Location
It is at Salumbar in the North Western part of Udaipur. You can book rooms at this property by traveling 70km from Udaipur Airport and 61km from Udaipur Railway Station.
Nearby Tourist Spots
You can travel to close wonders like Hawa Mahal and Jaisamand Wildlife Sanctuary and stay at the resort. Some public highlights are Hanuman Mandir, Chamunda Mataji Temple, and Mahaveer Jain Temple.
In-room Features
Like other good resorts, it reflects the Royal history of Udaipur while providing excellent in-room facilities. These features include spa treatments, air-conditioned rooms, a dining and seating area, a shower, and a private pool.
Entertainment
You can watch movies on flat TV, ride a camel, or use the conference hall or banquet room. Activities like walking tours, movie nights, riding on the row or motor boats, and canoes are expected at this place.
Stay Healthy
Bomat Restaurant in this resort offers versatile Indian, Chinese, and continental cuisines. There are outdoor swimming pool, spa services, and a multi-gym with steam, sauna, and jacuzzi for fitness lovers.
Recommended for:
If you have come with family and kids to Udaipur, you may check in at this resort.
4. Aurika, Udaipur – Luxury by Lemon Tree Hotels
Aurika is a 5-star classy hotel in Udaipur. It owns a property of around 5 acres, boasting one-of-a-kind construction with a library and Rumpus room.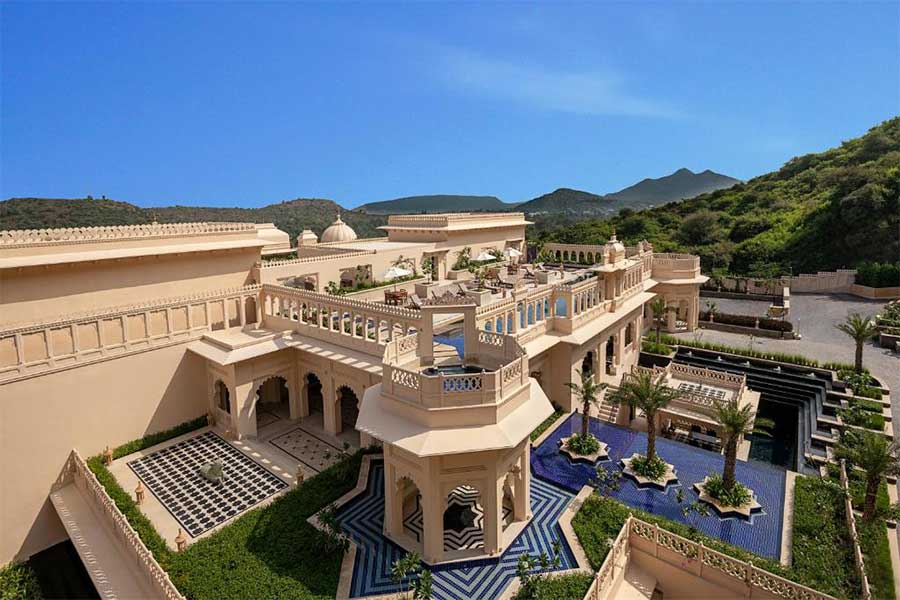 Location
The hotel is in Kala Rohi of Udaipur. You can go to the nearest Maharana Pratap Airport by driving 27km from the property.
Where to Go
Most Udaipur highlights are nearby the resort. Some notable places you should go to are Sajjangarh Fort, Lake Pichola, Jagdish temple, and Lake Pichola.
Modern In-room Amenities
The Aurika, Udaipur, has a restaurant, free internet and parking, gym, outdoor pool, and bar for the guests. Besides, each room or suite has some common essential facilities like an electric kettle, LCD TV, premium bedding, and a private jacuzzi.
Unique Dining
Besides 139 rooms, the hotel features a 24/7 restaurant named Marisa and a bar called Aurika. Besides, there is Araya, a spa with a fitness center.
Recommended for:
Another 5-star hotel is suitable for travelers interested in Indian cuisines, liquors, and spa services.
5. Fateh Garh Resort by Fateh Collection
Looking for a perfect romantic stay in Udaipur? Get a guided tour to the whole city by jeep, horseback, or on foot by booking rooms at 4-star Fateh Garh Resort.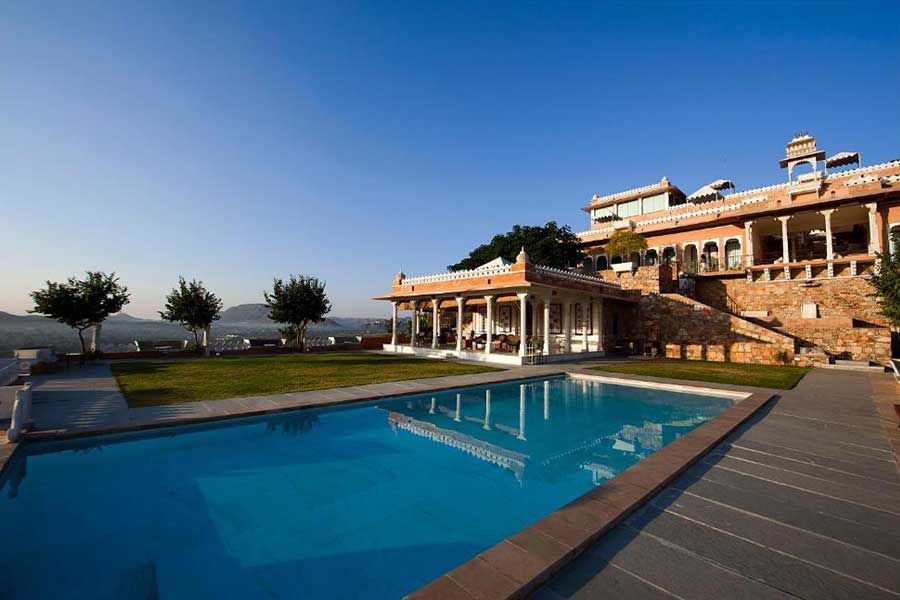 Location
It is on a hilltop with antique sugar-white pillars, crenellations, and stunning 360° views of Aravalli Mountain Range. The Maharana Pratap Airport is only 28 km far from the property.
Tourist Attractions
You can explore the areas like Jag Mandir, Fateh Sagar Lake, Gulab Bagh and Zoo, Bagore-ki-Haveli Museum, and Bharatiya Lok Kala Museum.
Fantastic Conveniences
You can get everything essential from free internet access to a private bathroom with a bathtub and shower. All the spacious rooms have large windows and sufficient natural lights.
Health Concerns
If you are a fitness lover, you can have the Turkish bath, massages, reflexology, and full spa at Moksha Spa. While submerging in the pool, you can enjoy live classical flute music.
Foods & Beverages
The Baradari Restaurant is ready to serve the guests local Mewari dishes and special menus. Also, the Amritam bar offers select drinks and international wines.
Recommended for:
The resort is an excellent suggestion if you want a fully intimate moment in an Indian environment.
6. Junoon 13 Farm House
With two bedrooms, the Junoon 13 Farm House is a small cottage-like hotel for worldwide travelers.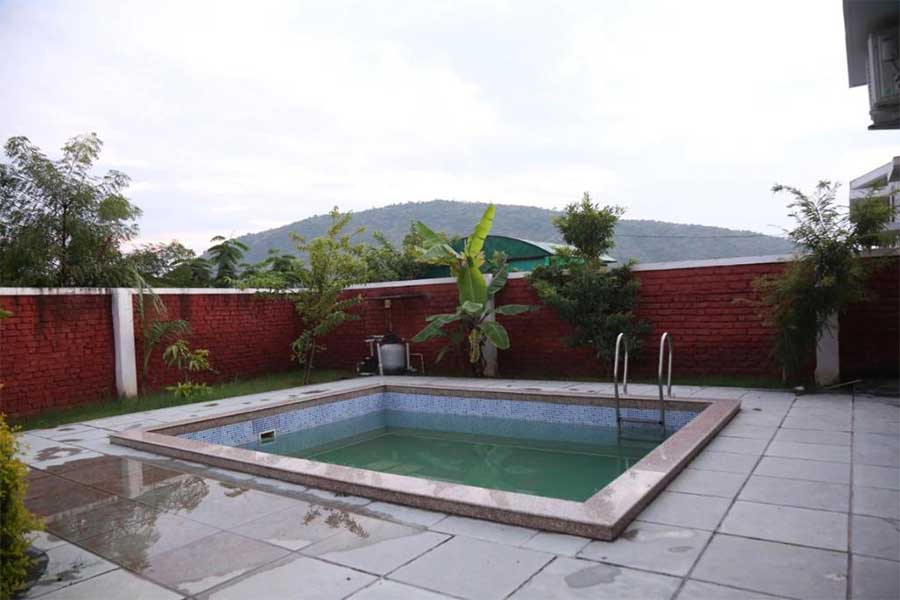 Location
It is nearby the Chittorgarh road, Parshwanath Farmhouses in Udaipur. The nearby railway station is only 9.4 km, and Maharana Pratap Airport is 11.9 km far from the hotel.
Admirable Tourist Attractions
You can roam around different historical places such as Saheliyon Ki bari, Lake Pichola, Jagdish temple, Fateh Sagar Lake, Bagore ki Haveli, and City Palace.
Relaxing Atmosphere
It is best for the people searching for a room with private pool in Udaipur. Besides, the large garden on the property is enough to forget the strenuous life.
Up-to-date Features
Free internet access, shared lounge, swimming pool, dining area, kitchenette, and car rental service are some notable features of the resort.
Recommended for:
If you are looking for the next home in Udaipur, Junoon 13 farmhouse is the most suitable choice.
7. Amigos Provide Pool Villa
Newly married couples won't find another good hotel like Amigos Provide Pool Villa. It's just a 3-star stay villa of 1 bedroom and a patio with garden views.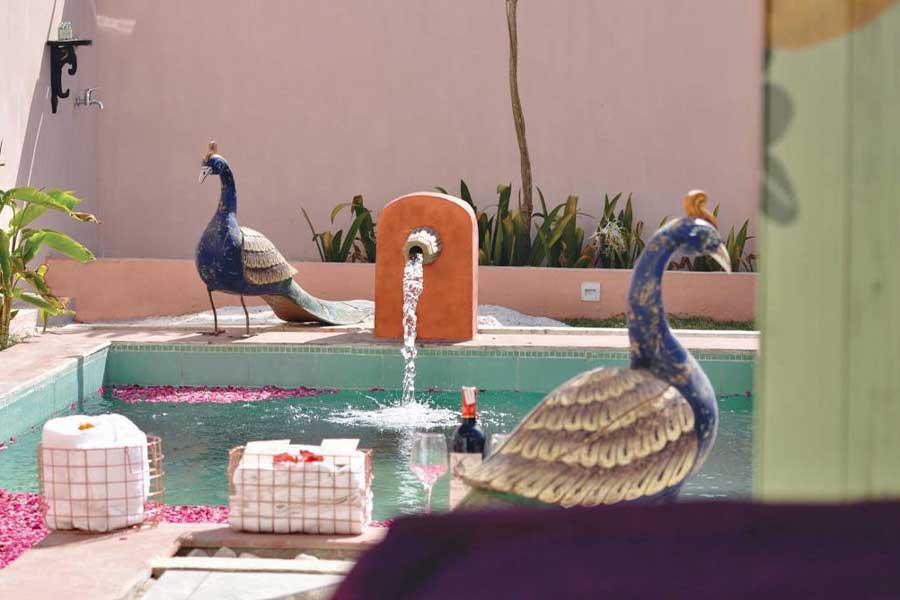 Location
The Amigos Villa is in Jhalon Ka Gurha, in Rajasthan. The Maharana Pratap Airport is around 19.7 km from the villa.
Places to Visit
You can go on a romantic exploration at places like Bagore ki Haveli, City Palace of Udaipur, Bharatiya Lok Kala Museum, and Fateh Sagar Lake.
Coast-Line Views
The villa specialty is it offers 180° sea views from Moraira to Calpe-Ifach rock. Besides, the green garden, expansive terrace, private pool etc. are additional beauty to enjoy here.
Incredible Services
Though it is a 1-room villa, it has all the essential amenities you will love. Some of them include a flat-screen TV, dining area, kitchenette, modern bathroom, children's playground, 24/7 front desk, etc.
Vegetarian Foods
Mostly, people who love vegetarian foods while staying at the hotel were the earlier guests at this place. Besides vegetarian breakfast, they can have other traditional Chinese dishes.
Recommended for:
For travelers who don't want any disturbance or want to avoid chaos, this 1-room villa is recommended for them.
8. Raffles Udaipur
The Raffles Udaipur, a 5-star Indian hotel, boasts its 21 acres area on a private island. It gives a mixture of tradition, art, and value with a view of 400 years old temple and green hills.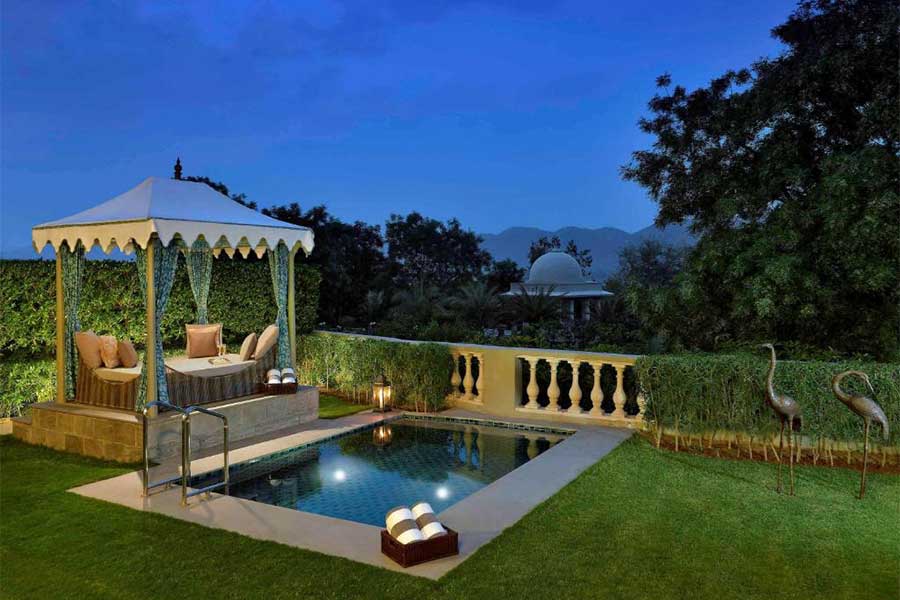 Location
The hotel is located in Tilakheda Gram Mantoon village and is very close to Udaisagar Lake. You can be at the property by riding 9.7 km from Maharana Pratap Airport and 11.3 km from Udaipur Railway station.
Lovely Surroundings
Staying at the hotel is beneficial as it is close to certain tourist attractions for shopping, food-ing, and exploring. For example, you can easily roam around the Bagore ki Haveli, Saheliyon Ki bari, Gulab Bagh and Zoo, and Vintage Collection of Classic Cars.
Accommodating Features
The hotel features 101 AC rooms with minibars, safes, a restaurant, bar/lounge, terrace, and separate private pools for adults and children. Besides, you will love to enjoy the free internet access, poolside bar, coffee shop, and versatile spa services.
In-room Facilities
Starting with American breakfast, the rooms and suites provide multiple amenities to the guests. Each room features premium hypo-allergenic bedding, a pillow menu, 55" LCD TV, bathrooms with separate bathtubs and showers, complimentary toiletries, and daily housekeeping.
Massages & Spas
The onsite spa is excellent for rejuvenating and making the stay more memorable. Any guest visiting the hotel can get the massages like deep-tissue, hot stone, sports, and Swedish at six treatment rooms. Besides, aromatherapy, ayurvedic, and hydrotherapy are also available.
Recommended for:
People often looking for adventure and some reflexologies for refreshing holidays can visit this luxury and romantic hotel with a first-rate atmosphere of hills, lakes, and temples.
9. Aranya Vilas for Family
Nestled in the natural cover of the trees and the significance of mind-blowing landscapes, the Aranya Vilas is like a surprise gift to romantic honeymooners and peace-seeking travelers.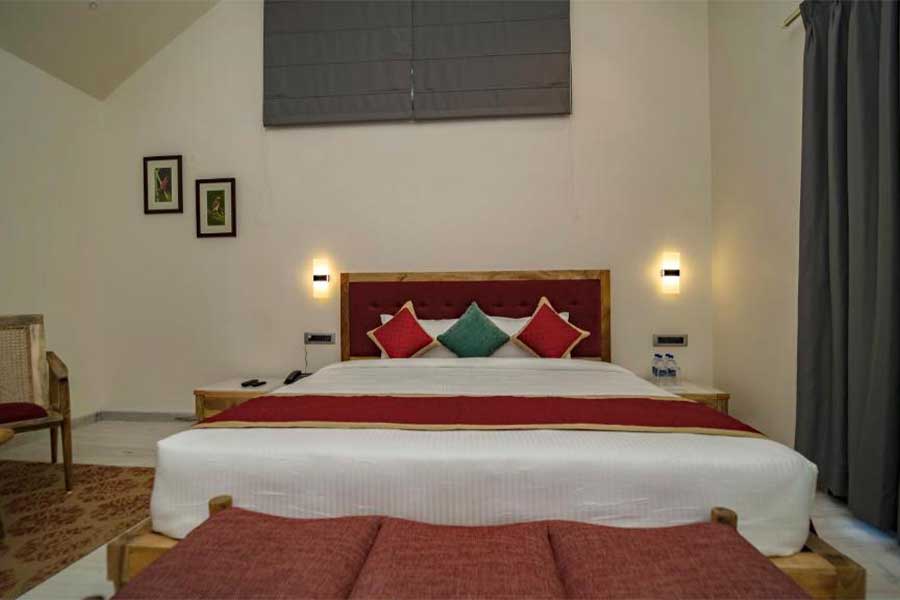 Location
The 4-star Aranya Vilas hotel is in Samore Bagh, a village near Doodh Talai Road in Udaipur. The nearby station is only 1.3 km away, while Maharana Pratap Airport is 21.2 km from the green property.
Places to Enjoy
Jagdish temple, Gulab Bagh and Zoo, Lake Pichola, Bagore ki Haveli, Karni Mata Temple – places like these are within only a kilometer of the hotel. Won't you try to visit more than these places?
Unmatched Beauty
One thing you should remind that this hotel is a mirror of beautiful countryside, a pollution-free green breathable environment. It combines the luxury, modernity, and calmness of nature.
Characteristics
Being a good hotel, the hotel offers free parking and internet access, a garden, bird-watching, a sun terrace, and 27 luxurious villas of 4 diverse types. Among the villas, 9 have a view of the private natural pond, which is enough to recall childhood or leisure.
In-room Facilities
The hotel offers daily continental breakfast to honorable guests. Adults and kids can swim in different swimming pools. Other facilities include blackout curtains, coffee/tea maker, television, large beds, a bathroom with a walking shower, and luggage storage.
Recommended for:
Aranya Vilas is suitable if you have any interests in doing some yoga, playing badminton or archery while staying at a resort with family.
10. Bujera Fort – Cottage Suits
Newly built but with a traditional edifice, the Bujera Fort is another high-quality resort with a private pool in Udaipur. This 4-star hotel can give you what you desire for a couple of tours or solo adventures in this region.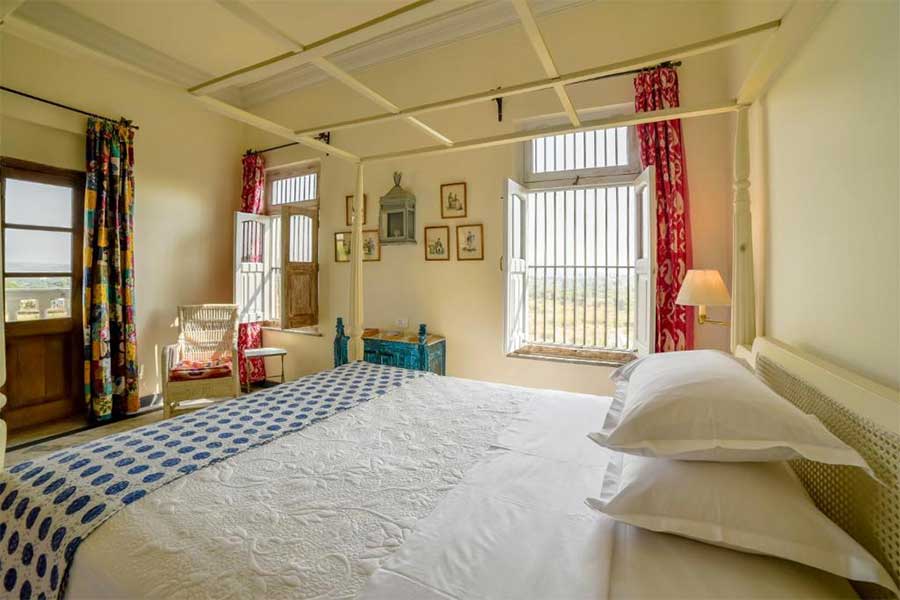 Location
The resort is in village Bujera, Aravali Hills, near Lake Pichola. Maharana Pratap Airport is 27 km and Udaipur Railway Station is 9.1 km from where international or local travelers can easily reach the property.
Roaming Spots
As you are in Udaipur, it is a must to visit the nearby attractions to make the hotel days more aesthetic. Jagdish temple, City Palace of Udaipur, Sajjangarh Fort, Bagore ki Haveli, Moti Magri, etc.
Inimitable Construction
The building structure of the hotel is pretty awesome. It has 86 hand-carved stone-made columns. Also, you can witness multiple Jarokas made of locally found stones. Altogether the building is an outcome of tradition and modern life.
In-room Facilities
Bujera Fort has 14 AC rooms with several essential facilities, including a private bathroom, shared lounge, and an outdoor pool. Besides, any guest can use the free wifi, toiletries, parking, garden, terrace, linen beds, and safety deposit box.
Additional Benefits
Business travelers can use the business center and exchange currency at the resort. Moreover, you can hire them at this motel if you love cycling or bike riding. Bujera Fort Spa, with two treatment rooms, is another facility to get deep-tissue massages.
Recommended for:
I recommend this hotel for its quiet environment and artistic structure amidst greenery that you may love to enjoy during your holidays.
11. Nandan Van Farm House
Nandan Van Farm House is a great holiday home with views of mountains and the freshness of the garden. It's a 2-room hotel with a private swimming pool, great for the newly married couple or small family.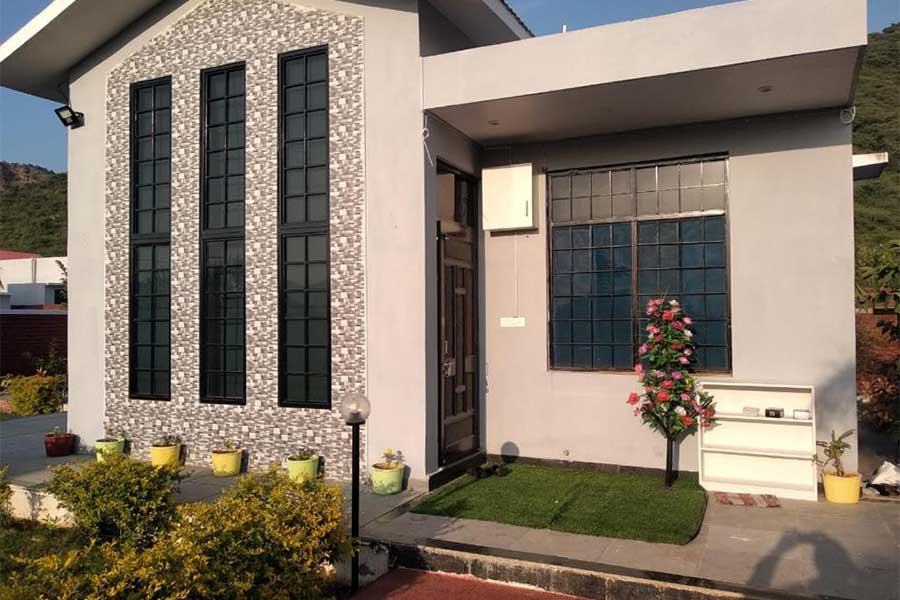 Location
This farmhouse is in Parswnath farm villa, Udaipur, surrounded by mountain valleys of the Aravalli range. It is easily accessible to Udaipur Railway Station (9.2 km) and Maharana Pratap Airport (2.2 km).
Places to Go
Of course, you are in Udaipur to have some sights of nature or spaces to view, right? Then, you can visit the hotel's Saheliyon Ki bari, Gulab Bagh and Zoo, Lake Picholam, Jag Mandir, etc..
Incredible Services
Like other resorts I mentioned, this one also offers many unbelievable services. Here are some of them: indoor pool, shared lounge, free WIFI, all-day front desk, shared kitchen, free parking, and a garden.
Guest-friendly Rooms
Rooms have two bathrooms, flat television, dining space, a kitchenette, and free toiletries. Besides, you can enjoy time on the balcony with pool views. You can have a à la carte or vegetarian breakfast for food convenience.
Entertainment
Guests having bad or tiring days can unwind themselves here at this resort. Some exceptional facilities like an open-air bath, hiking, karaoke, and DJ are available in this area.
Recommended for:
If you are looking for a hotel with the least crowd and closest to nature, you can make your holiday colorful at Nandan Van Farm House.
Frequently Asked Questions
What are the best restaurants in Udaipur?
The best restaurants in Udaipur are – Jaiwana Haveli, Ambrai Restaurant, Bagore Ki Haveli, Jagat Niwas Palace Hotel, Udai Kothi, and The Oberoi Udaivilas Udaipur.
What can I do in Udaipur?
As everyone's interests and preferences are different, you can explore the city's lakes and palaces, visit the Jagdish Temple, and take a boat ride on Lake Pichola.
Can I wear shorts in Udaipur?
Wearing shorts in Udaipur is generally not considered to be appropriate. It is best to dress more conservatively, especially when visiting religious sites.
Conclusion
If you're looking for an incredible destination with plenty of history, culture, and natural beauty, then Udaipur is the place for you. The city's many lakes make it a perfect place to enjoy a boat ride or stroll, and its numerous historical landmarks, temples, and palaces are well worth visiting.
Fortunately, many good hotels and resorts with private pools are available, so you can relax and enjoy your stay. Feel free to choose among the 7 Udaipur hotels and resorts with private pools I have mentioned in this article.