Amongst the frustrating city days, taking a break once in a while in Tulsa, on the Arkansas River with art deco architectural urbanization, you would feel no less than Alice in Wonderland. And with your loved one on the getaway, you'll feel as if your love has spiced up with a new flavor.
If you're up for a fun holiday along with learning elements of US history, Tulsa is a perfect place. Now, to make it a romantic getaway, all you need is a hotel with a Jacuzzi in rooms with the ideal ambiance. Fortunately, I've got a list of hotels with Jacuzzis in rooms in Tulsa, OK, just for you.
Whether you want it to be extraordinary or aristocratic, we've got hotels with private Jacuzzis in rooms. And if you're going to lay low, we've got you covered with comfortable yet affordable hotels with Whirlpool bathtubs in the rooms. So, let's see which one makes your eyes sparkle!
9 Hotels with Private Jacuzzi In Room Tulsa Ok
1. Ramada by Wyndham Tulsa
Features:
Close to attractions, restaurants, and golf courses
Buffet breakfast
Indoor pool
Suite with private whirlpool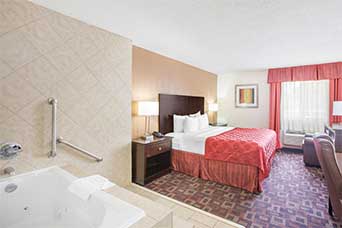 Let's begin with a modern well-decorated hotel located off Interstate-44, Ramada by Wyndham in Tulsa. The best part about the hotel is its proximity to the renowned Philbrook Museum of Art, Tulsa International Airport, the University of Tulsa, and the Tulsa Zoo. Besides, you also get to hang out at the nearby gourmet restaurants and golf courses.
The hotel offers usual and fascinating in-house features like gym access, a business center, laundry facilities, a breakfast buffet every morning with delightful custom waffles, an indoor pool, and a go-to store for snacks.
Besides, with a stay in their Deluxe King room, you can enjoy a comfortable stay with a refrigerator, a microwave, a coffee maker, and a relaxing time in the private whirlpool in your room.
The hotel deserves an excellent 8.5 for a couple's trip with the well-thought convenience.
2. Hard Rock Hotel & Casino Tulsa
Features:
Adjacent to Tulsa International Airport
Casino and Entertainment venue on-site
Multiple on-site restaurants
Suite with whirlpool tub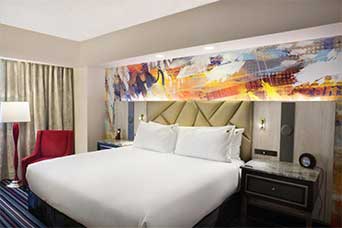 Just within a ten-minute distance from the Tulsa International Airport, the Hard Rock Hotel & Casino is one of my favorite spots for a romantic getaway in Tulsa, OK.
And here goes the reasons. The hotel provides a free shuttle service to the airport and the excellent Gathering Place, which has marked the no. 1 attraction in Oklahoma. Besides, the Tulsa Zoological Park and Tulsa city center are nearby.
As the name suggests, it has the Hard Rock Casino. But the most extraordinary feature of the hotel that'll pull you towards it for entertainment is the Hard Rock Live Entertainment venue that arranges plenty of concerts, live comedy shows, and music gatherings throughout the year!
Even with delicious meals, the hotel has not been disappointing. Thanks to the 6 different restaurants on-site, a sports bar for drinks, and a nightclub for an all-night party.
Staying at their honeymoon suite in Tulsa, OK with my partner made our couple trip a perfect romantic getaway. It has a large whirlpool tub, premium linen bedding, tea and coffee making arrangements, a refrigerator, a cozy couch, and an innovative art deco architecture.
It would be unjust if I gave the hotel a rating of less than 9.
3. La Quinta by Wyndham Tulsa Airport / Expo Square
Features:
Pet-friendly
Close to popular attractions
Complimentary fresh breakfast and indoor pool
Suite with a hot tub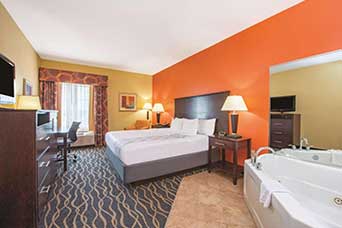 Can't leave your loving pets behind? Take them with you for an exciting trip to Tulsa, staying in the pet-friendly La Quinta hotel. The best part is it's within 10 minutes' driveway distance from Tulsa International airport, with a free shuttle service.
All the popular attractions are close by to let you explore the beauty of Tulsa. Such as the Tulsa Zoo, the Tulsa Art Deco Museum, Philbrook Museum of Art, and the University of Tulsa.
Before starting your day in Tulsa, grab a delicious breakfast treat and waffles for the sweet tooth; work out a bit at the gym. And when you come back to the hotel after an exciting day, you can cleanse your soul and body in the indoor pool or hot tub.
The rooms in the hotel, notably the Deluxe King room, offer a relaxing time with your partner with the hot tub in the room, a work desk, a microwave, a refrigerator, and an HDTV for watching the late-night shows!
With a comfortable stay and a hearty breakfast, the hotel has won the hearts of many, giving it a smooth 8.8 rating.
4. Stoney Creek Hotel Tulsa – Broken Arrow
Features:
Close to recreational centers
Heated indoor and outdoor pool
Sunset views from the patio
Suite with hot tub for two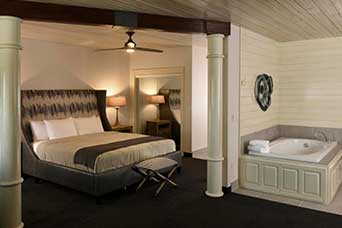 For those looking for a top-rated, charming hotel, here it is, the Stoney Creek in Broken Arrow at Tulsa with a movie-like decor!
Let's start with the nearby attractions you can explore for fun. You have the Broken Arrow Performing Arts Center only 4km distance, the Market Square, and the Tulsa International Airport.
I would say the fun part about the hotel is not the surroundings but the hotel itself, as it offers amenities like a heated indoor and outdoor pool for relaxation, a business kiosk to work through your vacation, an on-site bar, complimentary breakfast relish, and fitness center. But the best part is you get to watch the breathtaking Oklahoma sunset views, relaxing on the luxurious outdoor patio of the hotel.
I chose the King Suite with a Hot tub and am more than delighted. It has a relaxing hot tub for two, a work desk, HDTV, a microwave, a refrigerator, and vintage yet modern touch to the decor.
And so, a 9.5 seems like the ideal rating for this perfect haven of love and romance.
5. Best Western PLUS Tulsa Inn & Suites
The Philbrook Museum of Art holds the artistic relics of historic Oklahoma. And if you would like to stay close to it, the Best Western PLUS Tulsa Inn & Suites seems like the legit place to stay.
Apart from the Arts Museum, you can explore places like the Tulsa Expo, the University of Tulsa, and the Big Splash Water Park for fun. The hotel is very comfortable with a down-to-earth feel with traditional room decorations, an indoor pool, a fitness center, a complimentary breakfast with fresh fruit and homemade desserts, and a business center.
The King Suite with a whirlpool in the room allows you to find love in the air with its whirlpool for two, right next to the bed, an HDTV, a coffee maker for late-night chitchats with coffee at hand, a sofa bed, and beautiful views of the nature from the window.
For a two-person trip, the woodsy vibe hotel away from the highway hustle is quite remarkable, gaining an 8.4 rating.
6. Comfort Suites Central/ I-44
Features:
Located in downtown Tulsa
Complimentary breakfast
An indoor pool and hot tub
Suite with a hot tub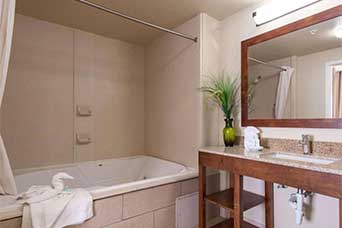 If you're looking forward to enjoying downtown Tulsa and the broader Tulsa city, then the Comfort Suites Central/ I-44 is the perfect place for you, only 8 miles from the downtown.
The elegant hotel is close to almost all the spots you'd like to visit in Tulsa; the University of Tulsa, Oral Roberts University, the Tulsa Expo Square, and of course, the much-appreciated Philbrook Museum of Arts.
You can enjoy a relaxing stay at the hotel with access to the gym room for fitness lovers, an indoor pool and hot tub for soothing the body, a business center for the workaholics, laundry services, and a complimentary breakfast every morning.
The suites include cozy beds with premium bedding, a mountain of soft pillows, a microwave, refrigerators, work desks, and ironing boards. For a trip with your partner, renew your love by staying in their Standard King Suite with a hot tub.
Indeed, the well-thought facilities have earned an 8.5 rating in case of a two-person trip.
7. The Mayo Hotel
Features:
Boutique hotel in downtown Tulsa
Penthouse rooftop lounge
Traditional cuisines
Suite with multi-head showers and Jacuzzi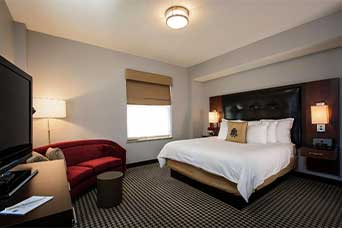 Let's take a step away from the modern luxury hotels and check out a boutique hotel in downtown Tulsa, the Mayo Hotel. It is a fascinating place to stay, considering its high reputation as both a residential hotel and an event space developed by artistic minds.
The exquisite 4-star hotel is near Tulsa Performing Arts Center, Tulsa International Airport, Tulsa Zoo, and so on.
Staying at the hotel was fun, thanks to its unique amenities like the penthouse rooftop lounge and the Boiler Room restaurant presenting us with its flavorsome traditional cuisines.
All the guest rooms were decorated with a sophisticated, vintage hotel vibe. The rooms are equipped with a coffee maker, iPad docking alarm, customized eucalyptus bed linens and bathrobes, multi-head showers, etc. We stayed in their Luxury King room with a Jacuzzi, an unforgettable river view, and of course, the cityscape view, which was breathtaking!
With all the amenities, in no way could I give the hotel a rating less than 9.
8. The Campbell Hotel
Features:
Spanish Colonial Revival building
Full-service spa and salon
Hardwood flowing and themed artwork in rooms
Suite with whirlpool jetted tub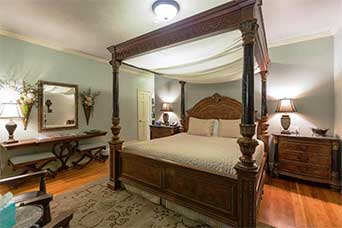 Another spectacular boutique hotel with antique decor, perfect to surprise your partner with a romantic getaway– is the Campbell Hotel. The hotel housed in a Spanish Colonial renewal building is located within a little distance of downtown Tulsa.
Not only is it located close to the historical museums of Tulsa, OK, but history is engraved in itself. The hotel includes lovely amenities such as the Spa Maxx, a full body massage and nail salon, laundry services, a sophisticated antique bar lounge, an indoor pool, and a lot more experiences.
Experiencing a stay in the hotel is not just lavish but also expresses the historical grace with its themed artwork and hardwood flooring in every room, a coffee maker, a refrigerator, etc.
Staying in the King Deluxe room was particularly fairy-tale-like with its warm fireplace and whirlpool jetted tub brimming with tranquillity.
These earned the hotel a solid 9-rating from me.
9. 17 West Hotel, Ascend Hotel Collection
Features:
Award-winning Tulsa hotel
Free shuttle service
An indoor pool and hot tub
Suite with hot tub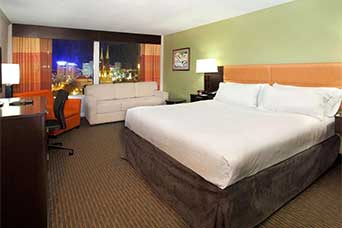 The final boutique hotel in our list that you will be drawn explicitly toward because of its reputation as an award-winning hotel; the 17 West Hotel is only a few minutes from downtown Tulsa.
It offers a complimentary shuttle service to the Tulsa International Airport. You can even take it downtown to the BOK center, the Tulsa Convention Center, the famous Oklahoma Jazz Hall of Fame, the Tulsa Performing Arts Center, and guess what? The Decapolis is also within a few minutes distance from the hotel. The stay over at the hotel will let you enjoy a visit to the whole of Tulsa!
The amenities of this incredible place are no less than including a huge indoor pool and hot tub, a business center, a unique event space, a fitness center, a sundry shop, and an in-house restaurant serving mouthwatering meals.
For a couple's trip, the Queen room with a hot tub took my attention with its relaxing hot tub, shower with bathrobes, a work desk, and a beautiful cityscape view every morning!
Nonetheless, it's a place of comfort you'd go to again, and hence, it's got an 8.5 rating from me.
FAQs
What suite hotels with hot tubs in Tulsa, OK have rooms with great views?
The fascinating accommodation facility combined with a private Jacuzzi and excellent views can be found in the Hard Rock Hotel & Casino Tulsa, Best, the Mayo Hotel, etc.
What are the best Tulsa hotels with Jacuzzi suites near Tulsa Expo Square?
There is the Hampton Inn & Suites Tulsa Central, and Comfort Suites Central listed above near the Tulsa Expo Square.
What is the cost range of hotels with private Jacuzzi in room in Tulsa, OK?
The price for hotel rooms with private Jacuzzis would be from $71 to $130 per night.
Verdict
Enough of working full-time at your work desk! Give yourself and your partner a break from the harsh reality to a romantic fantasy in the romantic hotels with Jacuzzi in room in Tulsa, OK. I hope this list gives you an idea of what you actually want and maybe, you could find the perfect place to release all the negatives and revive your love life to the old times.
So, if you've got the right place, go book yourself a cozy Kings room with a hot tub and a nice view without further ado! Have a nice trip!