Couchsurfing is a popular trend that started in a significant number of years ago. Especially, Paris is well-known for Couchsurfing. Couchsurfing refers to a courtesy where hosts invite travellers to their homes to stay but aren't allowed to take any money.
Before starting your journey to Paris, if you are interested in Couchsurfing then try to line up with the hosts. There are two main reasons why Couchsurfing is the best way to visit Paris.
Firstly, there will no accommodation costs and secondly, you'll get enough scopes to share stories also you can get some precious tips and advice from locals.
Travellingapples.com can help you by providing answers to related queries and making your journey more interesting. Feel free to check it before you're gone with your bag and baggage!
Getting back to the point, do you want to know more about Paris City and Couchsurfing? Let's see how our words can help you!
Meet Your Couchsurfing Hosts
Once you are done lining up with your Couchsurfing hosts, your next step is to meet with them after arriving in Paris. No doubt meeting with your Couchsurfing host will be a little awkward for the first time. As you no one knows about each other, still these kind-hearted people want to help you. It is great and awkward at the same time, right?
But don't worry much. The people of Paris are so friendly and kind. After some greetings and small talk, we are sure you are going to be perfectly okay with your hosts.
There is no magical concept like Couchsurfing exists in the world, why? The people who completely do not know anything about you still offer you their home and want nothing in return except some experiences and satisfaction of helping someone. They also provide you with amazing and effective tips, like where to go, what to do and what not, etc. You will not get that chance if you stay in a hotel.
After arriving in Paris, you will meet your Couchsurfing hosts. So, that day you will not get enough time for sightseeing. Jump to your adventure the next day.
Discover Paris By Open Bus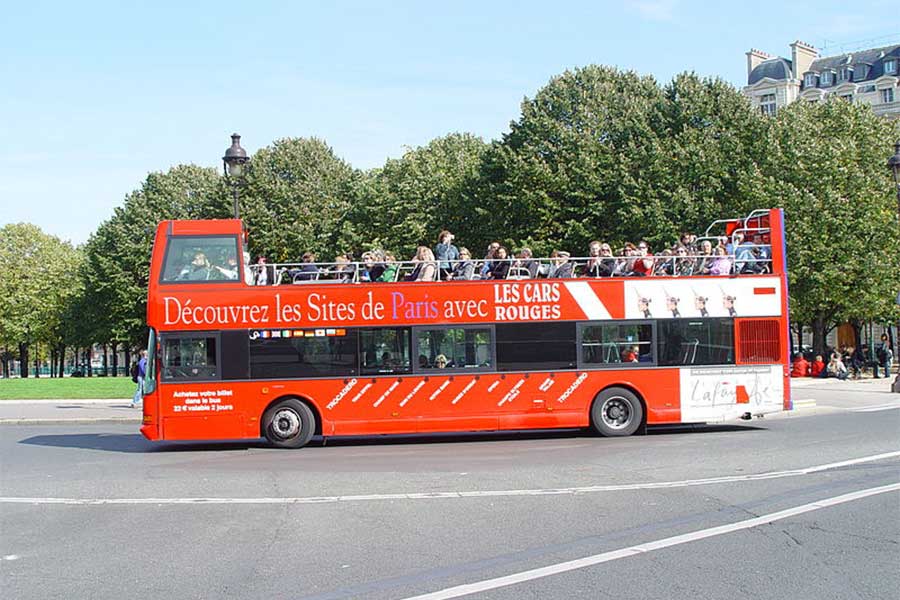 In Paris, there are open-top hop-on-hop-off tourist buses. And these buses are operated in popular big cities. You can get off at any place and explore the world then can get another bus and go back to your destination.
Cities in Paris are very walkable. If you stay near the centre of the city, you can just walk and explore the city perfectly.
But if you do not stay at the centre, better use an open bus that covers almost every area of the city. For that, you can take the L'Open bus as they have four different routes and almost cover the whole city.
We gathered some places where you can visit by the bus:
Place De La Republique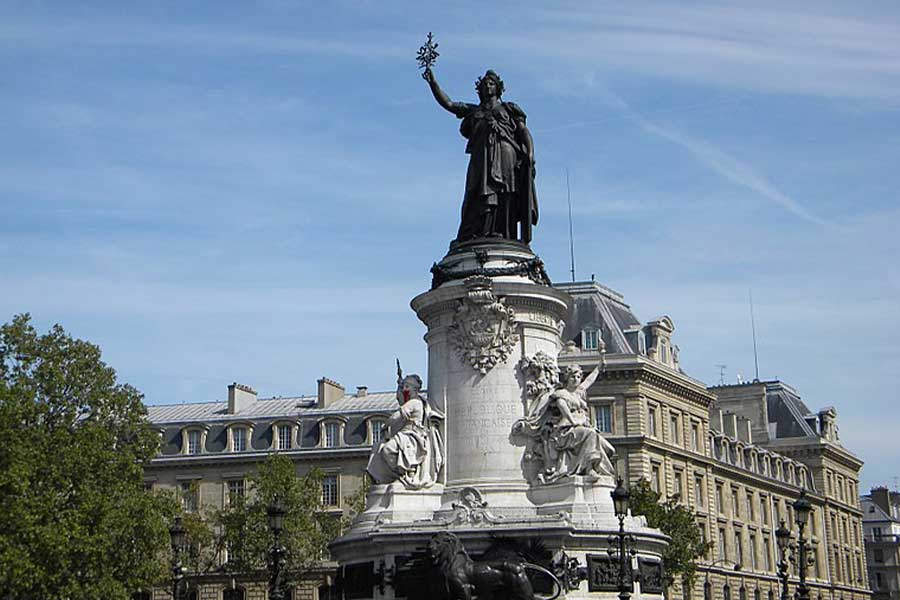 'Place De La Republique' is a historical place where the march of millions of people ended after the rambling shootings at the Charlie Hebdo offices. In the middle of the square, the statue of liberty is still standing with the outpouring of grief and anger.
Academia Nationale De Musique (Paris Opera)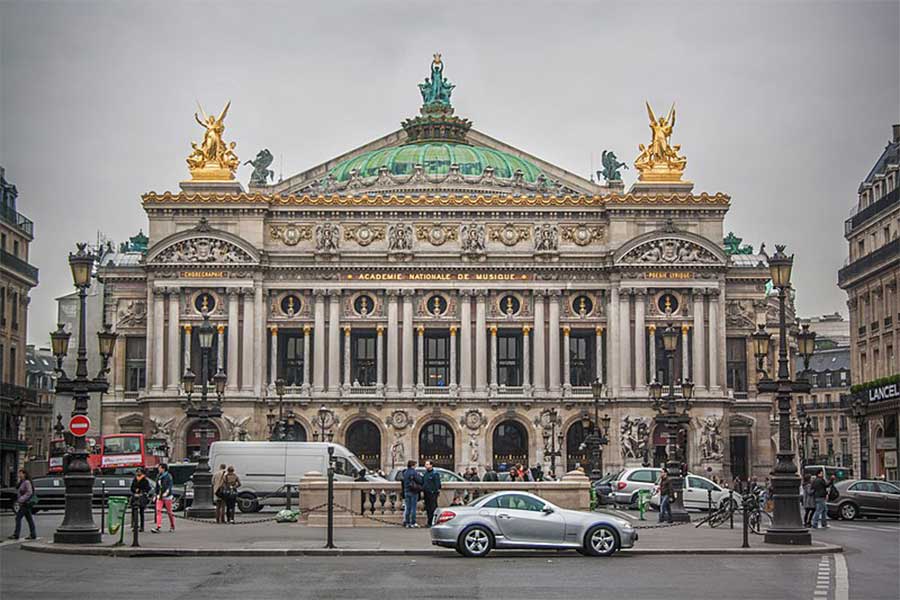 You should not miss the Paris Opera. It is sort of a must-visit place while visiting Paris. Every year, Paris Opera presents more than 380 performances. So doesn't matter whenever you are going. There is always a chance to enjoy a performance. Also, there are some shops around the opera. You can also buy something as a souvenir if money is not a problem for you.
The Louvre Museum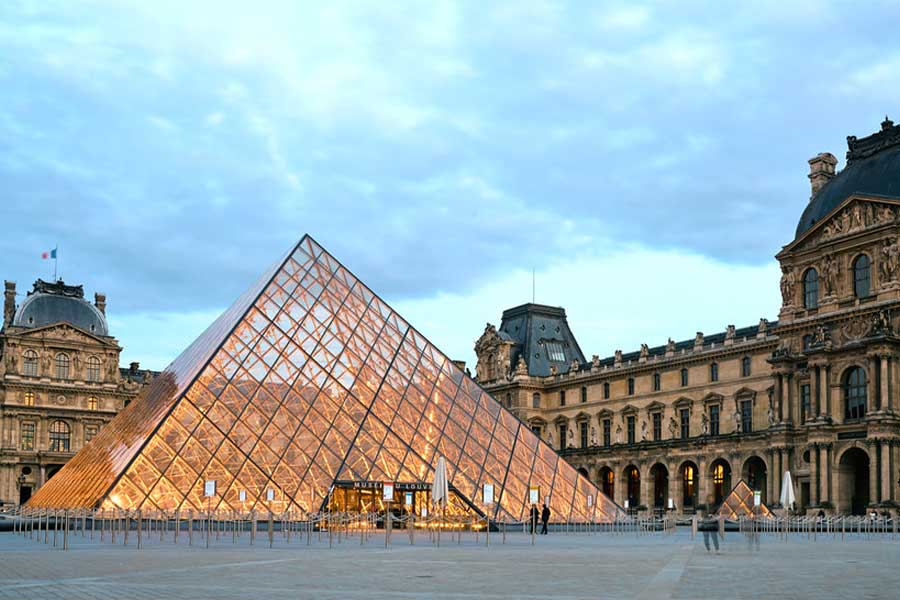 The world has some museums that are most celebrated among people. Louvre Museum is one of them. And the best attraction of this museum is the Mona Lisa. We bet that you want to see it once. But we are also sure that you will like other paintings even more.
The museum is open on Monday, Thursday, Saturday, and Sunday. The opening time for these days is 9.00 AM and the closing time is 6.00 PM.
On Wednesday and Friday, the museum opens at 9.00 AM and Closes at 9.45 PM.
Notre Dame De Paris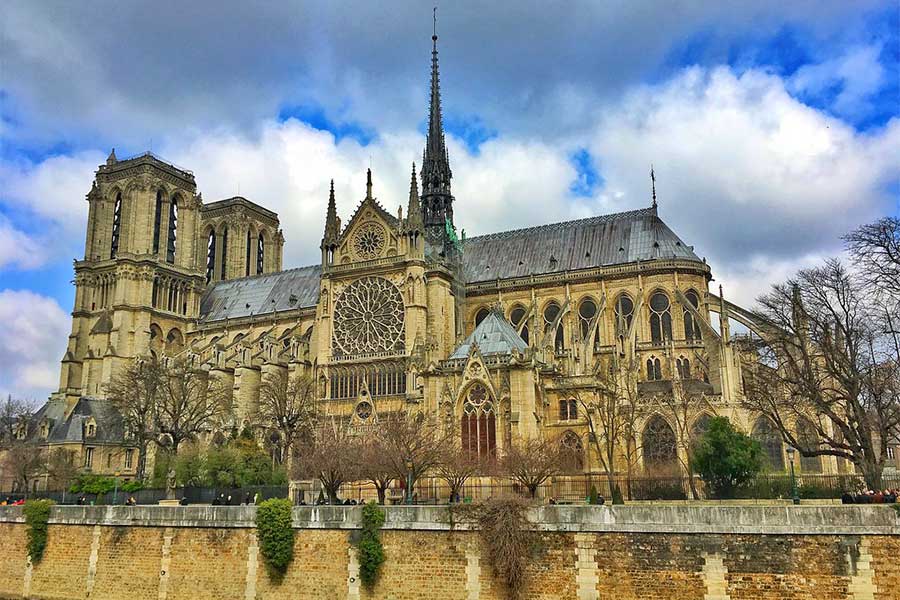 There is a beautiful river named the Seine that flows through Paris. And the Notre Dame De Paris is located on the small island of this river. It creates a beautiful soothing look. It is a medieval Catholic Cathedral. This cathedral was dedicated to Virgin Mary and it is considered one of the greatest examples of French Gothic Architecture. If you do not want to miss the history then you should not miss that too.
The cathedral is open 7 days a week. The opening time is 8.00 AM and the closing time is 6.45 PM. On Saturday and Sunday, the cathedral is open until 7.15 PM. And there is no entry fee.
Avenue Des Champs Elysees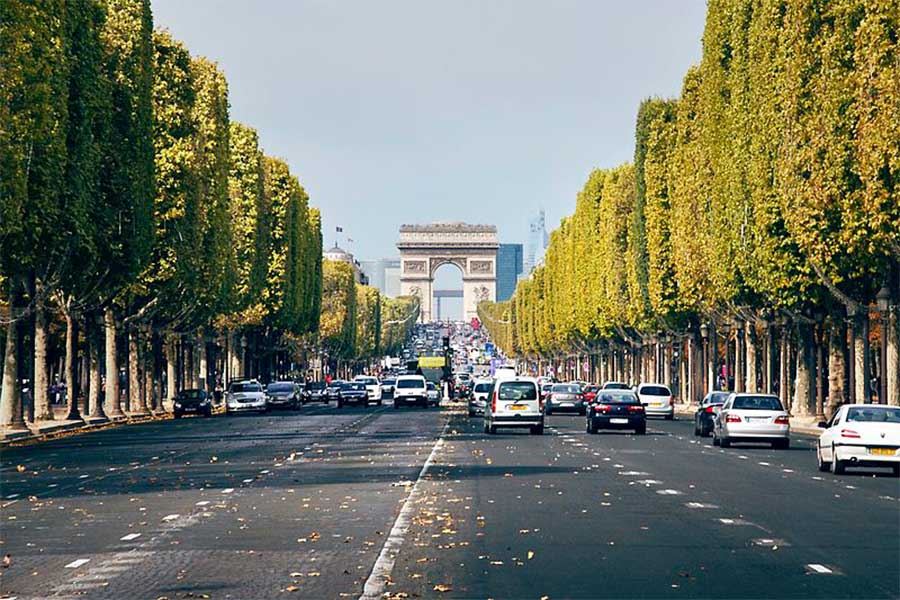 Here comes another historical place that is also important in Greek Mythology. Champs Elysees refers to Elysian Fields in English and paradise. In Greek Mythology, the dead heroes, who have been slain senselessly, settle down in that place.
Also, it is famous for so many cafes, theatres, restaurants, and luxury shops. The grocery items of these shops might seem over-priced to you. But if you do not have issues with money buy some souvenirs.
Eiffel Tower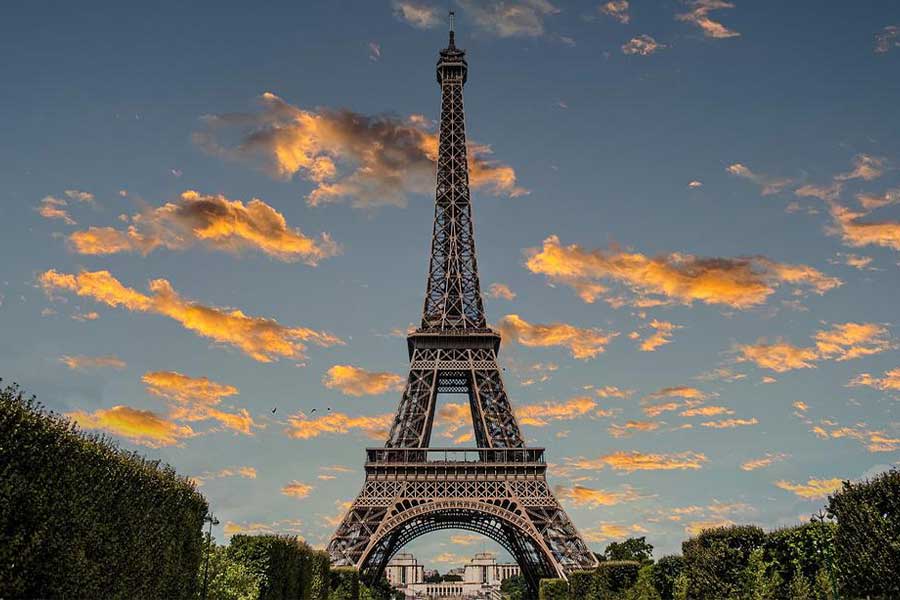 Eiffel Tower is the iconic landmark of Paris. It is also the best attraction in Paris. Seven million people around the whole world have visited this monument. You will not want to miss the chance to take a photo with Eiffel Tower.
From mid-June to early September, the opening time of the Eiffel Tower is 9.00 AM and the closing time is 12.00 AM.
And for the rest of the year, the opening time is 9.30 AM and the closing time is 11.00 PM.
Moulin Rouge And Sacre Coeur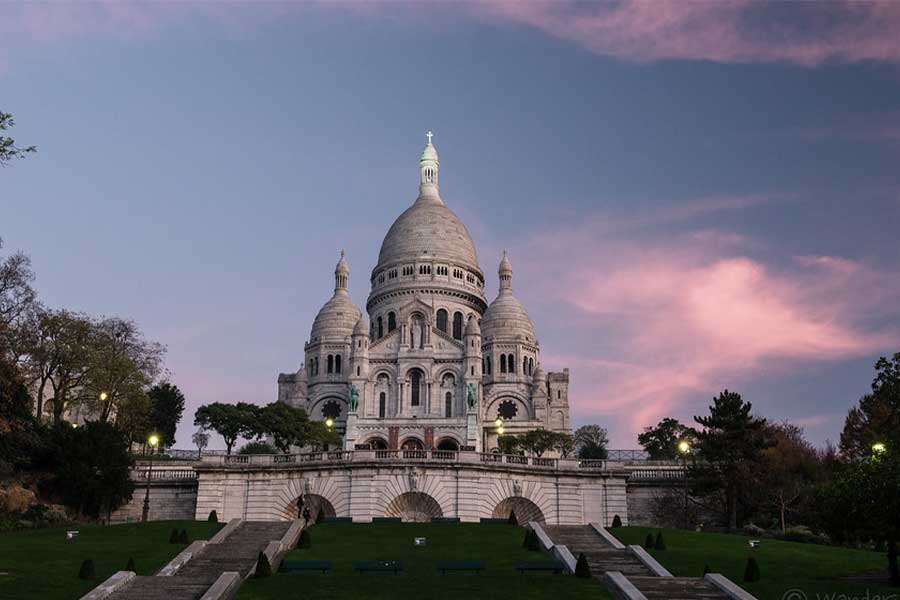 The meaning of Moulin Rouge in English is Red Mill. it is the spiritual house of ca-can dance. If you go to mouline rouge then you will be able to enjoy a show and meal with thousands of tourists.
You can take some great photos of yourself and your group and then walk towards Sacre Coeur. This roman Catholic Church is located on top of the peak point in Paris. This peak point of Paris is known as Montmartre. Once you are at the top of the peak point of Paris, you will be able to experience a great bird view of Paris. Isn't it amazing?
So, if you want to experience this moment you have to visit Moulin Rouge And Sacre Coeur. There is no entry fee. And it is open from 6.00 AM to 10.30 PM every day.
Other Places In Paris
There is so much more to see in Paris. If you want to travel to each and every important place in Paris it will take some years. But you can not Couchsurf for a long time. You can use your hosts as your local tour guide.
Believe it, if you roam alone maybe you will be able to explore things on your own but you will definitely miss a lot of things. The locals who have spent their days navigating this area, obviously have a pile of secret tips, historic knowledge, and recommendations. So, make your host your tour guide and enjoy a nice time with them. And of course, don't miss anything important to your hosts.
Some Tips For Couchsurfing
Couchsurfing is such a magical concept but if you are not well-known for this concept, it might be very awkward for you to start with. So, let's get some tips that can make you feel a little bit comfortable with it.
Try to connect with your Couchsurfing hosts before one or two weeks starting the tour.
Always keep a plan B. Do not just depend on your hosts.
Communicate with them randomly. Try to know about each other a bit.
Always bring some delicate gifts. Do not offer money.
Maintain your hosts' schedules.
Give the effort to build a friendship.
Leave no trace. Make everything clean that you have used for the time.
Before saying goodbye, leave positive feedback.
Invite them to your home.
Conclusion
That is all about the sightseeing in Paris while Couchsurfing. Hope this article helped you to gain more information about Paris city and Couchsurfing.
If you are planning to visit Paris, then try to find a host and make your backpack ready. We are sure that you are going to enjoy your Paris Traveling. Happy Traveling.