If you're on your long-awaited trip to India or aim to travel and experience the cultural beauty of the nation, taking a visit to Bangalore for a week is a must! The city is colorful enough to brighten your days and your mood as well. However, with the city's prevailing tourism chaos, you must also need a relaxing and peaceful place to stay and enjoy the city's wonders to the fullest.
Fortunately, I've found plenty of accommodations in the city that offers not only the finest amenities but also private pools for utmost relaxation. So, whether you are a couple or a whole family visiting the city of elegance, this list of the best hotels with private pools in Bangalore will surely be of great help.
So, let's begin with the most exciting places to visit in Bangalore within your short stay in the city and then quickly move on to dreamy hotel accommodations!
Exciting Places to Visit in Bangalore
The capital of Karnataka, Bangalore, or Bengaluru as some people call it, is more than a prominent Information Technology sector hub; but also a fantastic tourist destination.
The Cubbon Park is a 300-acre with greenery and treasure, storing a diversity of 6000 plants and trees.
The Bangalore Palace, built in the late 19th century, allows you to dive into the heritage of the royal ancestors of this city.
Besides, temples like the Halasura Someshwara temple, Shivoham Shiva, and the Nandi temple housing breathtaking Hindu architecture are worthy of taking a look at.
In case of museums, there are the Jawaharlal Nehru Planetarium, the NIMHANS Brain Museum, and other museums and centres for science, technology, and aerospace enthusiasts.
Finally, amusement parks like Wonderla, Fun World, and Innovative Film City will keep your children on their toes.
So, when visiting Bangalore, don't forget to add these exciting tourist attractions to your wish list.
List of 11 Hotels with Private Pool in Bangalore
Just what I said a few moments back, here's the awaited list of the best private pool resort villas and hotels in Bangalore offering utmost convenience and comfort!
1. Taj Bangalore
Taj Bangalore is a 5-star hotel with its royal treatment for the guests and is elegantly designed indoors. It even connects well to the breathable outside environment, which paves the way for some of the best tourist places in the city.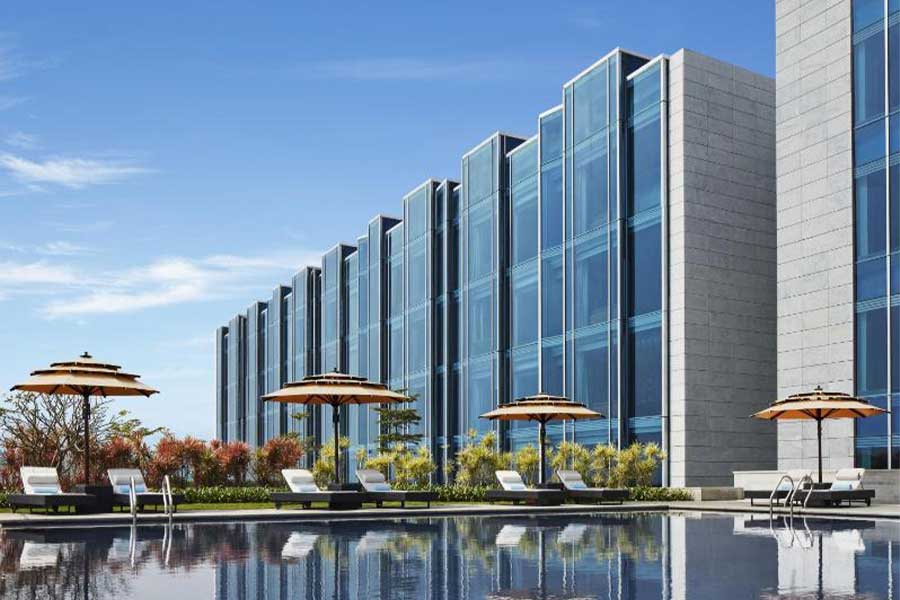 Location
The hotel is strategically located opposite to Kempegowda International Airport. Besides, there are cafes and restaurants all within a kilometer range of the place.
Nearby Attractions
Besides being right beside the International airport, the property is only a few kilometers from Manyata Tech Park, Yelahanka, the Aerospace SEZ, and the Devanahalli Fort.
Amazing Hotel Facilities
For in-house amusement, they arrange live performances, music shows, themed dinner nights, bike tours, and so on. They offer board games and even babysitting services on payment to hold the children's attention.
Each room is equipped with a flat-screen TV, sofa bed, seating area, private bathroom with robes, and excellent plush beds for a good night's sleep.
Scope for Relaxation
For relaxation, you can have some morning tea in the garden or the sun terrace, unwind in their outdoor pool, get spa therapy in their spa and wellness center, or keep fit in their well-facilitated fitness center.
Delicious Relishes
Not only does the hotel offer traditional Indian food, but they also arrange Continental, English, American, and Gluten-free food for the health-conscious ones.
Recommended for:
If you are a couple looking for a 5-star accommodation in the city with excellent in-house facilities and scenic beauty, this is for you!
2. Shangri-La Bengaluru
The Shangri-Lu Bengaluru hotel is not only a 5-star hotel, but it has also acquired the best hotel awards in Bengaluru with its stunning decoration, great location, and luxurious amenities.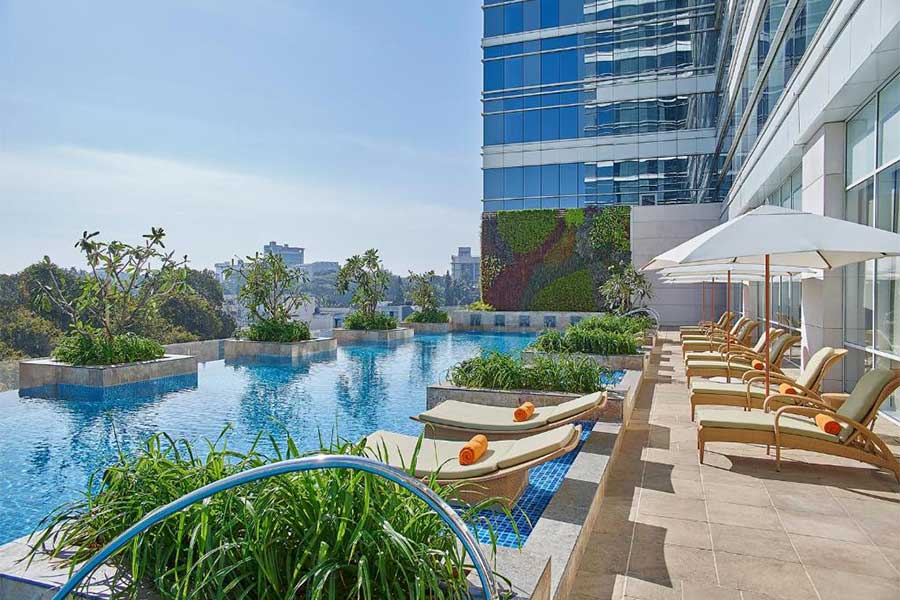 Location
It is located in the heart of Bangalore, nearby the Majestic Bus station and the Bangalore City Railway Station. The Kempegowda Internal Airport is only a 45-minute ride away from the hotel.
Significant Tourism Spots Nearby
The National Gallery of Modern Art, the Bangalore golf course, the Jawaharlal Nehru Planetarium, the Bangalore Palace, etc., are all within a kilometer radius of the hotel.
Luxurious Hotel Amenities
For your comfortable stay in the hotel, they offer free on-site parking, high-speed internet, car hire services, babysitting services, a business center, and even wheelchair accessibility for disabled guests.
Fine-dining and Beverage
On the hotel site, you'll find 7 premium restaurants offering all sorts of meals from Chinese, Japanese, to Asian and Indian traditional meals.
Amusement and Relaxation
The property indeed does not make you feel bored with tons of opportunities for amusement like nightclubs, live music, happy hour, concierge service, board games for kids, and more. And you've travelled enough for the day; you can relax in their outdoor pool with a view, attain spa facilities, or even sweat out the stress in the fitness centre.
Recommended for:
The hotel is highly recommended for a honeymoon trip, a weeklong romantic getaway, or even a nice luxurious trip with the gang.
3. Holiday Inn Bengaluru Racecourse, an IHG Hotel
With great views and all the essential hotel features, the Holiday Inn Bengaluru Racecourse is a fantastic modern hotel close to the historical places of the city.
Accessible Location
The hotel is conveniently located on the Sheshadri road opposite to the Bangalore turf club. The public railway stations are within 1 km distance from the hotel, and the International Airport is 28.3 km from here.
Popular Attractions
Within the 5 km radius of the hotel, you can roam around beautiful parks like the Freedom Park and the Indira Gandhi Musical Fountain Park or check out the outstanding heritage of Vidhana Soudha, Bull Temple Bangalore Palace, and so on.
Incredible Hotel Amenities
For a true homestay feeling, the rooms come with a flat-screen TV, plush bedding, sofa bed, work desk, and private shower.
Fun Activities
If you don't feel like going out in the blinding sun, you can enjoy in-house amusement activities like horse riding, themed dinner dates, evening coffee on the terrace or patio and so on.
Healthy Stay and Relaxation
To keep your health and fitness on the right track, there is a fitness centre fully equipped with modern tools, and for unwinding, there is a spa facility and outdoor swimming pools with fantastic views.
Recommended for:
It is ideal for couples on a romantic vacation; the best part is that they even keep your customized requests!
4. Ramanashree California Resort
The Ramanashree California Resort being a 3-star accommodation facility, offers a serene atmosphere and top-notch service from the staff.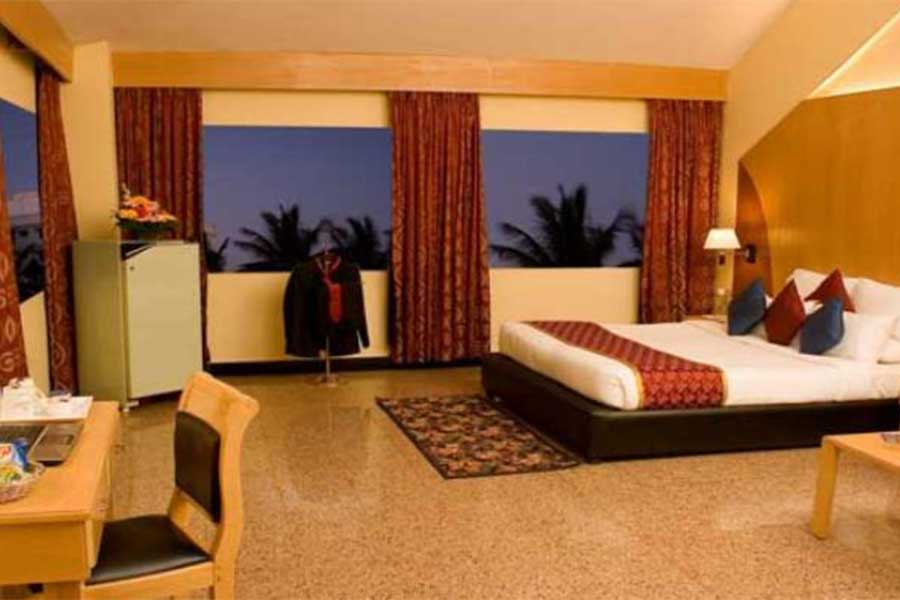 Location
It is a bit isolated from the chaotic zone of the city while being only a 30-minute drive-time from the Yelahanka Railway Station. The closest airport is the Kempegowda International Airport, only 17 km from the property.
Places to Visit Nearby
Within 15 kilometres distance, there are fantastic attractions of the city; Manyata Tech Park, Cubbon Park for the nature lovers, the Bangalore Aero Show 2015, the Indian Institute of Science for the tech geeks, and the Orion Mall and Commerical Street for the shopaholics!
In-house Amenities
If you're done visiting the tourist spots and want to relax an extra day in the hotel, amenities like the fitness centre, room service, business centre, and concierge services will take care of that.
Time for Fun!
For fun, there are immense opportunities, such as the well-equipped games room, table tennis and tennis court, squash facility etc. There's a children's playground and kids' club to ensure the children do not miss out on the fun.
Recommended for:
Suitable for a family trip, including children to spend quality time with each other!
5. Clarks Exotica Convention Resorts & Spa
Located within 70 acres of beautiful green land, the Clarks Exotica Convention Resorts & Spa is a 5-star property with luxurious decor and arrangements for the guests.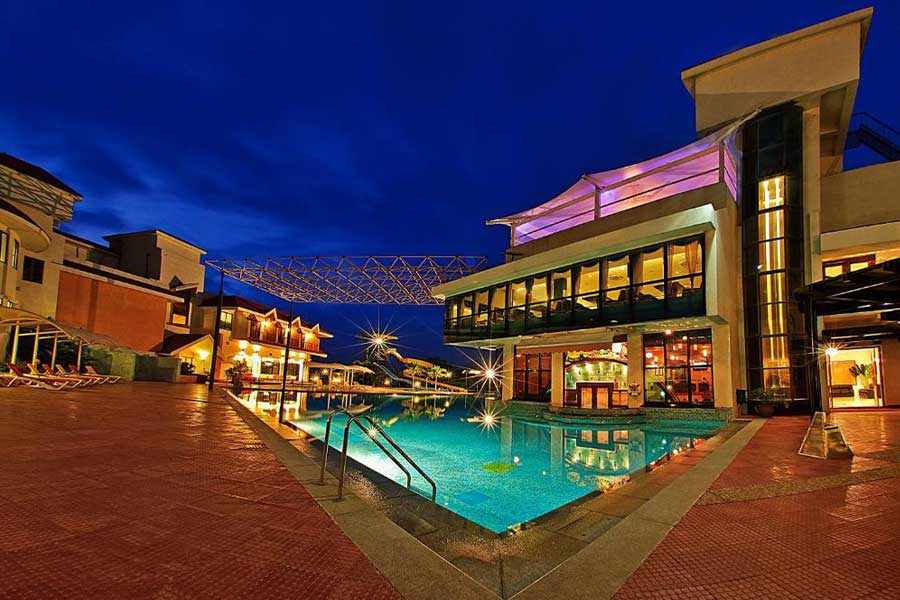 Location
It is located in a well-thought location, only a 30-minutes driving distance from the Bangalore City Centre. And the Kempegowda International Airport is only a 15-minute drive time away
Nearby Attractions
If you want to visit the famous tourist spots nearby, there is the Bangalore Aero Show, the Devanhalli Fort, the Lumbini Gardens for a breath of fresh air and so on.
Incredible Hotel Features
The hotel is no less than a celebrity mansion. There are 3 restaurant choices on-site for mouthwatering relishes, a picnic area for family get-togethers outdoors, a tour desk to plan your day-long tourism, free and secured parking, free WiFi, car hire and so on.
Amusement Activities
If you have checked out all the nearby spots, yet the property would hold you with its great fun activities like mini golf, cycling, billiards, tennis, and even water sports facilities!
Relaxation for the Soul
To spend a relaxing day in house with your beloved, you can take the spa and body scrub facilities, or keep fit together in the gym or sauna. There are huge outdoor swimming pools with heating options for drowning your stress every night.
Recommended for:
The couples seem to love this place, and it really does have a romantic ambience making it perfect for the lovebirds!
6. Palm Meadows Resort
Spread over 5 acres of wonderful greenery, the Palm Meadows Resort is a 5-star property that suits your luxurious taste in hotels.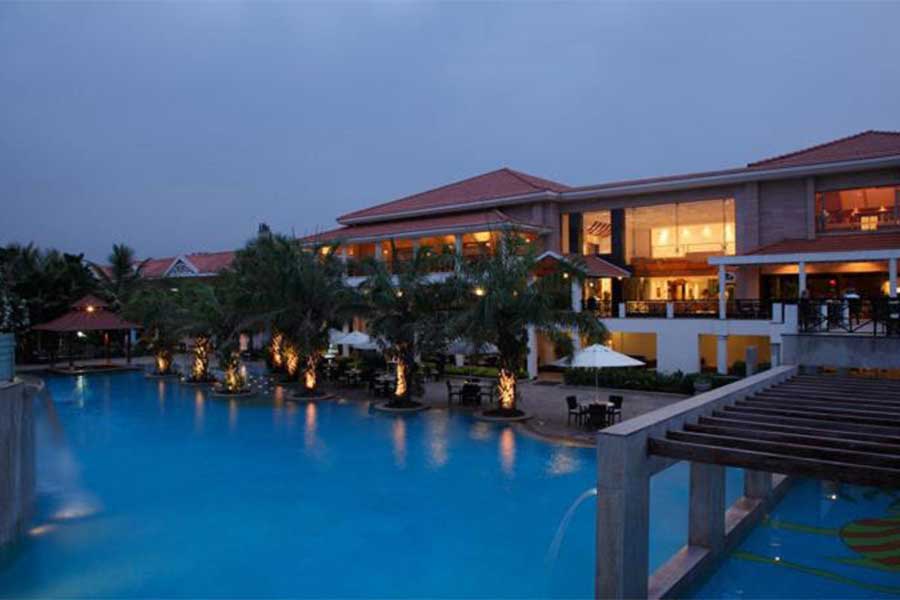 Location
Away from the chaotic city life, the property is located on the serene 5-acre land in the Airport Varthur road. The closest bus stand and railway stations are only 1 and 5 km respectively from the place.
Significant Tourist Destinations
There are a lot of technology centres and museums for the science enthusiasts like the SoulSpace Arena Mall, International Tech Park Bangalore, the Heritage Center & Aerospace Museum and so on.
Delicious Meals
The Palm Resort offers a memorable time with your family with premium BBQ and picnic facilities. Besides, for delicious Continental, Asian, American, or weekend Buffet, they have an on-site restaurant, a bar offering premium beverages, and so on.
Friendly Staff
With friendly behaviour and consideration of requests, the staff service is top-notch. They even take customer requests and pay special attention to every customer request.
Fun and Unwinding Sessions
For a memorable fun time with your family, they offer badminton and tennis facilities, a games room, billiards and so on. Your kids can also enjoy their happy hour at the indoor play area. The waterslides and outdoor swimming pools, spa facilities, and hot spring baths offer fun and relaxation all at once!
Recommended for:
A few days on the property is highly recommended for families with or without kids or even couples on their honeymoon or weekend vacation.
7. Royal Orchid Resort & Convention Center, Yelahanka Bangalore
The Royal Orchid Resort & Convention Center is a 4-star property within the green breathable land with artsy modern decor to make you come here time and again.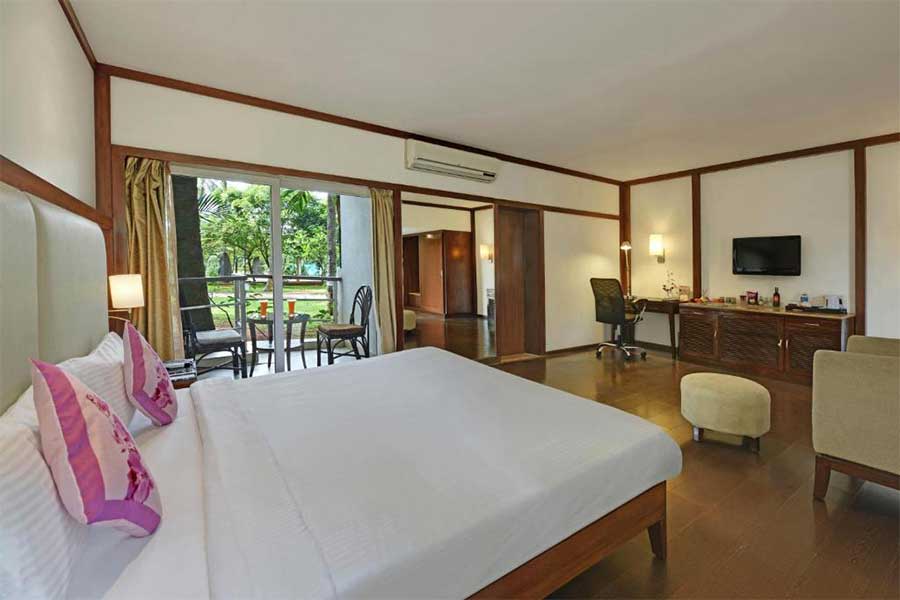 Location
It is conveniently located on the Bellary Road Yelahnka, close to the Jakkur Flying Club. The Bangalore International Airport is only a 30-minute drive from the hotel.
Close by Tourist Spots
The nearby attractions include the University of Agricultural Sciences, Lumbini Gardens, Bangalore Aero Show 2015, Chowdiah Memorial Hall, Commercial Street, etc.
Excellent Amenities
The property surely looks ethereal with a beautiful green garden and a patio to drink the morning tea. If you have a business to handle on trips, there is a business centre and free high-speed internet. The free parking is absolutely secured.
Each room comes with a flat-screen TV, private balcony, personal safe, seating area, bathtub, and a private pool for utmost relaxation.
Staff Assistance
Great staff service is offered by the hotel, who pay close attention to customer requests.
Unwinding session
The fitness centre is equipped with essential tools that allow you to keep fit even on your trip. And the outdoor pool is open all year, allowing you to unwind from the stress.
Recommended for:
It is a great place for couples on honeymoon or for business trips on a budget.
8. Angsana Oasis Spa & Resort
With scenic beauty all around the property, breathtaking landscaping, and outstanding indoor and outdoor ambience, the Angsana Oasis Spa & Resort is a luxurious 4-star hotel to suite your grand taste.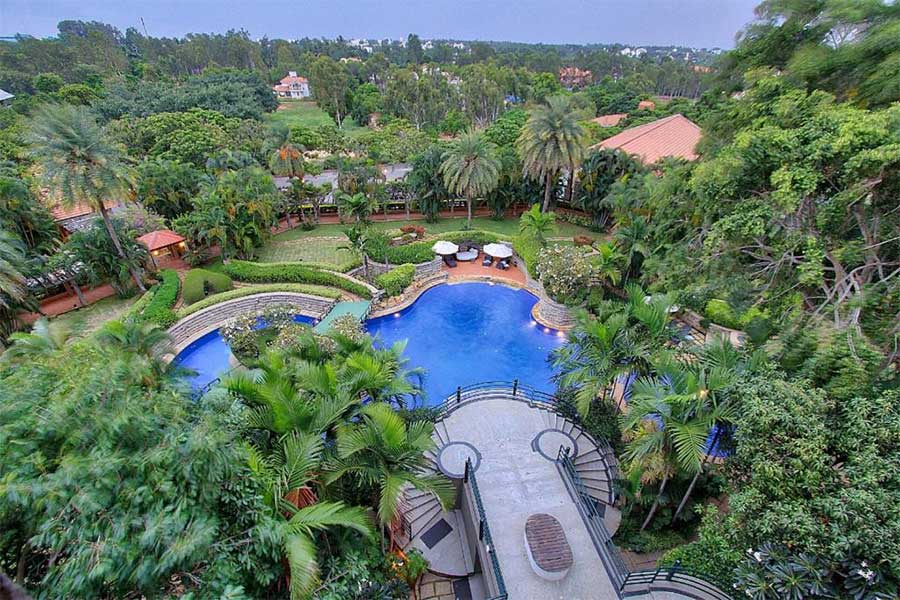 Tranquil Location
The tropical paradise has a convenient location in Rajanakunte, Doddaballapur main road. The nearest railway station and the Kempegowda International Airport are about 17 km from the resort.
Significant Attractions
The Manyata Tech Park, the Lumbini Gardens, the National Institute of Design, the Devanahalli fort, etc., are within 20 km of distance.
Excellent Hotel Facilities
Not only are there exciting hotel facilities but also the in-room facilities are amazing. The flat-screen TV, a wardrobe, a seating area, a kitchenette, a private bathroom with a hairdryer, and a private pool are more or less all the things you need to stay in a hotel.
Fun Activities
For spending a fun leisure, there are badminton, tennis, billiards, and cycling facilities. Even the kids won't get bored on the property with the kids' club, children's playground, and games room.
Mouthwatering Meals
The 3 exquisite restaurants offer everything starting from authentic Indian to Italian, Chinese, Thai, Continental, and Buffet. Besides, you can cleanse your mouth palate with both alcoholics and non-alcoholic beverages served in their on-site bar.
Recommended for:
It is the perfect place for a travelling couple on their long-awaited romantic trip, family trips, or even pompous solo trips with all the posh spa service, premium meals, and beverages.
9. Our Native Village
The 3-star nature-surrounded private pool villa in Bangalore, Our Native Village, is an astounding property to spend some time to sit-back and breath-easy.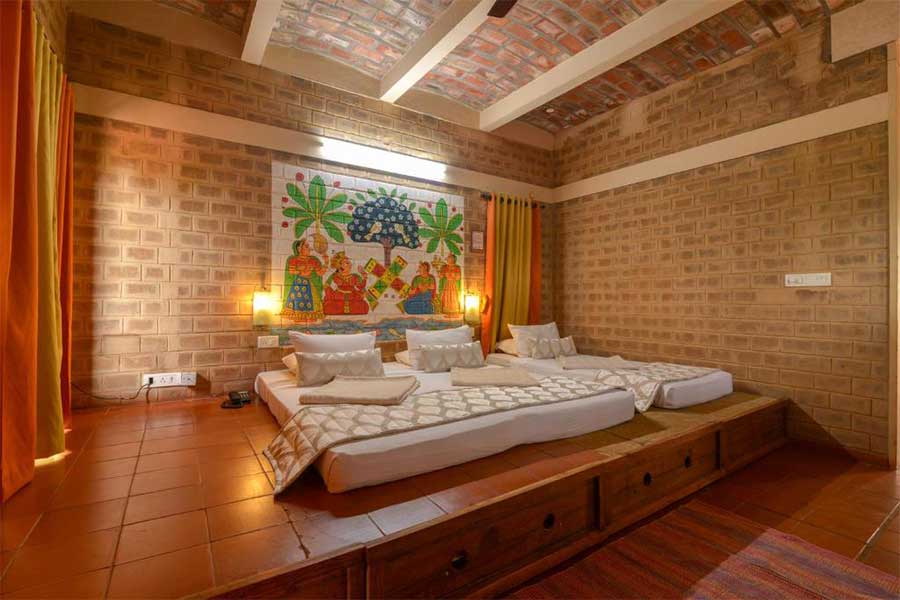 Location
Only 3 km from Nithyagram, the resort offers a convenient location with free private parking. The closest public transport is only 19.6 km from the Yeswanthapur Railway station, and the Kempegowda International Airport is only 26.1 km from there.
Necessary Amenities
Although the resort does not offer free WiFi, but it does have all other amenities you can enjoy as a guest. It offers free secured parking, a 24-hour front desk, meeting facilities, car hire to roam around, and pet services to take care of your beloved pets.
Exquisite Outdoors
The main attraction of the resort is indeed the breathable outdoors. It has outdoor wooden furniture, a beautiful picnic area, and an outdoor fireplace so that you can sit there on chilly nights with your family, friends, or special ones enjoying your tea or coffee.
Nearby Attractions
Being a bit isolated from the city centre, there are not many attractions nearby. But you can still take a ride to the University of Agricultural Sciences, Bangalore Aero Show 2015, Hesaraghatta Lake, and so on within 18 km distance from the place.
Fun and Relaxation
To enjoy some quality moments with your family, there are tons to do in this huge green land. Archery, live performances, local culture tours, cycling, billiards, etc., are arranged by the hotel.
If you are stressed, the outdoor swimming pool, the fitness and yoga center, and the spa facilities are there to handle your stress.
Recommended for:
If you want to enjoy the serenity of nature and some togetherness with your loved ones away from virtual obstruction, this is the place for you!
10. StayVista at Firefly Homestay
The StayVista at Firefly Homestay is a 4-star lush resort amidst the beautiful greens and garden area.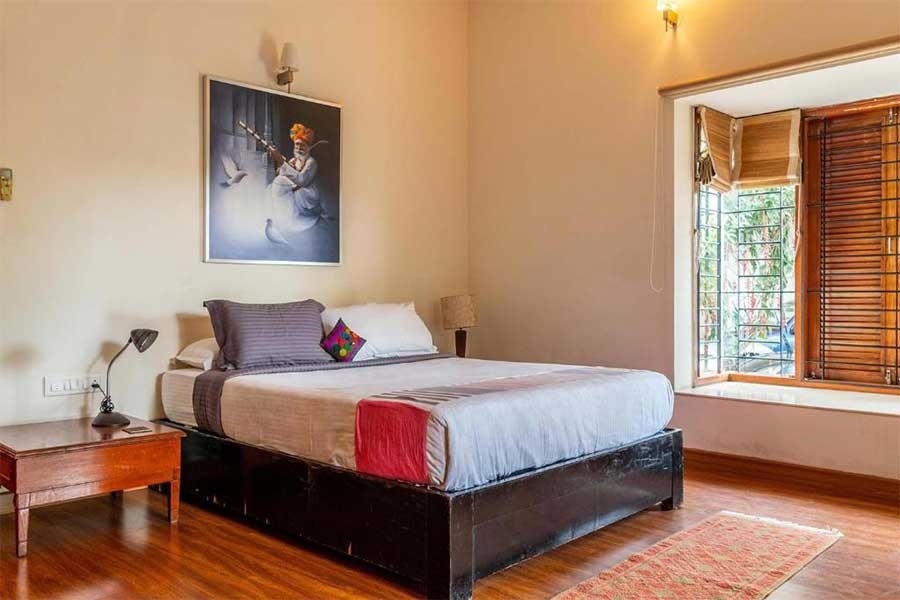 Location
It is located in Whitefield, adjacent to the Technology Parks with popular city attractions and breathable nature close by. The Kempegowda International Airport is about 25.9 km from the property.
Nearby Attractions
Within a 10 km distance from the place, you can visit tons of attractive tourist spots of Bangalore, such as the Telerad RxDx, Phoenix Make city, Soul Space Arena Mall, the Heritage Center & Aerospace Museum, the Hoodi lake, etc.
Essential Amenities
The property maintains its utmost elegance with the vintage decor of the place without comprising any amenities. It comes with a free high-speed internet, free secured parking, BBQ facilities, and of course, an outdoor swimming pool for relaxation along with the basic in-room facilities.
Relaxing Outdoors
The beautiful terrace for stargazing, the surrounding garden, and the patio all contribute to the breathable outdoors.
Recommended for:
If you are up for a classic vacation in Bangalore with the natural beauty surrounding your accommodation, this is the ideal place.
11. Pool Bungalow Farm Stay
With 4-stars beside the title, the Pool Bungalow Farm Stay is a ravishing cottage with private pool in Bangalore. The exceptional decor and easily accessible location, the place surely mesmerizes everybody.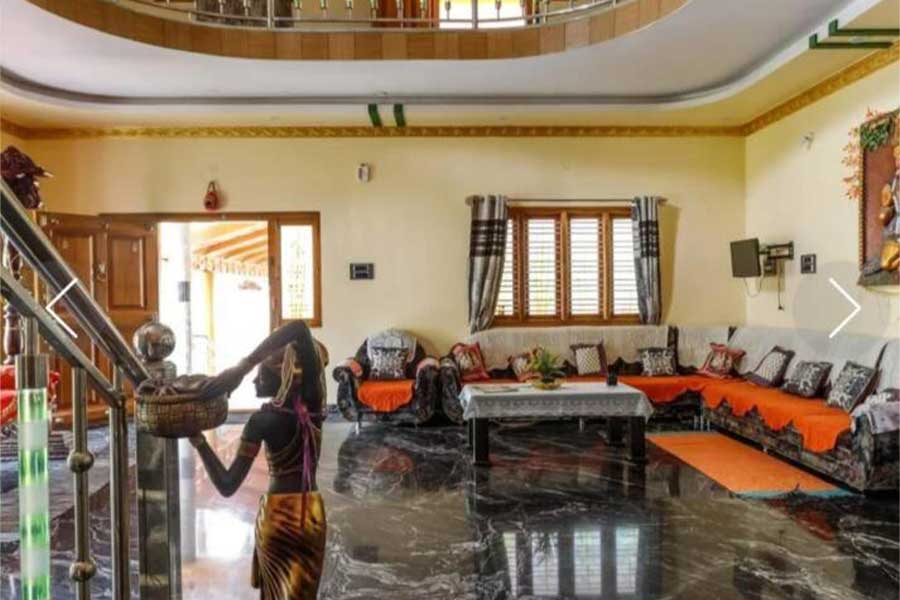 Location
It is located in the Devegere Village in Kumbalgod Taluk, spread in a huge land of greens, away from the busy city life. The Kempegowda International Airport is 46.2 km from the Bungalow.
Nearby Tourist Spots
Within 20 km distance, there are fascinating tourist spots like the Wonderla for amusement, the Innovative Film City, the Ranga Shankara, the Bull Temple, Kanteerava Indoor stadium, etc. The cherry on the cake is the ISKCON Hare Krishna Temple, only 9 km from the place.
Excellent Amenities
The Bungalow has 4 bedrooms, a well-equipped kitchen for making delicious fresh meals, free parking on-site, beautiful terrace space, and of course, outstanding outdoor views. For in-room facilities, there's a TV, seating areas, a private pool, a washing machine, and a huge lounge space for gatherings.
Added Relaxation
It even offers on-request customization with the in-room amenities and blush beddings for added comfort. The balcony and the outdoor swimming pool are the perfect spots for lazy afternoons.
Recommended for:
It is an outstanding place amidst nature and great scenic views, perfect for family vacations.
FAQs
How much does it cost to stay at a hotel in Bangalore with private pool?
The cost for staying at private pool resorts in Bangalore ranges from $160 to $265.
What are some of the private swimming pool resort in Bangalore nearby the Bangalore Palace?
The Shangri-La Bengaluru, the Holiday Inn Bengaluru Racecourse IHG Hotel, the StayVista at Firefly Homestay are some of the best resorts in Bangalore with private pool nearby the Bangalore Palace.
What are some of the best private pool villa resorts in Bangalore?
The StayVista at Firefly Homestay, the Pool Bungalow Farm Stay, Our Native Village, etc. are some of the most incredible private pool villa resorts in Bangalore.
Final Verdict
One thing assured- Bangalore will never bore you! But to enjoy your stay with the family or your beloved to the fullest, there's no substitute to a wonderful private pool villa resort or hotel in Bangalore. And so, even if you have not found the perfect accommodation for a nice trip to Bangalore, you sure do know now what you are looking for.
So, without a single second anymore, plan your perfect trip to the versatile land of Bangalore, book a villa or a room with a private pool in your desired hotel, and let's get packing! Hey, don't forget your sneakers for a week full of adventures!