St. Louis never disappoints you whenever you need to spend a few days in relaxation. If you're planning to get a relaxing massage and searching for hotels with hot tubs like the jacuzzi, the hotels in St. Louis can always make you the happiest.
However, not all the hotels can meet your requirements. They have individual features, pros, and cons. For this, you need a comprehensive guideline to pick the best spot.
Guess what? We've got your back with complete information about the best hotels with jacuzzi in room St. Louis. This article will clear your confusion regarding the hotels and give you the right directions to start your journey.
So, let's see what we have for you!
9 Hotels with Jacuzzi in Room st Louis
We don't want to steal more time from you this time. Let's explore the nine best hotels that have jacuzzis and offer you the best relaxation experience.
1. Drury Plaza St. Louis at The Arch
Our list starts with one of the best hotels in St. Louis, especially if you're going for a two-person trip. It's located in the center of St Louis, and you'll need only 5 minutes to walk from the Gateway Arch.
We said it's the best considering a two-person trip because 96% of the couples loved their experiences in the hotel.
A flat-screen TV (37") will be your favorite companion for streaming Netflix with your loved one. I almost missed mentioning it; you're under free WIFI coverage as long as you're in their guest rooms.
What's more exciting about the place is that you can relax in the hot tub or spend quality time in the indoor pool with your partner. There's a fitness center as well. Moreover, you can use a launderette with the facility of a same-day dry cleaning service.
Above all, the price is mid-range. You won't have to break the bank to enjoy a luxurious vacation.
2. Hilton St. Louis Downtown at the Arch
This one is my personal favorite. It's located near the Gateway Arch and Cardinals games at Busch Stadium. In other words, you'll need only 14 minutes to reach Lambert International Airport.
What this hotel has to offer you is a long list. There's an award-winning restaurant which you'll find perfect for enjoying meals with your partner. The other amenities the place offers are meeting rooms, a business center, a 24/7 Pavilion Pantry Market, etc.
The rooms have a spacious work desk, a refrigerator, and a flat-screen TV. Also, a King room with Whirlpool inside can be an excellent way for your romantic escape.
As I'm obsessed with workouts and gym stuff, I loved the modern gym section in the hotel. It's equipped with necessary cardiovascular and weight-training machines.
3. Pear Tree Inn St. Louis Near Union Station
Pear Tree Inn St. Louis Near Union Station offers you a perfect balance among the quality, value, and amenities. You'll get a complimentary hot breakfast with a continental breakfast daily, free parking, laundry facilities, and whatnot!
The indoor pool and the whirlpool were my favorite spots throughout my journey. And I loved the hot tub that's featured on site.
There's also a business center available for all guests. All rooms are equipped with complimentary toiletries and iron. Other must-to-mention features are LCD TVs, free Wi-Fi access, coffee makers, minifridges, and microwaves.
What else to mention is, that the hotel is a mile away from the City Museum of Busch Stadium and Citygarden.
4. Holiday Inn Express & Suites St Louis Airport, an IHG Hotel
Features:
Cleaning services including laundry drying trouser press
Free Wi-Fi, Fitness service
Business center, ATM/cash machine on site
No parking available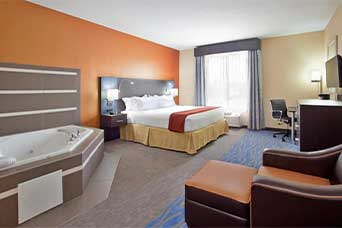 The next one on our list is Holiday Inn Express & Suites St Louis Airport that's located directly across from Lambert-St Louis International Airport. This hotel has a lot of amenities to offer you.
If we start mentioning the amenities of this hotel with private hot tub in-room St Louis, the first thing that springs to my mind is the indoor-heated saltwater pool. I am a fan of being around water and I loved both the beautiful hot tub and pool of the hotel.
Other great facilities are- you can take the launderette service (which requires an additional charge though). Every day, you'll get a complimentary hot breakfast, a fitness center, a meeting space, and a free airport shuttle service.
The rooms are also equipped with free Wi-Fi, microwave, and a refrigerator.
5. Drury Inn St. Louis Union Station
You might guess according to the name that Drury Inn St. Louis Union Station hotel is just adjacent to St. Louis Union Station. You'll need to walk less than 10 minutes from the Scottrade Center to reach this place.
The loveliest thing I experienced from this hotel is its friendly group of staff. They were always there for us whenever we needed anything. It's one of the best hotels with private jacuzzi in room St Louis MO for some compelling reasons.
You're going to enjoy your swimming time in its indoor pool and whirlpool. The fitness center has all the necessary equipment you might need there.
The business center is always open and guests can use the laundry services for free. However, you have to pay a specific charge for parking. You can enjoy a complimentary hot breakfast with pastries, bagels, cereals, and fresh fruits.
6. Hollywood Casino St. Louis
The best part of the Hollywood Casino St. Louis is the exciting gaming and non-stop entertainment with gourmet dining. It's 37 km from the Missouri Botanical Garden and less than 12.9 km from Lambert International Airport.
There's a free airport shuttle and this hotel's modern rooms have free Wi-Fi. What else is impressive about this hotel with private hot tub in-room st louis, mo? A lot!
About the gaming options, there are 2800+ slot and video poker machines in the place. Also, a poker room and table games are there to entertain you.
The rooms are equipped with ironing facilities and a refrigerator.
If you're a foodie, you will love this place more than any other options on the list. Because there is everything from steakhouses, Buffett, to studio bars. I bet you're going to enjoy every moment at the on-site dining options.
7. Best Western St. Louis Inn
Best Western St. Louis Inn is one of the best hotels in many ways if your needs and requirements are not so many. We mean that this is an okay-but-not-the-best type of hotel, so you shouldn't expect much.
However, if we start with the price point, it's one of the cheapest options but it offers you almost everything one needs from a hotel. It's only a few minutes from downtown.
While staying in the hotel, you'll stay close to the world-famous St. Louis Gateway Arch, the Busch Stadium, and the St. Louis Zoo.
Every comfortable guestroom of the hotel is under free wireless high-speed internet access. You'll get a free hot breakfast every morning, and enjoy the indoor pool to relax after breakfast. And, there's a fitness center (in case, you're one who loves to move).
8. Comfort Inn & Suites – Chesterfield
Here's another can't-miss option when you want to stay near the attractions like Six Flags St. Louis amusement park, Butterfly House, and the St. Louis Zoo.
Shopping lovers like me will love the nearby Westfield Chesterfield mall. The hotel's appealing features and amenities are a free Wi-Fi connection, free coffee, a free weekday newspaper, and free local calls.
An indoor heated pool will help you relax at noon. The fitness center will do the best whenever you need a workout session.
About the guest rooms, they are equipped with coffee makers, ironing boards, hair dryers, microwaves, refrigerators, and voicemail. Also, if you want a King room with whirlpool st louis, here you'll get this.
9. Embassy Suites Saint Louis – Downtown
The last one on our list is the Embassy Suites by Hilton St. Louis Downtown hotel. It's located across America's Convention Center and the Edward Jones Dome.
The guest rooms of this hotel are equipped with a mini-fridge, flat-screen TVs, a coffee maker, and a microwave.
The living rooms include an MP3 connection which helps you dive into the world of music at any time. A cushioned sofa bed is there to provide you with the comfort you deserve on your vacation. However, the wireless internet connection is free in only public areas.
You'll get a cooked-to-order breakfast every morning. And, this is one of the most romantic hotels in St Louis Jacuzzi so, the hot tub will help you enjoy quality time with your partner.
All guests are allowed to get free access to the gym. There's a bar as well (in case you want to join a party any time).
Frequently Asked Questions
What are the average rates for hotels with jacuzzis in St Louis?
The average rates for hotels with jacuzzis in St. Louis are $120. The price varies according to factors like the number of features or amenities you get.
Is it safe to use a Jacuzzi in a hotel?
If you don't have a weak immune system, it's safe to use a Jacuzzi in a hotel for sure. But yes, bacteria are prone to grow faster in hot tubs. Still, a healthy immune system is enough to defeat most of those germs.
How can I cancel a hotel room after checking in?
It's okay to cancel the room if you want to do it before the cancellation deadline. Otherwise, you need to communicate with the hotel chain guest assistance desk as soon as possible.
What is a whirlpool tub?
The Whirlpool tub is a powerful tool that gives you a hydro-massage by shooting the jets of water. Hydrotherapy helps relieve pain and offers therapeutic relaxation, giving you a spa-like experience.
Take Away
And, our discussion ends here. We tried our best to help you find the most suitable hotel with a jacuzzi in room St. Louis. Hopefully, things are easy for you to understand as you know which hotel has exactly what to offer you.
Don't delay booking your destination. Grab the tickets, take your bag & baggage, and boom!