When finding the perfect place to stay on your next vacation, why not go all out and book a suite at one of these 11 unique hotels with private pools in Pennsylvania?
I have covered you well if you are looking for a luxurious suite with a balcony and pool or a cozy cottage with a private hot tub.
From luxurious accommodations to top-notch amenities, you will surely find everything you need for an unforgettable experience.
Places of Interest in Pennsylvania
Planning for something fun to do in Pennsylvania? Check out Shawnee Mountain, Kalahari Waterpark, Camelback Ski Area, Sesame Place, or Soarin Eagle Rail Tours. Each place offers something unique and exciting for visitors to enjoy.
Shawnee Mountain is a great place to enjoy the outdoors. With hiking trails, a scenic chairlift, and various outdoor activities, there is something for everyone at Shawnee Mountain.
Kalahari Waterpark is perfect for a hot summer day. With over 100 water slides and attractions, Kalahari Waterpark will make a splash with visitors of all ages.
Camelback Ski Area is a great place to hit the slopes. With 34 trails and nine lifts, Camelback Ski Area offers a variety of options for skiers and snowboarders of all levels.
Sesame Place is a must-see for any fan of Sesame Street. With rides, shows, and character meet-and-greets, Sesame Place is sure to bring a smile to everyone's face.
Soarin Eagle Rail Tours offers a unique way to see Pennsylvania. From the comfort of an open-air rail car, visitors can enjoy breathtaking views of the state's countryside.
Besides these places, the state has a lot to offer guests flying there. You won't be disappointed!
11 Hotels with Private Pools in Room in PA
The hotels I am describing here are already people's choices. So, please continue reading to get your desired homestay, whether solo, couple, family, or business traveler.
1. Paradise Stream Resort
Are you searching to reveal the depth of your love and impress the beloved with full pleasures? Paradise Stream Resort is an excellent choice for you.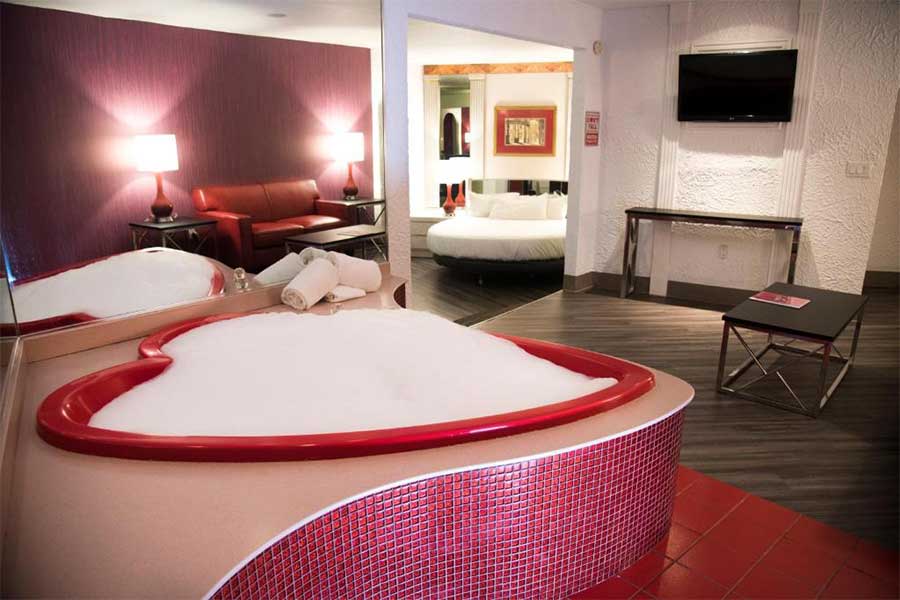 Location
The resort is in the center of the picturesque Pocono Mountains, on the Carlton Road of Pennsylvania. Nearest Wilkes-Barre/Scranton International Airport is only 41.7 km from the getaway.
Places to Go
The Poconos hotel with pool in room is convenient for nearby explorations. You can explore Kalahari Waterpark, Camelback Ski Area, Raceway, Cleopatra, Pocono Raceway, and Shawnee Mountain.
Resort Milieu
The 3.5-star motel is ready to welcome its on-site restaurant, 2 pools, 2 bars, a nightclub, a poolside bar, a gym, and a game room. Again, guests can participate in water sports, archery, seasonal marina, mini golf, horseback riding, ski, and fishing.
Far-fetched Luxuries
The resort has got you covered, from free parking and internet to private heart-shaped tubs in the bathroom. Likewise, all the 144 air-conditioned suites have fireplaces, spacious beds, smart TVs, a fridge, and a coffee maker. Also, the on-site spa is excellent for aromatherapy, body treatments, and massages.
Recommended for:
I commend this hotel for couples who want to enjoy romanticism out of any hustle and bustle, especially the newly married couple.
2. Pocono Palace Resort
Pocono Palace Resort is a synonym of a romantic destination in PA with futuristic hospitalities, couples dining, and a pleasant setting of private beach.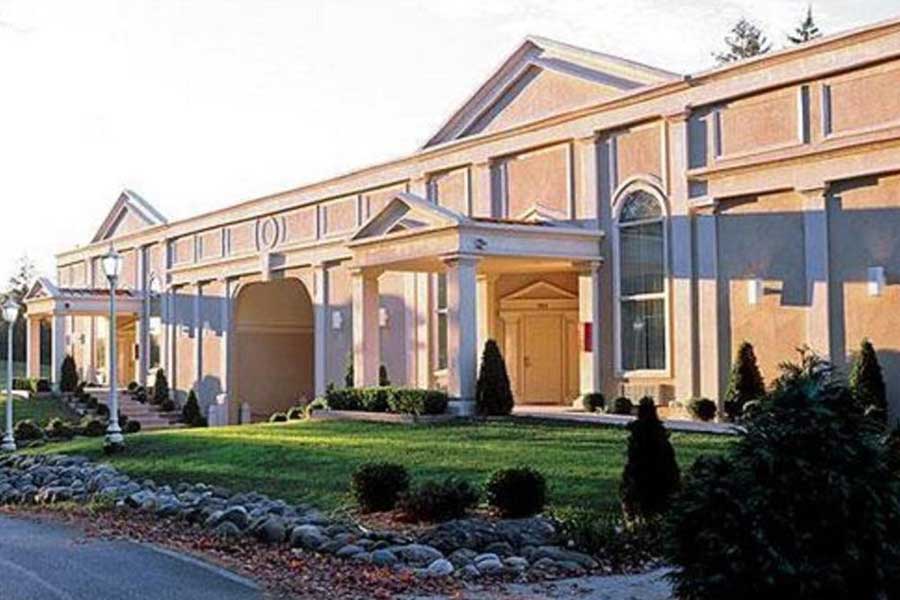 Location
The 3.5-star resort is on the Fantasy Road of East Stroudsburg. It is only 56 km away from Lehigh Valley International Airport.
Highlights
Shawnee Mountain, Great Bear Golf Club, Pocono Indian Museum, Greenhouse Slope – these are the places where people mostly visit staying at this resort.
Hotel Backdrop
It's a great combination of modern and green life as there is a large private beach and 32K sq. feet sports and entertainment center. Guests can avail of free internet and parking, swim in 2 pools, dance at the nightclub, or take part in mini golf, cycling, hiking, and fishing.
Resort Conveniences
Couples or families may enjoy food at Lake View Dining Room, get a spa and massage, and hit the gym. The AC rooms include a whirlpool, flat TV, fireplace, freezer, iron, tea maker, and separate sitting areas.
Recommended for:
If you can hardly make time for family or a beloved one, this resort will be like a second home to you except for the regular struggles of life.
3. Lancaster Inn & Suites
Set in a rural landscape, the Lancaster Inn & Suites is a perfect vacation retreat to make the tour remarkable.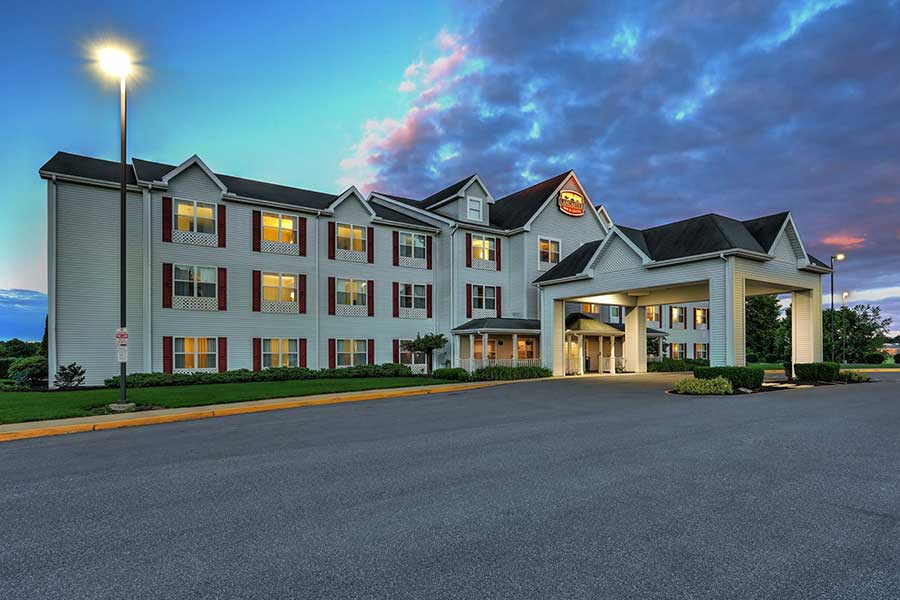 Location
This Manheim hotel is on Lancaster Road in PA, only 10.6 km from Lancaster Amtrak Station. If you want to fly to your destination, you can drive 33.3 km to reach Harrisburg International Airport.
Tourist Attractions
Any lovely place you think in PA is accessible from the property. Thus, the most visited places are Dutch Wonderland, Landis Valley Museum, Spooky Nook Sports, Lititz Museum, Waltz Vineyards, and Fulton Theatre.
Inn Environment
The inn can make you recall the old childhood days as you get surrounded by the openness of green set-up. Besides this pleasant background, guests are offered a pool with sun decks and umbrellas, a gym, a computer station, and a business center.
Hotel Enrichments
Any group or solo guests can use the free internet, front-desk safe, laundry, HDTV, freezer, microwave, baby bed and so on. Also, the AC rooms with private bathrooms have a shower-tub combo and free toiletries.
Recommended for:
The hotel is the top recommendation for value-for-money travelers who want luxury lodging besides saving wallets.
4. Lake Erie Lodge
Another budget-friendly PA hotel is the Lake Erie Lodge, encircled by local lakes with essential amenities.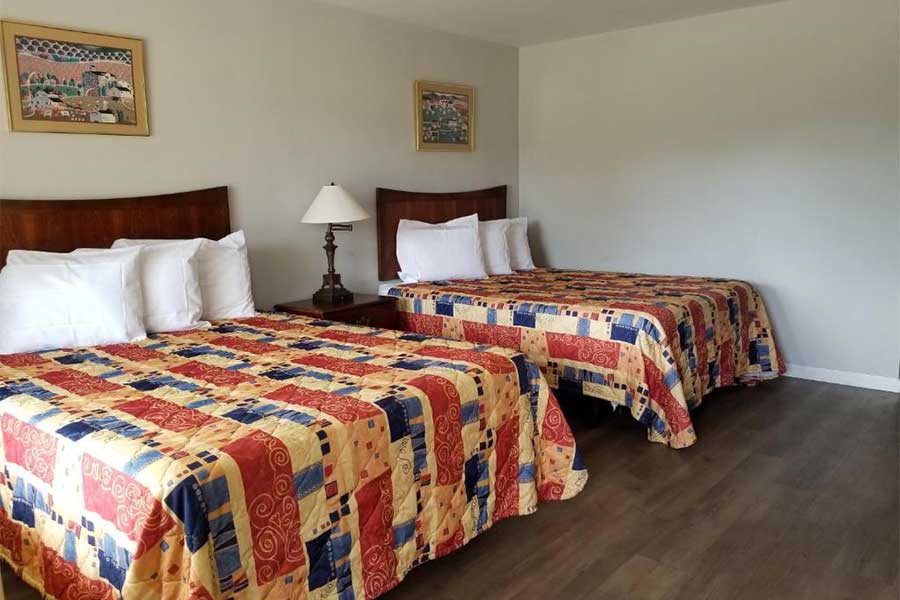 Location
The lodge is near Peninsula Drive of Erie, very close to Beach 1, Barracks Beach, and Mill Road Beach. Therefore, you can reach the property by driving only 3.3 km from Erie Airport.
Where to Visit
The city of Erie has lots of places that you may love to visit. You can make better relationships with a partner by taking them to Maritime Museum, Art Museum, Land Lighthouse, Perry Monument, 9/11 Memorial, and Asbury Woods.
Homestay Condition
The congenial atmosphere is above the state-of-the-art idea as you can quickly walk on the sandy beaches. It is home to a beautiful garden, pet-friendly setting, BBQ arrangements, and picnic. Besides, the free WIFI, self-parking, a bar, and an on-site restaurant are also there.
Services to Remember
With 24-hour front desk and room services, you are heartened to have all the available modern services. AC rooms with LCD TVs, sofa beds, bed linens, and microwaves are impressive here. As well, the bathrooms have necessary bathing items and complimentary toiletries.
Recommended for:
I suggest this hotel for solo travelers who wants the cheapest shelter temporarily and visit the maximum beauties in Pennsylvania.
5. Inn of The Dove Romantic Luxury & Business Suites
Inn of the Dove Romantic Luxury & Business Suites is a romantic, calm, and peaceful destination for family and business travelers.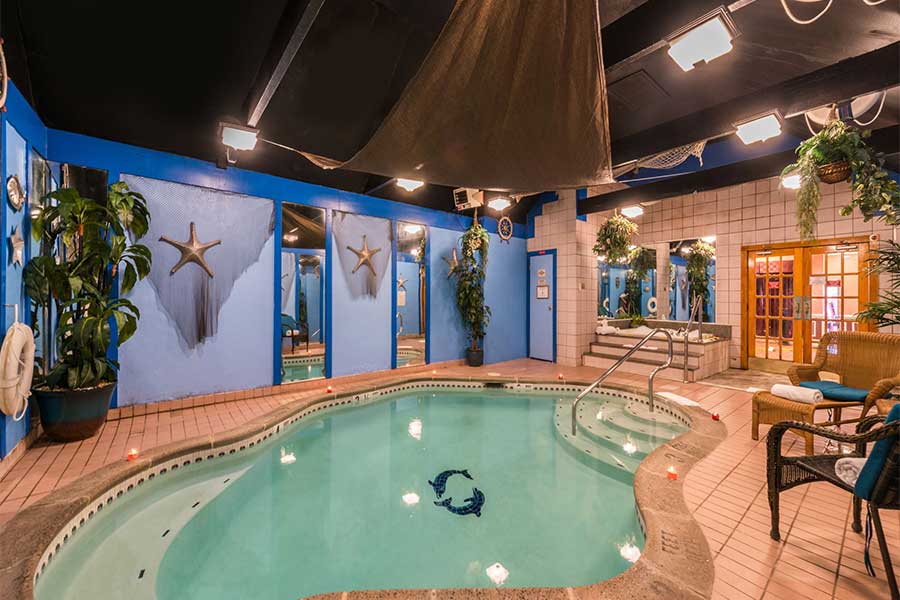 Location
The getaway is in the business district of Bensalem, Pennsylvania. The property is only 21.2 km from the Trenton-Mercer Airport, enabling easy transportation.
Wonders that Amaze Visitors
Like other properties in this guide, this hotel is also helpful for roaming around places. These can be Neshaminy Creek, Philadelphia Insectarium, Sesame Place, La Salle University, and Butterfly Pavilion.
Resort Setting
The resort is good for diving into indoor swimming pools, taking baths in the jetted tub, and making intimate moments in front of the in-room fireplace. It's so cozy to feel yourself in another world with a soundproof milieu. Other facilities like complimentary to-go breakfast, on-site errands, café are fantastic for completing the stay.
Inn Virtues
The hotel offers incredible in-room facilities to the guests. Some notable amenities include free internet and parking, baggage storage, TVs, premium bedding, patios, jetted tub in the bathroom, and a freezer. Besides, there is a garden and shared lounge for more fun.
Recommended for:
This inn is a friendly suggestion to people who don't love to get any disturbances while in sleep or awaken.
6. Ledges Hotel
Ledges Hotel is the newest addition to Mount Pocono destination with a modern setting and essential amenities.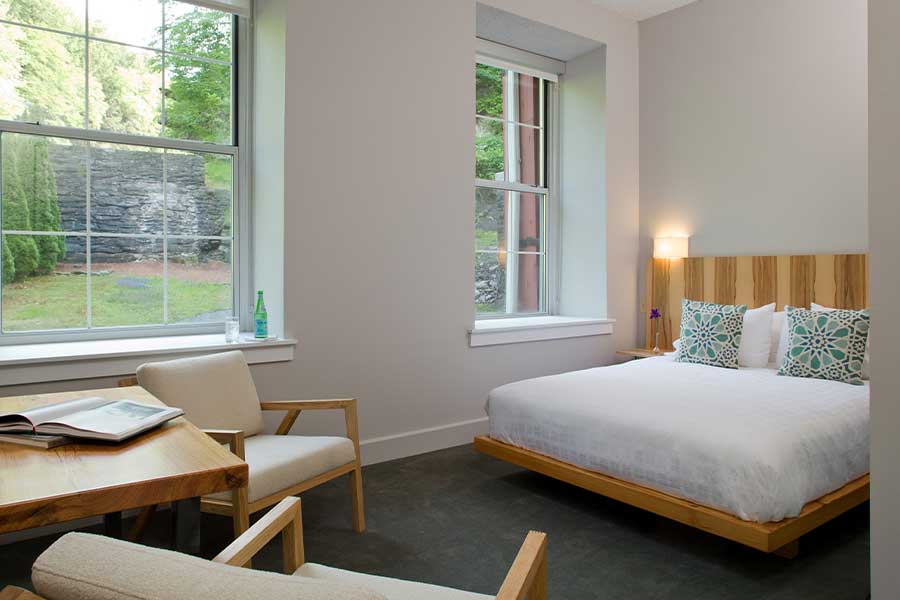 Location
You can find it at Falls Avenue of Hawley, on the banks of the Delaware River. Thus, the nearest Wilkes-Barre/Scranton Airport is in proximity to 48.3 km from the retreat.
Roaming Around
You should not forget to visit some places of interest if you travel to Hawley. Lake Wallenpaupack, Claws 'N' Paws Wild Animal Park, Ski Big Bear, and Soarin Eagle Rail Tours are the most known spots.
Hotel Context
The 3.5-star pet-friendly hotel has modern construction and a space-age environment. It offers a sun terrace and garden for relaxation besides water adventures, horse riding, and live music. Moreover, Glass wine.bar.kitchen offers American and local tasty dishes to the guests.
Amenities You Get
The motel offers guests many facilities, including free internet, an electric vehicle charging station, concierge service etc. The rooms have shades of Earth tones like gray and brown. Likewise, the rooms have a microwave, smart TV, refrigerator, hypoallergenic bedding, pillowtop mattresses, and infant beds.
Recommended for:
The hotel is famous for its beautiful and up-to-date scenario that is worth the booking cost of the rooms.
7. Cove Haven Resort
Have you got enough time on your hand to fly to PA? Cove Haven Resort welcomes you with many activities with modern facilities.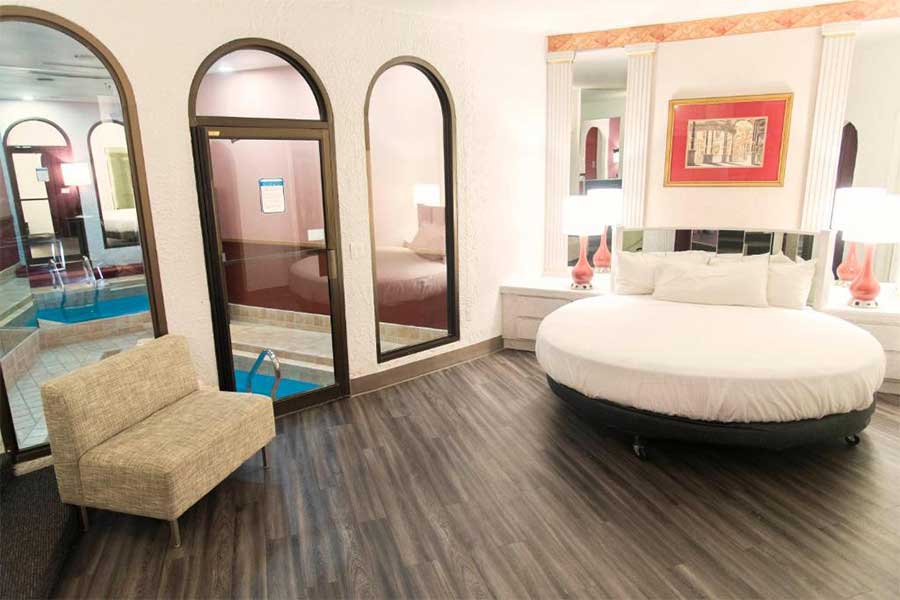 Location
The resort is centrally located on Lakeview Drive in Lakeville. Wilkes-Barre/Scranton International Airport is only 39.8 km from the boarding house.
Sights to Rejuvenate Yourself
Briar Hill, Deer Beach, Sculpted Ice Works, Scranton, Soarin Eagle Rail Tours, and Sandy Beach are several local tourist attractions. You can take your family members to these spots for whole day enjoyment.
Second Home Feeling
You can find the same home you have left behind for the tour. It has a 32000 sq. ft. sports center, billiards parlor, gym, 2 pools, and spa to eject old stresses from the body and mind. Besides, you can enjoy games like archery, tennis, mini golf, squash, and many more.
Facilities for the Guests
The resort has air-conditioned rooms with free internet and parking options. Luckily, you get a heart-shaped jacuzzi and fireplace in the room. Some other amenities include a fridge, coffee maker, cable TV, stereo system.
Recommended for:
I endorse this resort for couples who want to have romantic moments privately and participate in many activities.
8. Pocono cabin, PRIVATE pool Shawnee/Camelback
If you want a top-rated hotel in Pennsylvania with pool, count the Pocono Cabin as the first choice.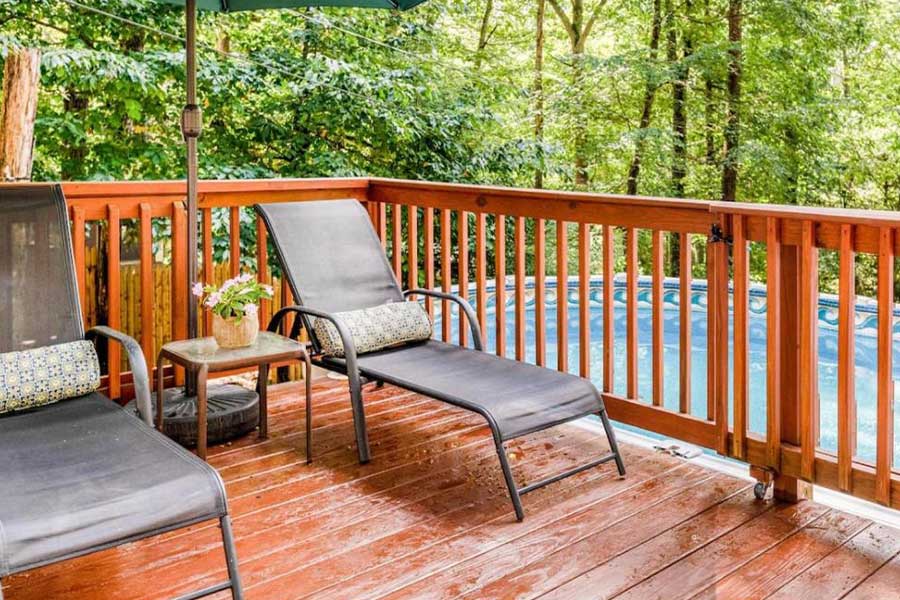 Location
The holiday home is in East Stroudsburg at Pocono Drive. Stroudsburg-Pocono Airport is the closest airport to the hotel (6 km distance).
Fill-up Your Curiosities
Delaware river, Shawnee Mountain, Bushkill falls, Raceway, and Kalahari Waterpark are some places of public interest. You can explore these places and capture some exciting moments with your partner.
Hotel Environment
It's a 2-bedroom hotel set with a private pool, patio, BBQ, fire pit, terrace, and mountain/garden views. Besides, the friendly staffs are always ready to assist you with their amenities. Activities like water sports, hiking, kayaking, horse riding, and rafting are also feasible here.
Hotel Features
This bread and breakfast have two modern bedrooms with facilities like a refrigerator, flat TV, microwave, coffee maker, electric kettle, bed linen, and so on. Preparing food in the kitchenette or bathing in the private bathroom is also available for the guests.
Recommended for:
From free internet and parking to arranging a BBQ party, the hotel is recommended for anyone traveling to Pennsylvania.
9. Spacious Rustic Arrowhead Lodge/ Pool/Lakes/ski
Spacious Rustic Arrowhead Lodge is a perfect combo of great hospitality and guest facilities at affordable rates.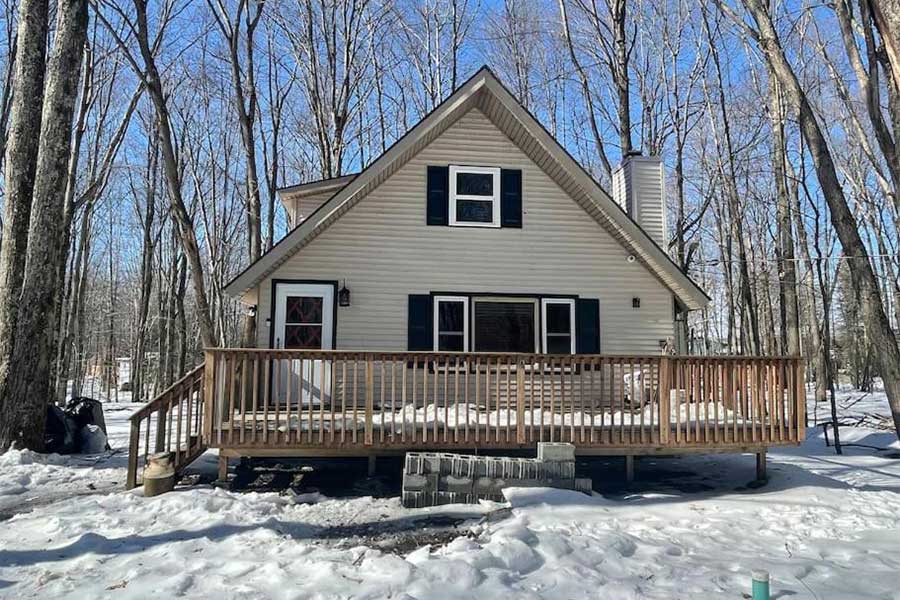 Location
The habitat is in Pocono Lake at a 23.2 km distance from Wilkes-Barre/Scranton International Airport.
Places to Visit
Travelers with a roaming thoughts can spend the whole day at Jack Frost Mountain Resort, Pocono Raceway, and Kalahari Waterpark.
Lodge Ambiance
Once you reach the property, you are under the coverage of high-speed internet and parking for free. Then the outdoor setting with a fireplace, picnic area, sun terrace, private pool, and BBQ arrangements will instantly enhance your mind to positivity. Again, travelers can take part in hiking, canoeing, fishing, tennis, and water sports.
Services Available
The hotel has three bedrooms, a private pool, a garden, and a casino. Besides, in-room facilities are available here, including a flat TV, dining space, kitchenette, microwave, fridge, and two bathrooms with complimentary toiletries.
Recommended for:
The hotel is a suitable place for an extended family tour with the planning of party arrangements.
10. Host Inn an All-Suites Hotel
Host Inn an All-Suites Hotel, is an exceptional hotel with free continental breakfast and one vast indoor pool.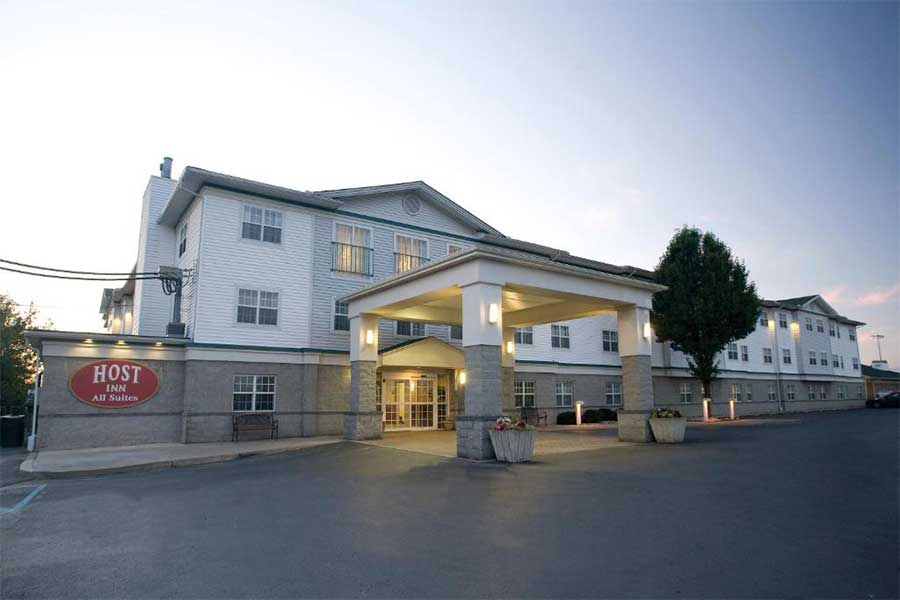 Location
It is on Kidder Street in Wilkes-Barre, PA offering free shuttle services. Wilkes-Barre/Scranton International Airport is only 13.9 km far from the house.
Tourist Spots
Mostly, the hotel is preferable to escort on the mountains for skiing. However, you can drive to Montage Mountain Ski Resort, Nescopeck State Park, Mohegan Sun Arena, Wyoming Seminary, and Bear Creek Lake.
Hotel Scenario
The hotel environment is very healthy, neat, and clean, attracting guests quickly. Also, the picnic area, sun terrace, and BBQ options with free internet and parking facilities can ease your stay at the hotel.
In-room Conveniences
You can avail guestrooms having rollaway beds, cribs, LED television, DVD players, kitchenette, freezer, sofa bed, and dining table. Besides, the bathrooms are well-equipped with showers and complimentary toiletries.
Recommended for:
I suggest this hotel if you are looking for a mid-range hotel with all the essential facilities and arrangements.
11. A Modern Apt Close to Downtown
Once you get a chance to fly to Pennsylvania for happy holidays, you may select A Modern Apt Close to Downtown apartment hotel.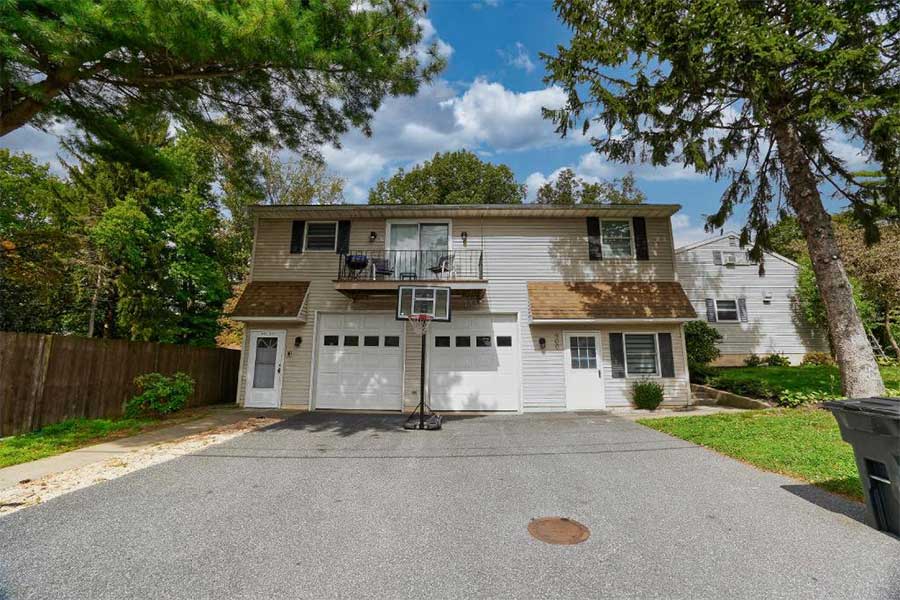 Location
The in-room pool suites PA is on West Fairway Drive in Lancaster. Lancaster Station is 5.4 km from the hotel, while Harrisburg International Airport is at 38.9 km distance.
Time to Enjoy
If you have a long break from work, you can roam around the nearby tourist attractions. Dutch Wonderland, Amish Farm and House, Little Conestoga Creek, Wheatland, and Fulton Theatre are some of these places.
Hotel Surroundings
The modern home is set with a work-friendly scenario as you can use the desk or table for work. Besides the quiet atmosphere, you can dive in the large outdoor swimming pool.
Amenities of Apartment
It's a 2-bedroom hotel with a living room, kitchenette, and a bathroom with a shower. Not only that, but you can also watch shows on the flat-screen TV, go online freely, and lie on the premium bedding. Other facilities include free parking, BBQ options, a balcony, and sun loungers.
Recommended for:
You may love this place for its clean and calm environment, especially if you are a business traveler to PA.
Frequently Asked Questions
What is the average cost of hotels in PA with pools?
The average cost of a hotel room in Pennsylvania with a pool is $250 per night.
What do the Pennsylvania hotels offer that makes them so luxurious?
They offer various luxurious amenities such as on-site restaurants and bars, a gym, business centers, and spacious accommodations.
How to book rooms at PA hotels?
To book a room at one of these hotels, guests can either book online through the hotel's site or by calling the hotel directly.
Conclusion
There are many great hotels in Pennsylvania, but if you are looking for one with a pool, these 11 are the best. From luxurious resorts to cozy inns, there's something for everyone on this list.
These Pennsylvania hotels with a pool are sure to fit the bill if you want a place for shelter or fun.