Need a break from the regular hustle and bustle of life? Or maybe a romantic escapade to a new city staying at a friendly and safe environment? Then, Erie, the Pennsylvanian city, can be the best place to rejuvenate and rediscover the way of life. It is a city of vibrant culture, including a thriving music and arts scene, several professional sports teams, and numerous outdoor activities.
Erie's landscape is dotted with parks, trails, and nature preserves. So, it is an ideal destination for those seeking an urban lifestyle coupled with the beauty and recreation of the Great Lakes. But if you wish to experience the life of Erie, you may need a temporary home to stay in and explore the lives. That's why I am here with the top 9 hotels in Erie, PA, with Jacuzzi suites in the room.
These hotels are more than just ordinary hotels where you have limited amenities or things to do. Besides, you will love to know each of them as they offer spacious rooms with a wide range of hotel facilities, a beautiful ecosystem, better in-room supports, and so on. Whether you are a solo traveler, a family person, or even a group of extraordinaire friends, these hotels won't make you regret it.
Places to Visit in Erie, PA
Erie, Pennsylvania is a great place to visit for a weekend getaway or a longer vacation. You would love to explore its beautiful lakefront views and plenty of attractions to make your vacation fun-filled and thrilled. If you're planning a trip to Erie, here are some top places to visit:
Erie Maritime Museum – This museum is in the historic U.S. Brig Niagara. It showcases the history of Lake Erie and the Great Lakes region. You can learn about the history of naval warfare, see artifacts from the famous Battle of Lake Erie, and even take a tour of the brig itself.
Liberty Park – You can find this attractive park on the bayfront and enjoy moments with beloved ones. It's a great place to relax, enjoy the scenery, or enjoy a picnic or barbecue.
Presque Isle State Park – You should visit this park to enjoy swimming, boating, and other water activities. It offers miles of beaches, trails, and presences of wildlife, including bald eagles and ospreys. Also, you can rent kayaks and paddle boats to explore the lake.
Presque Isle Beach – This beach can witness your precious romantic moments like walking on the sands, a dive in the water or sunbathing. Besides, you may visit some nearby restaurants and bars to eat and enjoy the sunset.
Erie Zoo – Family travelers to Erie can find this place very special. It features over 100 species of animals. Also, the zoo also offers interactive exhibits and educational programs.
Highlander's Triple – This ski resort is located just outside Erie, suitable for family fun. It offers various winter activities, including skiing, snowboarding, and snow tubing.
Overall, Erie is indeed a place for outdoor adventure or a chance to learn about the city's history. Now, I suggest you continue reading the blog to learn more about the hotels which enable you to visit these attractive places.
9 Erie Pa Hotels With Jacuzzi Suites
1. Sheraton Erie Bayfront Hotel
Features:
Bay view from the suite
Pet-friendly rooms
In-site restaurant
Private Jacuzzi in-suite and a hotel pool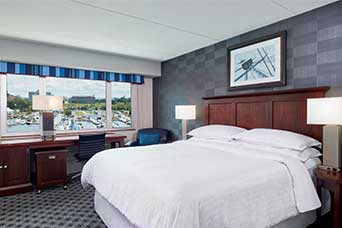 I've picked the Sheraton Erie Bayfront as the first one because of its sophisticated decor and gorgeous views. It is on Presque Isle Bay with an enchanting bay view from the vast windows of every room!
Reaching this hotel is very simple as you must drive only 1.7 km from Erie Train Station and 9 km from Erie International Airport. After reaching there, you will feel a completely new atmosphere that may lure you to stay for a long time. It features 200 modern AC rooms with premium bedding, down comforters, and a bathroom with essential but free toiletries.
Free WIFI, an indoor restaurant Bayfront Grille, swimming pool, and jacuzzi are available for the guests. More than that, you can take your pets here too! For entertainment, you can enjoy live music or performance, rent a bike, play board games, or take the free roundtrip airport shuttle.
Overall, this hotel is a complete package of entertainment, fun, food, and instant desk support when you need them. Here is one feedback from a recent visitor: "We loved the view from our room! Staff was friendly and helpful. We loved the whirlpool."
2. Cobblestone Hotel & Suites – Erie
Do you need Erie PA hotels with jacuzzi suites located in a convenient location to explore nearby tourist attractions? Then, my second choice on the list is the Cobblestone Hotel & Suites in Erie. It is just on the Bayfront Parkway, boasting lush green and blue marine.
You can spot yourself at this hotel by driving 2.2 km from Erie station and 8 km from Erie International Airport. It is a collection of 55 air-conditioned rooms with high-speed internet, premium bedding, flat TV, and a bathroom with shower and tub combo. Additionally, you can relax in the swimming pool, exercise at the gym, and attend meetings in the business center.
Places like the Erie Amtrak, UPMC Hamot, Mercyhurst University, Warner Theatre, Erie Maritime Museum, and Erie Zoo are easily accessible from this hotel. After returning from these spots, the staff will welcome you with their friendly behavior and the greatness of amenities.
Though it has no on-site restaurants for dining, you can easily have delicious cuisines at nearby restaurants within 2 km radius. If you have set Erie as a honeymoon destination, you shouldn't book rooms other than this hotel.
3. Courtyard by Marriott Erie Bayfront
Features:
Free airport shuttle
Close to the Erie beach
Sun terrace and in-house pools
Suite with private hot tub and kitchenette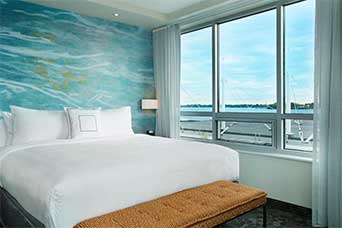 I assume many of us love to go on boating excursions, dive in history at the museums, and enjoy the sunset, keeping our heads on our beloved's shoulder. Are you one of them? Then, Courtyard by Marriott Erie Bayfront is the right vacation home for you. You can lie on the hypoallergenic premium bedding and get close to partner with other essential facilities.
This three-star hotel is on Sassafras Pier, Erie. It has a driving distance of 2 km from Erie Station and 9 km from Erie International Airport. So, you will not feel bored when you reach the getaway. This peaceful home features 192 AC rooms with all modern facilities.
The decoration and atmosphere inside the property are entirely guest-friendly, whether alone or with a group. You will love to relax in the hot tub or jacuzzi, remove the burden in the pool water, and do some body movement at the fitness center. The hotel offers a business center and banquet room for a meeting or party celebrations.
"This was a great getaway during a busy holiday season." – Lewis, a recent guest of this hotel, found it exceptional for courteous staff, cleanliness, and view from the room. After observing a lot of reviews, I can suggest you this hotel as a value for money gift towards your partner.
4. Spencer House Bed and Breakfast
Features:
Victorian mansion with historical location
Interesting surroundings to explore
Indoor solarium and pool
Bathroom with Jacuzzi for two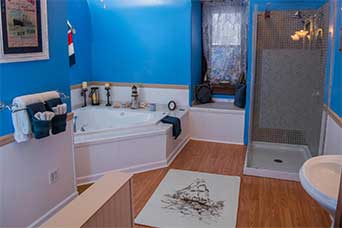 The Spencer House Bed and Breakfast is at the heart of the Millionaires Raw, taking you back to its unique history. You will love to explore this extravagant Victorian mansion with sculpted Victorian décor, light medallions, 12-foot ceilings, and handcrafted hardwood moldings.
This hotel is 1.4 km from the local station. If you have come by air in Erie, then you may need to drive only 8 km from Erie Airport. But the settings of Spencer House will mesmerize you and let you forget the tiredness of the journey. Staying at the hotel, you remain close to all Erie activities and tourist attractions.
There are hiking, cycling, or even skiing nearby for adventure lovers. If you love to capture photos and witness something great, you may visit the St. Patrick church, Erie Maritime Museum, and the Warner theater. After returning from these spots, the hotel is ready with an indoor solarium, porch, library, or pool.
The rooms offer all modern amenities like attractive texture on the wall, free internet, flat TV, spa bath, private bathroom with jacuzzi, and so on. The surroundings are friendly for family and solo travelers though there is no business center for attending meetings. Overall, it is one of the top-rated jacuzzi suites Erie Pennsylvania.
5. Wingate by Wyndham Erie
Features:
Adjacent to Water park and other exciting spots
Complimentary buffet breakfast
In-house Sundry shop
Suite with hot tub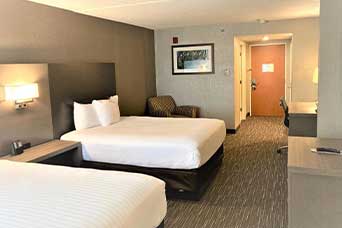 Wingate by Wyndham Erie is an excellent choice to rejuvenate us to forget all the relentless days. It is Old Oliver Road, serving a great unwinding environment to the guests. So, newly married couples, family guys, or solo adventurers – be ready to explore the Erie staying at this property.
Both Erie station and the airport are within 10 km radius. So, communication won't be an issue if you don't want to avail the services of this guesthouse. It has 100 sophisticated rooms with unique interiors and facilities like LED TV, jacuzzi, freezer, free internet, etc. Also, you can use their large indoor pool, self-parking, telephone, and business center.
Exploring public attractions is very flexible from here. For example, the Splash Lagoon indoor water park is within 500m reach. Also, you may take your beloved to places like Lake Erie Speedway, the Watson Curtz Museum, and the Erie Zoo. For cuisines, you get at least three famous restaurants of Erie within 1 km distance from the motel.
"Friendly staff. Great breakfast. really clean hotel." – Corey commented on his stay while Linda said almost same thing, "Cleanliness and friendly staff." Many of these reviews prove that you won't regret booking a room or entire suite here.
6. Hilton Garden Inn Erie
Features:
Free airport shuttle service
Nearby to Casino, water park, and spa
Premium restaurant on-site
Suite with private whirlpool and sofa beds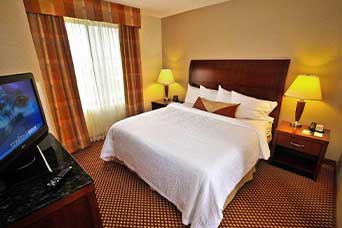 The Hilton Garden Inn comes with all the excitement, comfort, relaxation, and adventure within your reach. This Downs Drive inn offers a free airport shuttle to take you to their place (8 km distance). Again, you may also spot yourself quickly at the resort from 8 km far from Erie station.
The large hotel consists of 104 modern-day rooms with a private whirlpool, sofa beds, microwave, refrigerator, television, and indeed free internet coverage. Besides, you may love to enjoy the indoor pool, fitness center, and full-service restaurant the Safari Grille for foods.
You would love to find yourself in a new place with many lovely spaces. Hilton Garden is like that to spend time at Richmond Park, Erie Art Museum, Highlander's Triple, and Presque Isle State Park.
Most guests already loved the great etiquettes from the in-house staff. Also, the restaurant serves a great American meal for everyone. You will also appreciate how beautifully they have arranged the bedrooms from bedding to private shower.
7. Country Inn & Suites by Radisson, Erie, PA
Features:
Nearby fascinating attractions
'Grab and Go' breakfast
Tropical pool and marine view
Suite with hot tub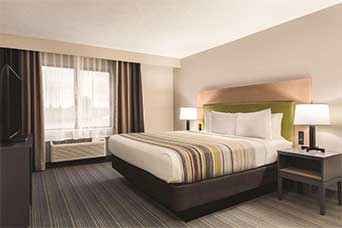 The Country Inn & Suites by Radisson is on Interstate 90, just right to the Splash Lagoon. You won't find a better place within a shopping district. The hotel can be your next second home in Erie, Pennsylvania, featuring a fireplace in the lobby and a gym.
Like Wingate by Wyndham, it is also within 10 km reach to the station and airport. The airport shuttle service will also ease you by driving their vehicle to take you to this finest resort. Once you are at the booked room, you are under coverage of free internet, 'Grab n Go' breakfast, tropical pool, and conference center.
Besides all common hotel room facilities, you will also get an in-room bathtub, a microwave, a refrigerator, and beautiful marine views. Thinking about roaming around? Then, you can explore places like the Lake Erie beaches, and Presque Isle Downs & Casino horse racetrack. Many guests also loved visiting the Erie Zoo, Perry Monument, and Bayfront Convention center.
Guests get what they need, like Gurpreet said, "easy access of highway & clean amenities and good staff! breakfast was served hot, and everything was available." So, I suggest this Erie hotel with a private jacuzzi room, especially if you are a couple.
8. Cobblestone Hotels & Suites – Harborcreek
Features:
Center to popular attractions
Wolfgang Puck coffee service
Indoor pool and bar
Suite with hot tub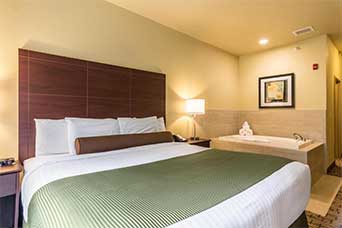 If you want a home like yours, I recommend booking a room at Cobblestone Hotel & Suites. You can find this hotel near the station road though the station is only 8 km away. You may also reach this destination by driving 14 km from Erie Airport.
It's a 44-room 3-star hotel with all the amenities anyone expects. These rooms feature air conditioning, high-speed WIFI, HD TV, and bathrooms with complementary accessories. Outside the rooms, you get a free self-parking area, an indoor pool, 24/7 front desk, a free newspaper, and others. Business travelers can attend seminars and meetings at the business center.
Guests who have already stayed here talked about their satisfying experiences. They loved to explore nearby places of interest, like Woodlawn Avenue Park, Erie Land Lighthouse, Erie Zoo, and Peek'n Peak Ski Lift.
Thus, I have kept this hotel on my Erie hotels with Jacuzzi list for the entire staff and setting for newly married couples. You may also take your family members, kids, and pets too.
9. La Quinta by Wyndham Erie
Features:
Close by attractions and fun spots
Continental breakfast
Indoor pool and bar
Suite with whirlpool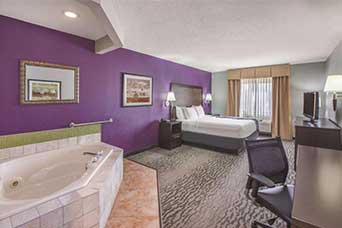 The last one of the romantic hotels Erie, PA is La Quinta by Wyndham. It is on Perry Highway, 7 km from Erie station and 11 km from Erie International Airport. Hence, if you want a better-than-average hotel at an affordable rate, you should pick this hotel.
This hotel has 70 AC rooms with premium bedding, free perks like internet, safes, and self-parking. Besides, you can enjoy shows on TV, use the computer station, and refresh in the bathrooms with bidets. In the morning, you will get a complimentary breakfast, which will improve your mood.
You can spend your time at nearby areas like the Erie Lake, Art Museum, Maritime Museum, Erie Zoo, and Splash Lagoon waterpark. Besides, there are a couple of parks near this place where you can take your loving kids to have fun and play some games.
A little inconvenience is that this hotel does not have many good ratings like the above hotels. But it is surely one of the best hotels with a private whirlpool tube for unwinding sessions.
Related City: 11 Hotels with Private Pools in Room in PA
FAQs
What are some guests' favorite hot tub hotels in Erie?
The Hilton Garden Inn, Courtyard by Marriott, and Spencer House Bed & Breakfast are some of the highest-rated ones.
How much do hotels with hot tubs or Jacuzzi suites in Erie cost?
These hotels have an affordable price range like $122- $250 per night.
Do any suite hotels with hot tubs in Erie include a pool?
Although Erie hotels are right beside or close to Erie Lake, all the above hotels have indoor pool facilities with top-tier ratings.
Verdict
Finding the perfect match among the best hotels will take you one step closer to your dream holiday to Erie, Pennsylvania, with your beloved. And my list of 9 hotels in Erie, PA, with jacuzzi suites in the room, have the similar one you want. Here, you can spend some time roaming around the beauties of Erie and drowning your stress in the Jacuzzis of your hotel suites.
So, it's time to make your dream turn into reality! Surprise your beloved with tickets to Erie and bookings at one of these exquisite hotels to recover the lost love.
Hurry up before the hotels are all booked!