Let me introduce a popular holiday destination – Cancún, the Mexican city in Quintana Roo State. You can locate this city on the Caribbean coast of the Yucatán Peninsula. Thus, it is one of the world's top vacation destinations, with stunning beaches, crystal clear water, vibrant nightlife, and incredible resort amenities.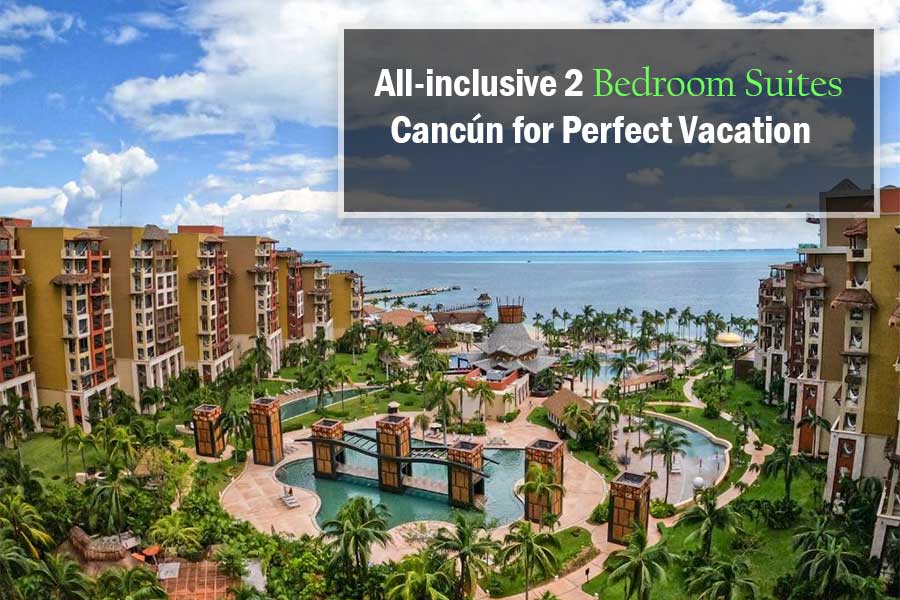 You can select this colorful city if you have time to vacate the strenuous life for a desirable tour to Mexico. It can be a place for a romantic getaway, a family vacation, or a fun adventure. Likewise, many hotels, resorts, or condos are available to stay for roaming around. But which one will you prefer?
I am here to ease your dilemma of selecting the right place to stay in this city. Here, I have explored top all-inclusive 2-bedroom suites in Cancun for your next trip. Enjoy the benefits of condos, with luxurious accommodations, fine dining, and exciting activities. Also, you can take advantage of special packages and discounts that make traveling to Cancún more affordable.
Places of Interest in Cancún, MX
Cancún is a popular tourist destination in Mexico, known for its white sand beaches, vibrant nightlife, and ancient ruins. There are many places of interest for visitors to explore in Cancun.
Parque las Palapas is an outdoor park with various sculptures, a music stage, and a food court.
The Cancún Underwater Museum offers guests the opportunity to explore the world's largest underwater sculpture museum.
The Mayan Museum showcases artifacts from the ancient Mayan civilization.
El Rey Mayan ruins offer an insight into the history and culture of the area.
Costa Mujeres is a beautiful beach with crystal-clear waters and stunning views.
Cancha Donceles is a public sports complex with multiple courts and fields.
Parque de la Rehoyada is a small park with different plants and trees.
Playa Las Perlas, Puerto Juarez Beach, Playa Linda, Playa Blanca, Mujeres Beach, and Playa Punta Nizuc are stunning beaches that offer various activities and amenities for visitors.
Top 7 All-inclusive 2 Bedroom Suites Cancun
Now, I suggest you read the whole blog to know the finest holiday homes in Cancún and their features.
1. Sky Inn Cancun – 2-Bedroom Hotel in Downtown Cancún
Get the best service of a 2-bedroom suite by staying at Sky Inn Cancún and spice up your life with modern amenities.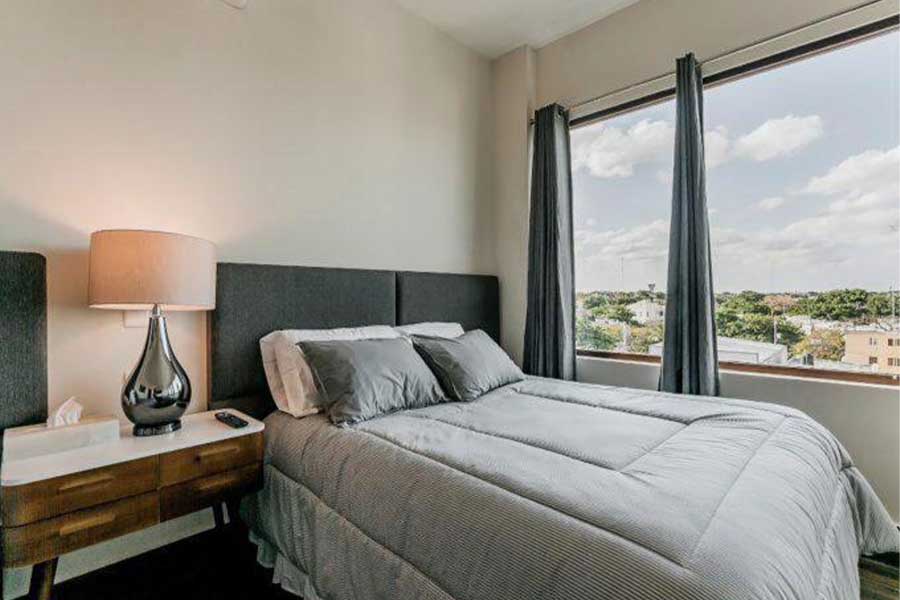 Location
This 3.5-star hotel is in Avenida Coba 36 with a 1.6 km road distance from the Cancún Bus Station. The Cancún International Airport is only a 13 km drive from this getaway. Thus, you get a paid shuttle service to commute the holiday home or nearby places.
Hotel Atmosphere
You can have fun on the rooftop terrace and garden and exercise at the gym of this inn. Besides, there is a facility of chapel or shrine to recall your memories and attend prayers. You will also love to spend time inside the modern, well-decorated rooms and order Mexican cuisine at the restaurant.
Incredible Amenities
Besides the scenario, the inn is also a favorite for its services. In-room facilities include linen beds, wardrobe, alarm clock, iron, and TV with streaming services. Also, children can play sports on the playground. For refreshments, you can use the private bathroom.
Where to Go
You will find this guesthouse at a very convenient location. It is close to places like Ombligo Verde de Cancún, Parque del pintor, Cancún Underwater Museum, Mayan Museum, El Rey Mayan ruins, and Playa Las Perlas. Hence, each of them has significance for their beauty and resources.
Recommended for:
The 2-bedroom suites in Cancún suit people looking for an affordable stay in Cancún, MX, with all modern facilities.
2. Villa del Palmar Cancun All Inclusive Beach Resort and Spa
Villa del Palmar Cancun 2 bedroom suite is an ideal beach resort is a luxury resort with 4.5-star services by the ocean.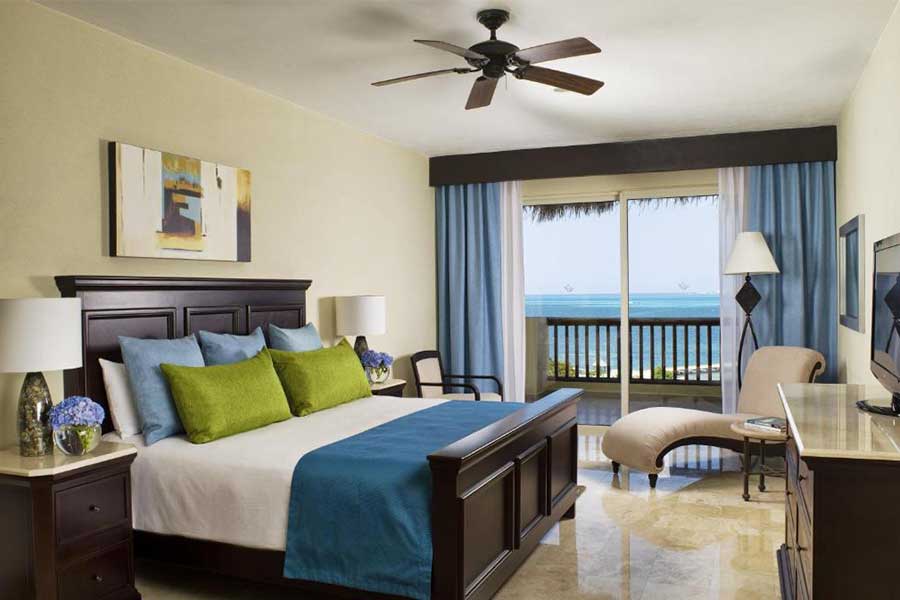 Location
You can locate this resort at Carretera Punta Sam Km. The nearest bus station and airport are 8 km and 22 km away respectively. Like Sky Inn, it also offers guests shuttle service and car hire.
Fantastic Locale
The resort is ideal for a balanced holiday with friends and family members. It hosts 18-hole golf, a beach bar, double outdoor pools, and lots of activities to attend. Again, you can sunbathe at the sun loungers close to Mujeres Beach (250m only). Other perks are gym with aerobics and yoga classes, and 6 on-site restaurants delivering multicuisine.
Great Facilities
The resort has 415 air-conditioned and well-furnished rooms with free internet, a poolside bar, and a grocery store. You will get premium bedding, private balconies, LCD TVs, toaster, wardrobe, and a coffee maker inside the rooms. Again, the friendly staffs also offer daily housekeeping, wake-up service, and a 24-hour front desk.
City Highlights
Mayan Museum, Cancún Underwater Museum, El Rey Mayan ruins, Parque de la Rehoyada, Parque Plaza Las Tiendas/El Crucero are some of the notable places you may love to go from here.
Recommended for:
I recommend these all-inclusive 2-bedroom suites if you want maximum hotel facilities at an accessible location regardless of its costs.
3. Arrecifes House – Second Home in Cancun
Arrecifes House is just like a cottage you may love to be on a honeymoon or a solo journey.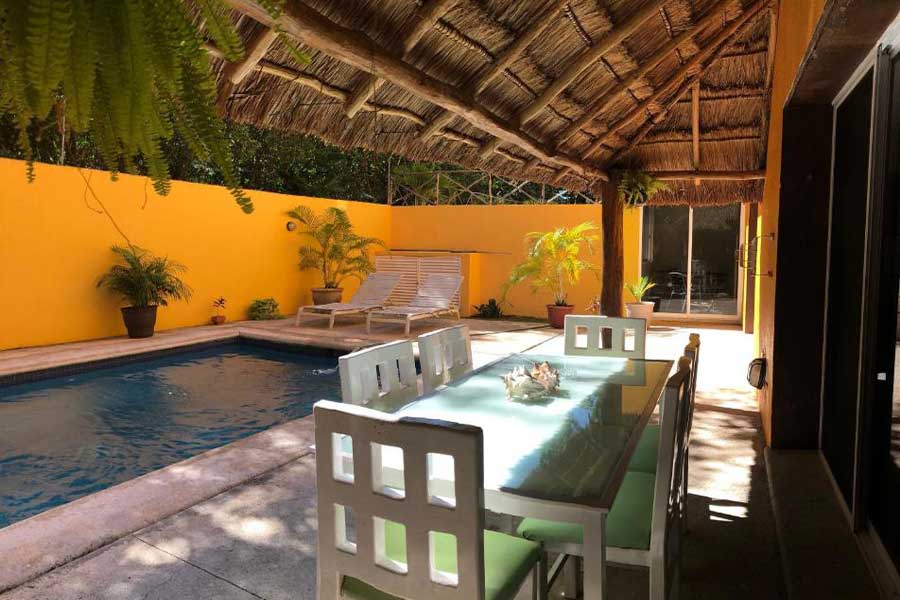 Location
This lodge is on Punta Sam Road, with a proximity of 4.9 km to Cancún Bus Station. You can also reach the property by driving your vehicle 19 km from the nearest airport. Moreover, you can call the hotel and book their shuttle service.
Impressive Setting
It consists of 4 bedrooms with an outdoor pool, garden, terrace, and balcony. Any guest who stays at this house gets free internet and vehicle parking. Besides, the staff can speak multiple languages to ease your stay. You can arrange picnic or BBQ parties here alongside the activities like snorkeling, diving, hiking, and so on.
Lovely Services
You can call it a second house in Cancan as it boasts many in-room services. The rooms have a kitchenette, fridge, coffee maker, dining table, etc. Also, the garden view or pool view rooms are helpful for guests who love to remain free and fresh. Even the bathrooms are good with slippers, bathrobe, hair dryer, and free toiletries.
Tourist Attractions
Guests who have stayed here recommend several places to spend time together. These places of interest can be Cancha Donceles, Parque de la Rehoyada, Parque las Palapas, Mayan Museum, and Cancún Underwater Museum
Recommended for:
You can book this hotel if you prefer to remain entirely secluded, just like your home with partners.
More 2-Bedroom Hotels to Check:
4. Villa de las Tortugas – 3-bedroom Villa
Make your stay comfortable and memorable at Villa de las Tortugas with top-rated guest services, including beachfront rooms and a restaurant.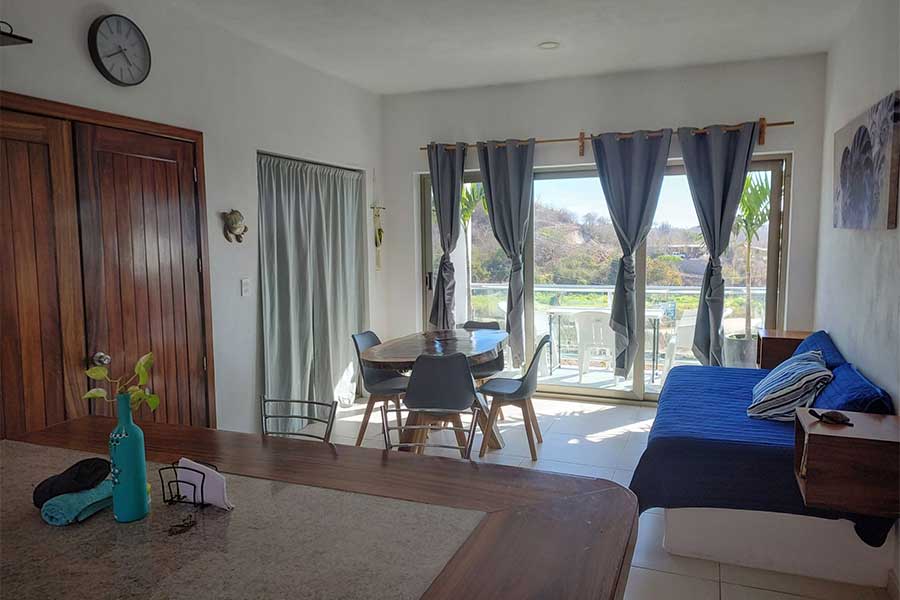 Location
The villa is in Boulevard Kukulcan Villa of Cancún with proximity to Cancún Airport (10 km). It is also adjacent to the Cancún Bus Station, just 13 km away. You can use the shuttle service or car hire facility offered by this hotel.
Villa Backdrop
This whole-house villa is the epitome of a peaceful environment. It has a sun terrace, patio, balcony, garden, body treatment center, and swimming pool. Here, you can arrange BBQ parties and picnics, and relax in the rooms with garden and sea views.
Guest Conveniences
In the bedroom, you get linen, fold-up beds, a wardrobe, cable TV, a fan, an iron, etc. The kitchen section includes a dining table, stovetop, toaster, oven, and refrigerator. Besides the outdoor pool, you can also have private moments inside the bathroom with complimentary toiletries. Kids can enjoy board games, read books, and listen to music.
Must Go Spots
The hotel is ideal for doing lots of activities like water sports, snorkeling, diving, hiking, fishing, or tennis. It will also be a good choice if your focus is on roaming nearby places. Some recommended spots are El Rey Mayan ruins, Mayan Museum, Cancún Underwater Museum, and Costa Mujeres.
Recommended for:
I have kept this villa on my list for its closeness to Playa Delfines Beach with an extremely family-friendly environment.
5. Garza Blanca Resort & Spa Cancún
Garza Blanca Resort & Spa is a 5-star classy holiday destination for relaxation and wandering around the city.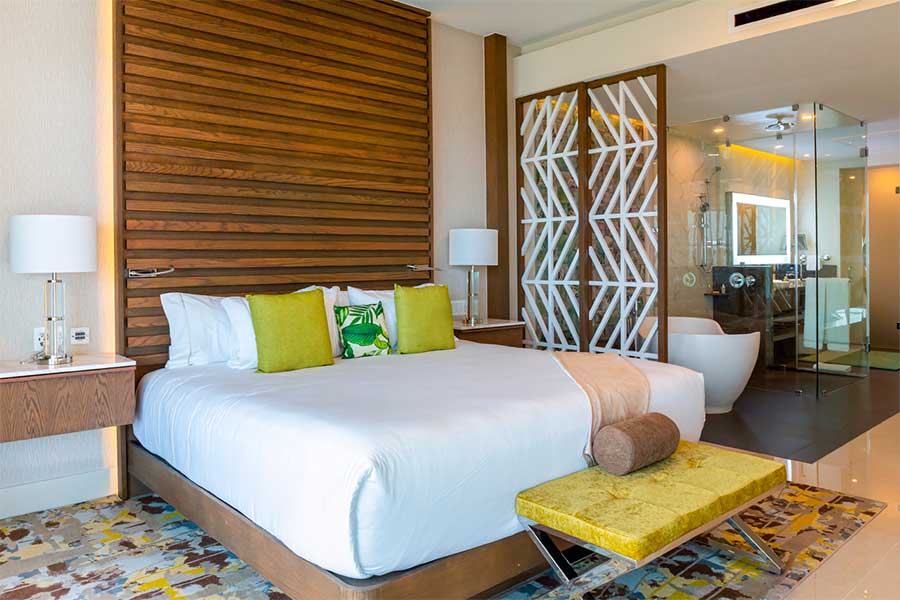 Location
This beachfront resort is in Punta Sam, Garza Blanca Cancún. It takes 8 km and 23 km to drive to the nearest bus station and airport. Likewise, the resort offers paid shuttle service if you don't bring your own vehicle to this property.
Pleasant Milieu
It's a great place to enjoy the moments by staying in the 2-bedroom suites with a balcony. You can make some love and fun at the rooftop terrace, garden, or private beach. Also, this resort has seven outdoor pools, 3 on-site restaurants for multicuisine, free water park access and beach cabanas, beach bar, and an on-site spa.
Outstanding Hospitalities
Besides the resort settings, you will also admire the in-room hospitalities. It offers 452 air-conditioned rooms, including those 2-bedroom suites. Hence, the multilingual staff is always at your service to give what you ask them. You can get premium décor, pillow menus, rainfall showers, private jacuzzi, and other standard facilities in the rooms.
Places to Go
Many activities are available at the resort, like aerobics, water sports, snorkeling, karaoke, etc. Besides them, you can explore the city's greatest attractions. I suggest you visit Cancha Donceles, Parque de la Rehoyada, Parque Plaza Las Tiendas/El Crucero, Parque las Palapas, and Mayan Museum.
Recommended for:
If you are looking for the top-rated all inclusive resorts with 2 bedroom suites Cancun, there will be no second option than this Garza Blanca.
6. Ocean View Three Bedroom, Three Story Penthouse by the Beach
Ocean View Three Bedroom is a charming penthouse for families and couples to enjoy the beauty of beaches and more privacy to make love and create memories.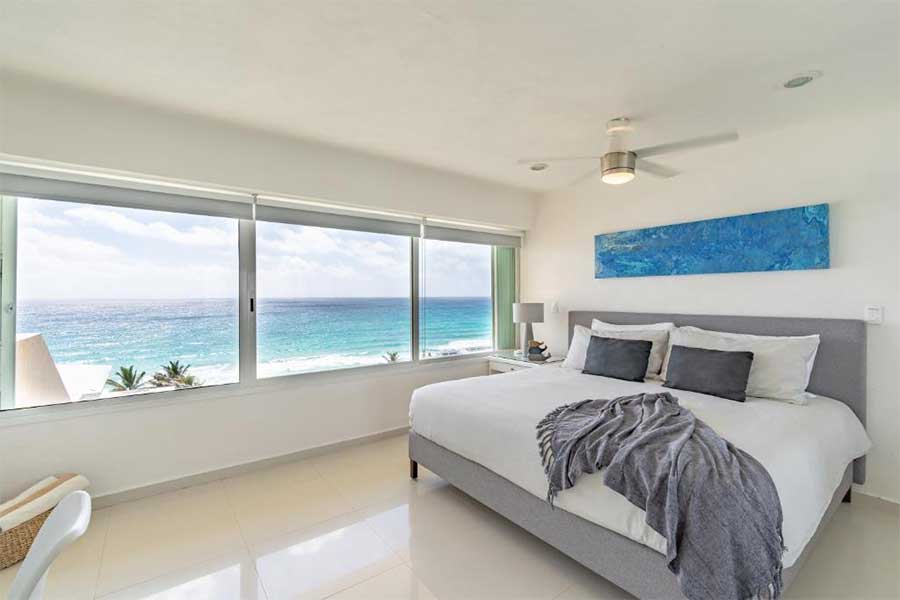 Location
This villa is in Boulevard Kukulkan, Zona Hotelera, with the finest 2-bedroom suites Cancun hotel zone. It remains close to bus station (13 km) and the airport (10 km) for easy commuting.
Scenery
Get the pleasure of sparkling ocean and lagoon views from this holiday home's room windows, balconies, and terraces. If your mood focuses on adventure, you can go for speedboats, golf courses, shopping centers, and other places.
Whimsical Luxuries
Starting with free WIFI, the lodge is fully packed with unique services, including family rooms and 2 outdoor swimming pools. Here, you can use sofa bed, seating area, TV with streaming, fan, iron, private bathroom, and entrance. Also, the fully equipped kitchenette is always ready to help you prepping favorite dishes.
Places of interest
You can make your day beautiful by visiting places like El Rey Mayan ruins, Mayan Museum, Cancún Underwater Museum, and Parque Nizuc. Some of the nearest beaches are Playa Delfines, Playa Punta Nizuc, and San Miguelito Beach – within a 3 km radius.
Recommended for:
I recommend this penthouse for families or newly married couples who want a value-for-money getaway in Cancún.
7. Bella Casa junto al Mar Caribe
The last hotel with 2-bedroom suites on my list is Bella Casa junto al Mar Caribe with various modern amenities and serenity together.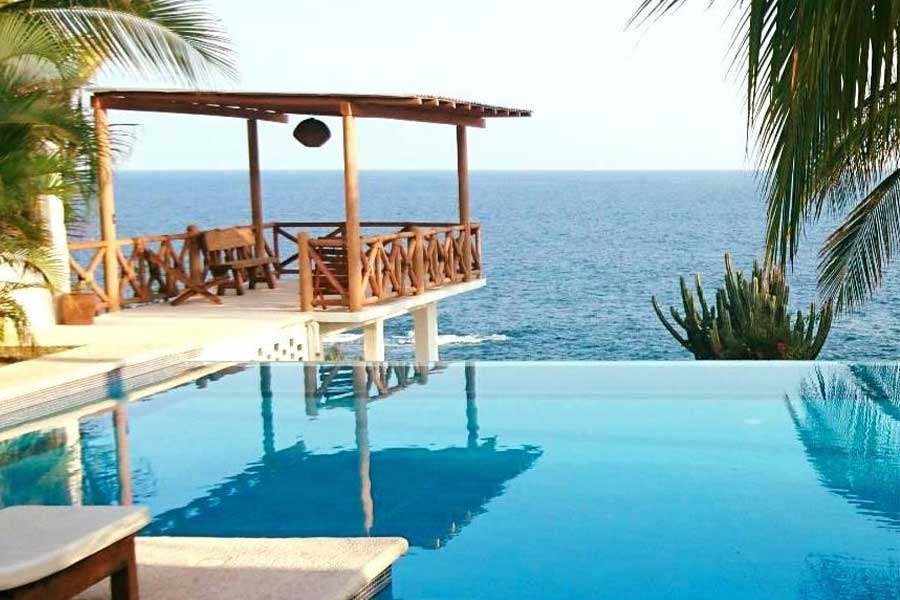 Location
This large beach house is in Carretera Puerto Juarez, a Punta Sam, with a 450m distance from Playa Blanca beach. For quick access to this property, you need to drive 4.5 km from the bus station and 19 km from airport.
Amicable Ambiance
You will get both modern architecture and green nature in this boarding house. Some notable features of this property are garden, terrace, patio, private beach area, and outdoor swimming pool. Accordingly, the kids will love the pool while you can arrange picnic and BBQ parties together.
Amazing Perks
Calm your body by lying on the linen or sofa beds, or use the bathrooms with complimentary toiletries. All 5 AC bedrooms include a fridge, coffee machine, electric kettle, and microwave. Moreover, if you love to serve your favorite food to your beloved, you can prepare it in the in-room kitchenette.
Things to See
While staying at this property, you can go for different activities like water sports, skiing, snorkeling, diving, windsurfing, fishing, and golf course. Some of the lovely places for adventure are Parque las Palapas, Mayan Museum, Cancha Donceles, Parque de la Rehoyada, and Cancún Underwater Museum.
Recommended for:
This place is ideal for families who want a safe and friendly environment for their kids.
Frequently Asked Questions
Are there any additional costs associated with all-inclusive 2-bedroom suites in Cancun?
No, all your meals, snacks, activities, and amenities are included in the all-inclusive rate. However, there may be additional costs for particular activities or services.
What is the average cost of staying in a 2-bedroom hotel in Cancun MX?
You can find them at $50-$320 on average. But it depends on the location, services, and duration of your stay.
What is the safest area to stay with family in Cancún city?
Though the whole city is friendly for a holiday tour, most people recommend the Hotel Zone as the safest area.
Are all-inclusive resorts in Cancun safe?
Of course! They are as safe as your home. But you should check the guest reviews about the desired property before you book rooms.
Final Words
Finding hotels with 2-bedroom suites in Cancún, Mexico, can be a bit overwhelming if you don't know about the city. But in this guide, I have explained everything about these suites to learn what you can get from them. Also, you can learn about the activities and places of interest nearby the selected hotel.
These select inns or resorts are remarkable for their amenities, settings, friendly staff, and convenient location. You will indeed have a new but vibrant experience by staying at these holiday destinations.
I hope you loved reading the blog. Thanks for coming here.