New York City is the most populous city in the United States, with an estimated 2022 population of 8.85m distributed over a land area of about 302.6 square miles (784 km2. Hence, the boroughs of New York City are five administrative divisions that constitute New York City.
If you are searching the web to learn about 7 boroughs of New York City (NYC), you have come to the right place. In this blog, I explain, "what are the 7 boroughs of New York City?" So, seat back, relax, and keep your eyes on the screen.
So, how many boroughs are in New York? Surprisingly, there is a correction! NYC has five boroughs, not 7 of which you have known till now. You will want to know a little about the boroughs if you plan a trip to NYC.
The city is divided into five boroughs: Manhattan, Brooklyn, Queens, the Bronx, and Staten Island. Each borough has its unique flavor and attractions.
New York Boroughs Stereotypes
There is no place like New York City. Comprised of five distinct boroughs—Manhattan, The Bronx, Brooklyn, Queens, and Staten Island—the "city that never sleeps" has something for everyone. From the vivid colored lights of Times Square to the world-renowned Central Park, NYC is a mecca for tourists and locals alike.
Manhattan is the most well-known of the five boroughs, and for a good reason. Home to iconic landmarks like the Empire State Building and Rockefeller Center, Manhattan is the quintessential New York City experience.
Brooklyn is the place to get a more laid-back vibe. Brooklyn has a cool, eclectic feel with its hipster cafes and vintage shops.
Queens is the most diverse borough in NYC and is home to the city's two major airports, JFK and LaGuardia. If you want to experience the best foods in the city, head to Queens—you won't be disappointed.
The Bronx is home to Yankee Stadium and the Bronx Zoo. It is the only borough located on the mainland of the US.
Staten Island is the least populated of the five boroughs but is home to the Staten Island Ferry, which offers breathtaking views of the Statue of Liberty.
No matter which borough you choose to visit, you will indeed have a memorable New York City experience.
What are the 7 Boroughs of New York City Population?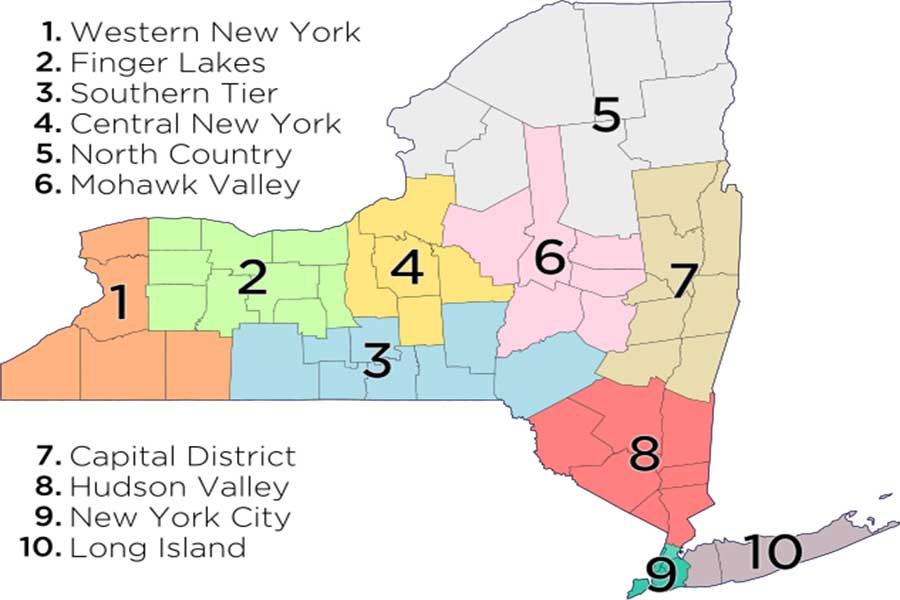 Again, the number of boroughs is five, not seven. Thus, each borough has a nominal population that aspires to the growth of NYC.
As of 2022, the estimated population of New York City is 8.85 million. This estimate includes all five boroughs: Brooklyn, Queens, Manhattan, The Bronx, and Staten Island.
Here is a closer look at the population of each borough:
Brooklyn: 2.6 million*
Queens: 2.4 million*
Manhattan: 1,63 million*
The Bronx: 1,49 million*
Staten Island: 0.5 million*
Note: Asterisks (*) refer to probable or estimated numbers noted by different organizations.
So, what makes up New York City?
Geographically speaking, NYC is made up of five boroughs. They sit where the Hudson River meets the East River. These boroughs are Staten Island (Richmond County), Brooklyn (Kings County), Queens (Queens County), The Bronx (Bronx County), and Manhattan, which is coextensive with New York County.
If you ask most New Yorkers though, they will tell you there are only four boroughs. It is because, let's, be honest- does anyone ever go to Staten Island?
Which Borough is Harlem in?
Harlem is a neighborhood in NYC in the borough of Manhattan. It is bounded by:
143rd Street to the north,
155th Street to the South,
Fifth Avenue to the east,
Eighth Avenue to the west.
Harlem has been gentrified since the early 2000s. It is now one of the most desirable neighborhoods in Manhattan.
The Dutch first settled the area that would become Harlem in 1658. In 1664, it was annexed by the English and renamed New York.
Harlem became a predominantly African American neighborhood in the late 19th century. People migrated uptown from other parts of Manhattan, seeking better housing options.
By 1910, nearly two-thirds of Harlem's residents were black. The Great Migration of African Americans from the rural South to northern cities continued throughout the first half of the 20th century. They made Harlem one of the largest concentrations of black people in America. During this time, Harlem was also home to a vibrant cultural scene known as "the Renaissance."
This period saw an explosion of creativity in music, art, and literature produced by black artists. The Renaissance came to an end during World War II. Meanwhile, many residents left Harlem for other parts of New York or elsewhere in search of work. The neighborhood underwent a decline in subsequent decades until it began to gentrify in the early 2000s.
Harlem is once again home to a thriving community of artists and creative professionals. It is also one of Manhattan's most sought-after residential neighborhoods.
New York Boroughs Ranked
The five NYC boroughs are each unique and vibrant communities. But which one is the best?
A new ranking from Niche.com attempts to answer that question, rating the boroughs based on several factors, including the cost of living, public schools, nightlife, and more.
So how did the rankings shake out?
Manhattan came in at #1, followed by Brooklyn at #2. Queens came in at #3, with the Bronx at #4 and Staten Island rounding out the bottom of the list at #5.
Manhattan was praised for its abundant nightlife options, high-performing public schools, and low crime rate. The borough also received high marks for its diversity and abundance of things to do.
Brooklyn was similarly lauded for its diverse population and range of activities available, and affordability relative to Manhattan.
Queens came in at a strong #3 thanks to its excellent public schools and relatively low cost of living.
The Bronx fared slightly less well in the rankings. But still, it managed to come ahead of Staten Island thanks to its lower crime rate and higher graduation rates.
So, there you have it: the best (and worst) of New York City's boroughs, according to Niche.com! Do you agree with their assessment?
Frequently Asked Questions
Are There 5 Or 7 Boroughs in New York?
There are five boroughs in New York City: The Bronx, Brooklyn, Manhattan, Queens, and Staten Island.
Which Burrow is Harlem in?
It is in the New York City.
What is the Sixth Borough in New York?
No, there is no sixth borough in New York, as it has five boroughs.
What is the Only NYC Borough That Isn't an Island?
The Bronx is the only borough of New York City that isn't an island. The Bronx is on the mainland of New York State, just north of Manhattan Island. The other boroughs of NYC (Manhattan, Brooklyn, Queens, and Staten Island) are all islands.
Conclusion
In short, there are five boroughs in New York City: The Bronx, Brooklyn, Manhattan, Queens, and Staten Island.
I hope you have the answer to "what are the 7 boroughs of New York City?" now. Thanks for reading this blog.