Life often becomes tedious and strenuous of the regular hustle and bustle. Traveling to exciting places like the City of Temples can bring back the color of life. Likewise, you can rejuvenate yourself and take family members to capture some exciting moments there.
In this blog post, I discuss the queries, greatness, and explorations of different Cities of Temples in different parts of India. I hope you won't regret reading this blog.
City of Temples in India
Which city is known as the City of Temples? – Maybe you are thinking about it. I am explaining this matter now.
The city of temples, also known as the temple city, is a name given to several cities in India. These include:
Bhubaneshwar, the capital of Orissa
Madurai, in Tamil Nadu
Kanchipuram, in Tamil Nadu
Thanjavur (Tanjore), in Tamil Nadu
Varanasi (Banaras), in Uttar Pradesh
Jammu in Indian Territory
Each of these cities is home to numerous Hindu temples and has been a pilgrimage center for centuries. Hindus believe visiting these holy sites can get them closer to God and help them achieve salvation.
Bhubaneshwar is one of the most crucial temple cities in India. It has more than 50 temples, including the renowned Lingaraja Temple. This 11th-century temple is devoted to Lord Vishnu and features intricate carvings and sculptures.
Madurai is another prominent temple city located in southern India. Meenakshi Amman Temple of this city is a massive complex covering 15 acres and features 12 gopurams (gateway towers). This temple was built by Nayak rulers in the 17th century and remains an important site of pilgrimage today.
Kanchipuram is yet another renowned temple city located in southern India. Its primary claim to fame is the Kamakshi Amman Temple, dedicated to Goddess Kamakshi – a form of Shiva's consort Parvati. This magnificent temple was built in the 7th century and featured stunning architecture and sculpture.
Thanjavur (also spelled Tanjore) rounds out our list of famous Indian temple cities. It also boasts many impressive temples, chief among them being the Brihadeeswarar Temple – also known as the Big Temple.
Tamil Nadu City of Temples – Kanchipuram
The City of Temples is a holy place for Hindus. It is in the state of Tamil Nadu, in southern India. Identically, it is believed that the city was founded by the Hindu god Vishnu.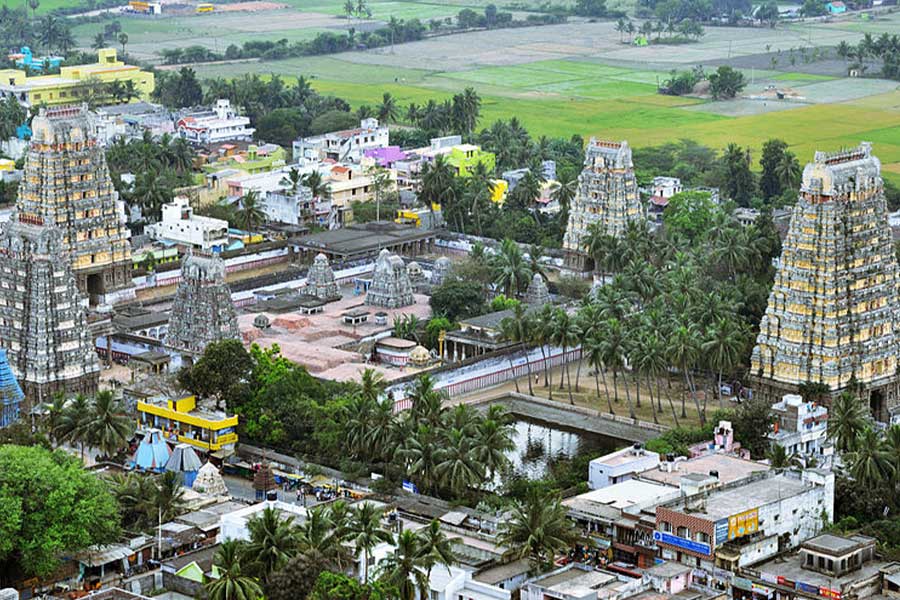 The city has various temples committed to different Hindu gods and goddesses. Among them, the most notable temple in the city is the Kamakshi Amman Temple, devoted to the goddess Kamakshi. Whether you are looking to explore Buddhism, Hinduism, Sikhism, or Jainism, there's a temple here for you.
So, visit this hidden gem if you are looking for a place to relax and escape the hustle and bustle of everyday life.
City of Temples Name – Varanasi
Assuming you may love to read a blog post about the City of Temples in India: Sited on the banks of the Ganges, Varanasi. It is one of the oldest continuously inhabited cities in the world. Again, it is often referred to as the "holy city" or "city of temples".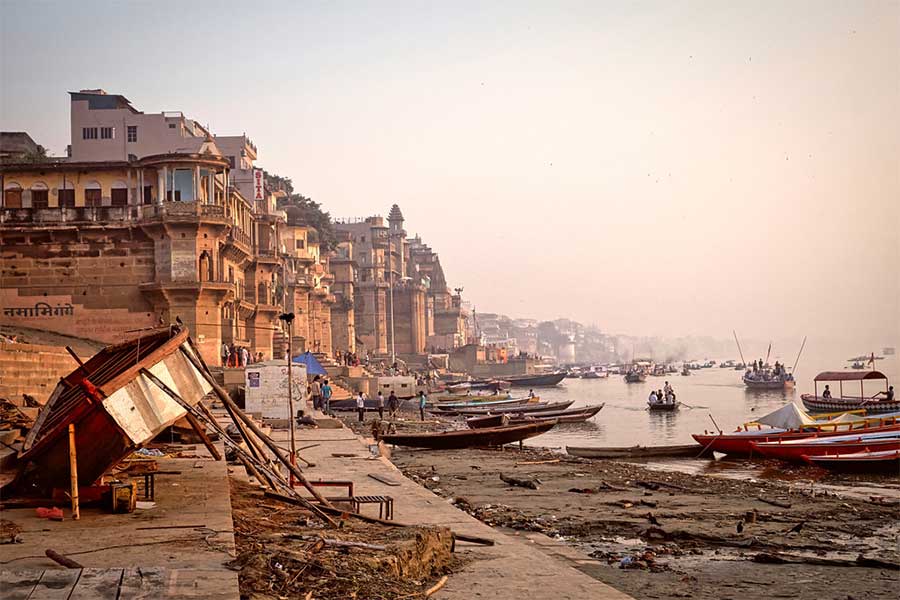 Varanasi is a popular tourist destination for both domestic and international travelers. Many visitors come to experience the city's unique atmosphere and to visit its many temples. Additionally, the city has more than 2,000 temples where religious festivals happen annually. Even people believe it to be the birthplace of Buddhism.
Others come to participate in religious ceremonies or immerse themselves in the local culture. Thus, this City of Temples is sure to leave an impression for a spiritual experience or the explorations of a new culture.
City of Temples Jammu
Jammu, the capital of Jammu and Kashmir, is known as the "City of Temples" for its numerous temples. You can find it on the banks of the Tawi River at an altitude of 327 m above sea level. Hence, the city has a moderate climate with cool winters and warm summers.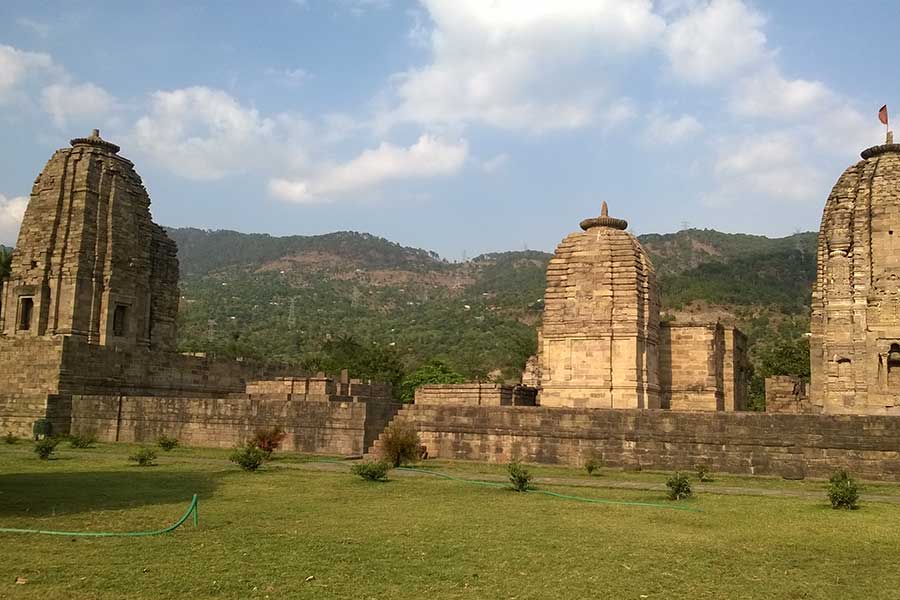 Jammu experiences heavy rainfall during monsoons. The earliest reference to Jammu is found in the Mahabharata, where it was called Jamboo-dwipa. Later, the famous Greek historian and geographer Ptolemy mentioned it as Bambyce in his work Geographia (c. 150 CE).
The city came under the rule of various dynasties over the centuries till it became a part of India after independence in 1947. Today, Jammu is an important pilgrimage center for Hindus and Sikhs.
Some major temples in Jammu include Raghunath Temple, Bahu Fort Temple, Ranbireshwar Temple, Peer Kho Cave Temple, and Mansar Lake temple complex. Also, the city has many Gurudwaras and mosques reflecting its diverse religious heritage.
Jammu is also known for its scenic beauty and picturesque locations like Dal Lake, Manda Zoo, Mubarak Mandi Palace Complex, Amar Mahal Palace Museum, etc.
Why is Jammu Called the City of Temples?
Jammu is also recognized as the "City of Temples" for many Hindu temples. Many of these temples were built during the rule of the Dogra dynasty. This dynasty ruled over this region for many centuries.
The most famous temple in Jammu is the Raghunath Temple, built in 1857 by Maharaja Ranbir Singh. It is dedicated to Lord Rama and houses a life-size statue of him. Other famous temples include Shiv Khori Shrine, Bahu Fort, and Mata Vaishno Devi Shrine.
City of Temples in UP (Uttar Pradesh)
The City of Temples in UP is one of India's most sacred and important cities. Some of the most ancient and revered temples are there to attract pilgrims from all over the world. Also, it is a widespread tourist destination for its rich cultural heritage and beautiful architecture.
The temples of Temples in UP are some of India's most important religious sites. They include:
The famed Kashi Vishwanath Temple, dedicated to Lord Shiva
The Sankat Mochan Hanuman Temple, one of the holiest shrines for Hindus
The Durga Temple, dedicated to Goddess Durga
Numerous temples and shrines are scattered throughout the city. Each of them has its unique history and significance.
Temples in UP is a bustling and vibrant city with a strong sense of community spirit. It is an exceptional spot to experience traditional Indian culture at its best. Whether you are looking to explore its ancient temples or soak up the atmosphere of this fascinating city, Temples in Up is sure to leave a lasting impression.
Why is Chennai Called the City of Temples?
Chennai, the capital city of Tamil Nadu, has more than 3300 temples, more than any other city in India. The city is also known for its beaches, parks, and historical landmarks.
The history of Chennai goes back to about 400 BC when it was known as Madrasapattinam. Different dynasties ruled it over the centuries. Later, it became an important center of trade and commerce. In 1639, the British East India Company finished setting up a settlement in Madras.
The city proliferated under British rule and became one of the largest cities in India.
It has many famous temples, such as the Meenakshi Temple, Kapaleeshwarar Temple, Parthasarathy Temple, and Sri Ranganathaswamy Temple. Thousands of people visit these temples every day.
Chennai's religious diversity is reflected in its temples which are not only Hindu temples but also Jain, Buddhist, and Sikh shrines.
The Meenakshi Temple is another great tourist attraction in Chennai. It is dedicated to Goddess Meenakshi (also known as Parvati) and her consort Sundareswarar (also known as Shiva). Thus, the temple complex covers an area of 15 acres and has 12 gopurams (gateway towers). The tallest gopuram is 52 meters tall and has five stories.
The Kapalishwaran Temple is another famous Chennai temple dedicated to Lord Shiva. It was built in the 7th century AD by Pallavas, who ruled this region then. Again, it has a unique architecture with a blend of Dravidian and Vijayanagar styles.
Conclusion
Thanks for reading the blog till now. Let me recap the whole thing again.
In conclusion, the City of Temples is a great religious and historically significant place. It is not a single city; India has multiple cities, which you can call the City of Temples. However, all of them are popular tourist destinations for their beautiful architecture and rich cultural heritage.